Thousands to march in Chicago against Trump's 'anti-woman agenda'
Energized by a bitter fight over a US Supreme Court justice nominee, thousands of women were expected to march Saturday in Chicago and cast early midterm election ballots against the "anti-woman agenda" of President Donald Trump's administration.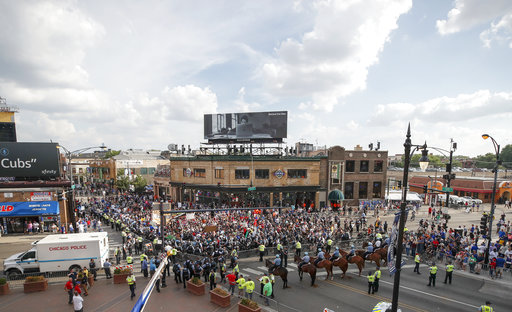 (File Photo: AP)
The protest organized by Women's March Chicago was a sign of the political fallout from the partisan fight to confirm Trump's nominee Brett Kavanaugh to the nation's highest court despite sexual assault allegations.
Organizers timed the march to coincide with the run-up to the crucial November 6 midterm elections, when Democrats could wrest away control of the lower house of Congress from Republicans.
They said similar marches fueled by anger over the Kavanaugh confirmation were scheduled later in October in other states, including the Republican strongholds of Texas, Georgia and South Carolina.
"Women are very upset over the Kavanaugh confirmation and are fired up to vote," Women's March Chicago spokeswoman Harlene Ellin told AFP.
All but one Republican in the US Senate voted in favor of Kavanaugh's elevation to the Supreme Court. All but one Democrat voted against.
Women's March Chicago said in a statement that it was targeting the "anti-woman agenda of the White House and the Republican party."
After a rally and a march, protesters were to be directed to early voting locations in downtown Chicago to cast ballots.
'Take back the reins'
Republicans currently hold the White House and both chambers of Congress, but many in the GOP fear anti-Trump voters will overwhelm the president's supporters in the midterm elections.
The protests came as early voting was ramping up in Illinois, and had already begun in more than a dozen other states. More will join in in the coming days.
Most states allow early voting by mail-in ballot or at a limited number of polling stations. The process allows those who cannot show up at polls on election day to have a chance to vote.
Chicago organizers insisted their event -- where a giant "Baby Trump" balloon was to make an appearance -- did not favor any one party, even though funding came largely from unions and Democrat-aligned groups.
"We want to take back the reins of a government that is out of control, and give to lawmakers who can steer us always in the right direction," Women's March Chicago organizer Eman Hassaballa Aly told a news conference earlier in the week.
Simultaneous marches were to be held in nearby cities in Republican areas of Illinois -- outside of the Democrat-stronghold of Chicago.
"Our marching community is fired up to begin the process of voting out politicians who ignore, demean and disrespect women," Women's March Chicago said in a news release.
"With the confirmation of Brett Kavanaugh, women across the country have been calling for marches more broadly where they can vocalize their dissatisfaction regarding his elevation to one of the most powerful positions in our country."
Previous women's march protests have included plenty of anti-Trump rhetoric. Protests in January shut down streets in dozens of American cities. In Chicago, hundreds of thousands marched.
The appearance of the "Baby Trump blimp" -- as dubbed by British media -- will be the first at a major American protest.
The inflatable was designed as a virtual poke in the eye at the president during his visit to Britain over the summer.
Activists in New Jersey created six duplicates, which they planned to float around the country.
After Chicago, it will next appear in Los Angeles and New York.