Erdogan vows no let-up in Syria campaign as US tensions rise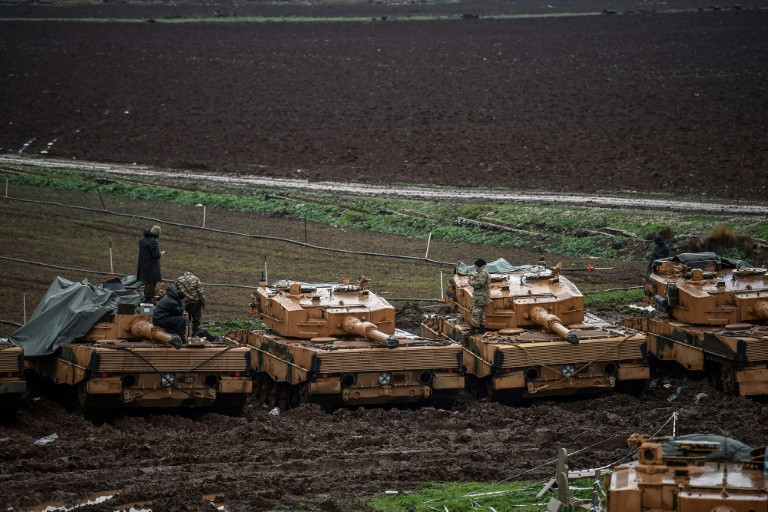 Turkish soldiers stationed themselves near the Syrian border at Hassa as part of the operation "Olive Branch". Photo: AFP/Ozan Kose
President Recep Tayyip Erdogan on Thursday vowed Turkey's campaign against a Kurdish militia in northern Syria would press on for as long as required, after telephone talks with Donald Trump failed to douse soaring tensions with Washington.
The six-day campaign against the against Syrian Kurdish People's Protection Units (YPG) militia has seen Washington's fellow NATO member Ankara attacking a US-allied force, even raising fears of military confrontation between two alliance powers.
After the Turkish and US presidents spoke late on Wednesday, the White House said Trump had urged Turkey "to de-escalate, limit its military actions", expressing concern that the assault could harm the fight against jihadists.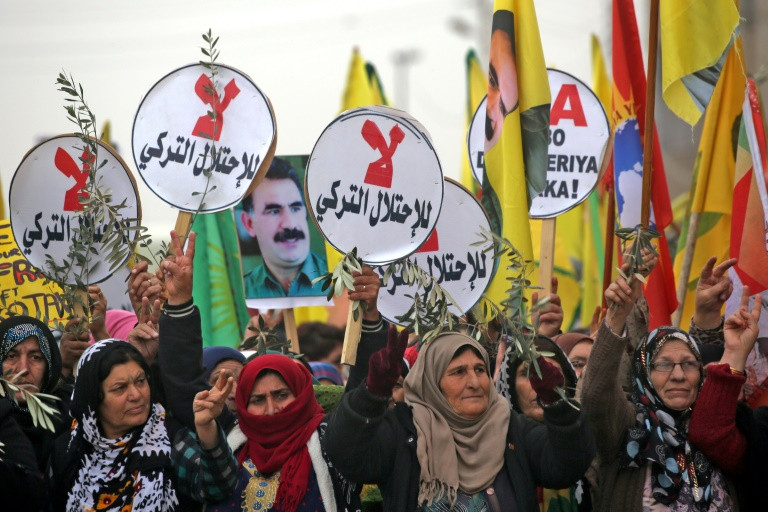 Syrian Kurds march to protest against the Turkish offensive. Photo: AFP/Delil Souleiman
But a Turkish official said the US statement did "not accurately reflect the content" of the call.
Turkish Foreign Minister Mevlut Cavusoglu even suggested that the US statement had been concocted in advance of the talks.
On his first visit to troops in the southern Turkish border region of Hatay since the campaign began, Erdogan emphasised that operation Olive Branch "will continue until the result is reached".
- 'Continue east of the Euphrates' -
Turkey launched an offensive against the YPG militia on Saturday in their enclave of Afrin, supporting Syrian rebels with air strikes and ground troops.
Ankara views the YPG as a terror group linked to the outlawed Kurdistan Workers' Party (PKK) inside Turkey. The PKK is blacklisted by Ankara and its Western allies.
But the YPG is still working closely with Washington against the Islamic State (IS) extremist group in Syria.
Quoted by the presidency, Erdogan said that once the "cleansing of terrorists" is completed in Afrin, the area will be handed back to its "principal residents".
"Turkey does not have its eye on another country's territory," he was quoted as saying.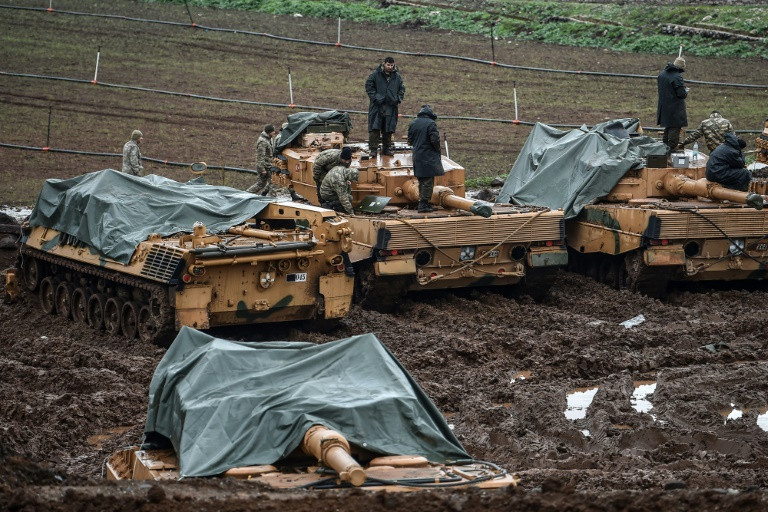 Turkish army tanks are stationed in a field near the Syrian border at Hassa. Photo: AFP/Ozan Kose
Further raising the stakes, Ankara has also floated an operation on Manbij, a YPG-held town to the east where there is a US military presence, and even to areas east of the Euphrates up to the Iraqi border.
"The second phase will be Manbij and after that, the east of the Euphrates," Erdogan's senior advisor Ilnur Cevik told AFP.
With Europe also concerned, Germany has asked for talks at NATO over the campaign and also put a temporary halt on arms deals with Turkey, Foreign Minister Sigmar Gabriel said.
NATO chief Jens Stoltenberg said Turkey had a right to defend itself but emphasised "this has to be done in a proportionate and measured way."
- 'Risks giving life to IS' -
Turkish Prime Minister Binali Yildirim hit out at the US, saying "the country we call an 'ally' in NATO is in cahoots with terror organisations."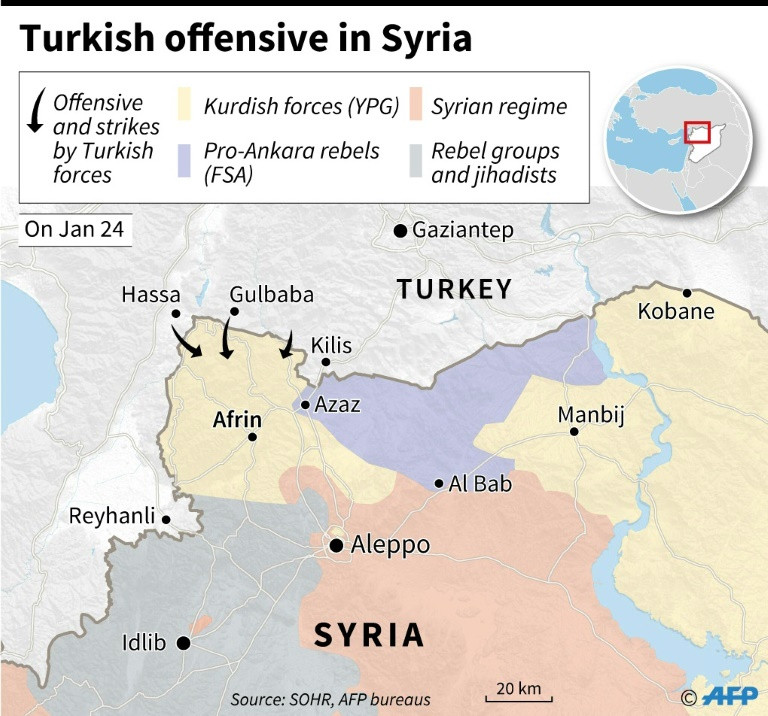 Turkey has launched an offensive against the YPG militia in their enclave of Afrin, supporting Syrian rebels with air strikes and ground troops. Photo: AFP/Simon Malfatto
Deputy Prime Minister Bekir Bozdag said that if the US wanted to "avoid a confrontation with Turkey -- which neither they nor Turkey want -- the way to this is clear: they must cut support given to terrorists".
Following the Erdogan-Trump telephone talks, the US envoy to the coalition against IS, Brett McGurk, said on Twitter the "prolonged operation risks giving life to ISIS (IS) as it's on verge of defeat".
Washington has more than 2,000 special forces and support troops inside Syria, mainly east of the Euphrates in an area also controlled by the YPG but separate from Afrin, which is west of the river.
- Rocket fire victims buried -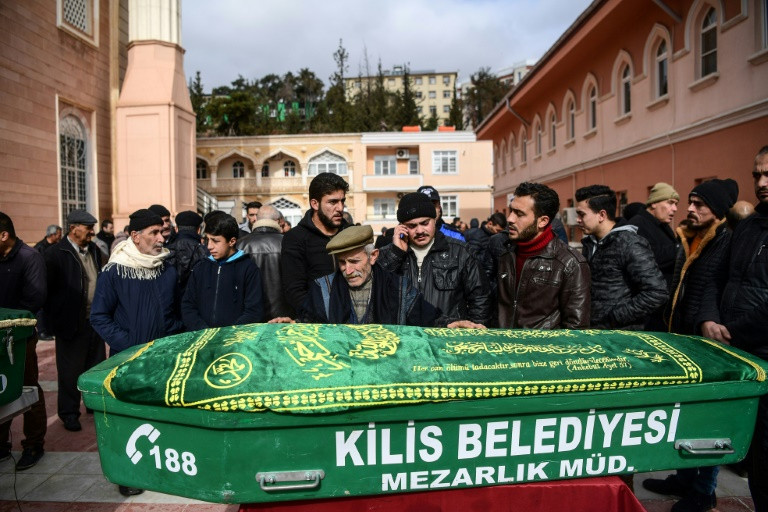 Hundreds of people went to the funeral of two people, a Turk and a Syrian, who were killed after rockets fired from Syria by the YPG landed in the border town of Kilis. Photo: AFP/Ozan Kose
An AFP correspondent saw tanks on the Turkish side of the border and soldiers ready to go into Syria amid tight security. Turkish artillery fire pounded the Afrin region, state-run news agency Anadolu said.
Two people, a Turk and a Syrian, were killed on Wednesday after two rockets fired from Syria by the YPG landed in the border town of Kilis, the local governor said. The YPG has denied shelling Turkish border towns.
Hundreds of people were present for their funeral on Thursday.
Three Turkish soldiers have been killed since the start of the offensive while the Syrian Observatory for Human Rights has said 52 Ankara-backed Syrian rebels and 47 US-backed Syrian Democratic Forces (SDF) and YPG fighters had been killed.
The SDF is an umbrella grouping composed mainly of YPG. The Turkish military said over at least 306 "terror organisation members were neutralised" but it was not possible to verify this.
The Observatory has said at least 30 civilians have been killed but Ankara strongly rejects such claims, saying that it is doing everything to avoid civilian casualties.