Refugee issue seen as big challenge for EU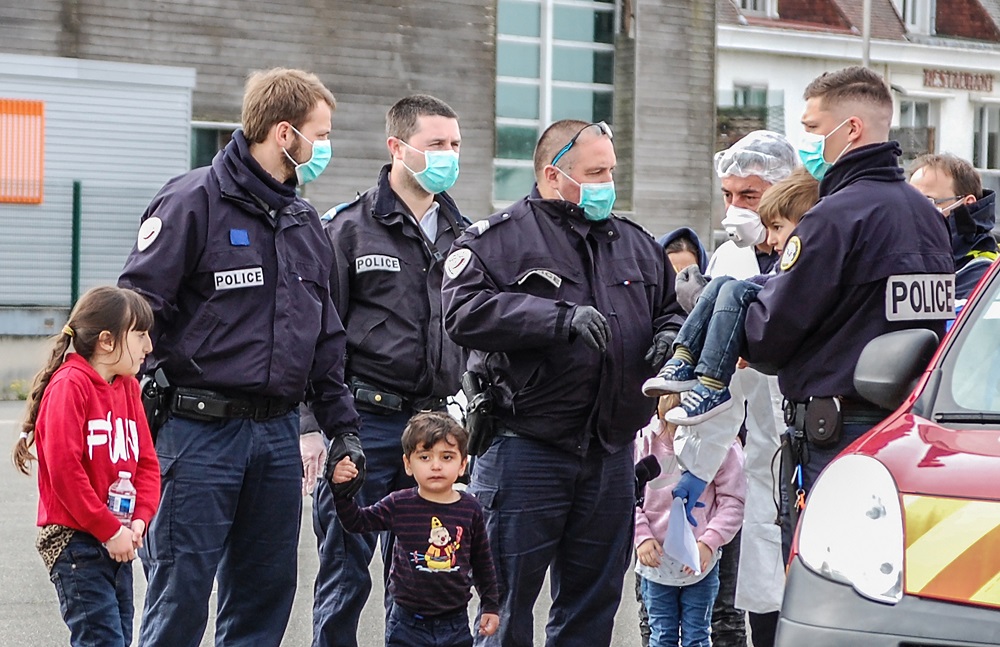 French police wearing masks assist migrants, including five children and a baby, who tried to reach England by crossing the Channel and were rescued off the French port city of Calais on Saturday. (Photo: AFP)
Applications for asylum likely to rise after outbreak defeated, say experts
As European countries gradually lift their coronavirus lockdowns and their economies recover, they need to prepare for a big influx of refugees and ensure the refugee issue does not cause further division and resentment on the continent, experts say.
The refugee issue has been a sore point for Europe for the past few years and will be a bigger burden for the continent, which has been hard hit by the COVID-19 pandemic, said Zhao Junjie, a researcher in European Studies at the Chinese Academy of Social Sciences.
"Refugees who want to head to Europe have been temporarily stranded due to the movement restrictions imposed by European countries to contain the spread of the novel coronavirus. But as European countries start to get back to normal the refugee issue will inevitably see a comeback."
A report last week by the European Asylum Support Office said the coronavirus lockdowns imposed in European countries have almost completely eliminated the number of asylum applications being lodged in the continent.
Early this year, just before COVID-19 appeared, asylum applications were at their highest point for the past two years, but in March applications dropped greatly, the report said.
In March about 34,737 asylum applications were lodged in Europe, 43 percent fewer than in February. Most applicants were from Syria, Venezuela, Afghanistan and Iraq.
However, COVID-19 in the Middle East and North Africa could cause food shortages, bring instability and create a power vacuum that militant groups such as Islamic State look to exploit, the report said. This could lead to "increases in asylum-related migration in the medium term".
"The main countries of origin of applicants for asylum in the EU+have medium to high vulnerability to hazards (including infections) and suffer from a lack of coping capacity," it said.
"Combined with lacking access to hand-washing facilities, crowded living conditions and low levels of literacy, the risk of destabilizing effects resulting from COVID-19 outbreaks has the potential to affect future asylum trends."
Turkey deal
In the peak year of 2015, more than 1 million irregular migrants flocked to Europe using various routes as they fled conflict and extreme poverty in the Middle East and Africa. The European Union struck a migrant deal with Turkey in 2016 in which the country agreed to host migrants heading for Europe in exchange for financial support from the EU.
However, Turkey has pressed the EU to do more in handling the issue, and it decided to "open the gates" to Europe for migrants and refugees in late February as it cannot hold more of them.
He Yun, an assistant professor in the School of Public Administration at Hunan University, said that because the Turkish economy is hit badly by COVID-19, many refugees stranded in Turkey will be unable to find work to support themselves and their families.
"They could very well make a desperate move to get to the EU," she said, adding that whether this becomes a new refugee crisis will depend on whether the EU and Turkey can again reach a deal to keep them away from Greek-Turkish borders.
"For the EU's part, it will have to increase funds for the care and management of refugees in Turkey for the short term and work out a long-term strategy as soon as possible."
Questions over EU solidarity have already been raised because of its initial responses to the pandemic, and the continent cannot let the refugee problem cause further divisions and resentment among its countries, He said.
"And Turkey will need EU help to reinvigorate its economy and provide care for refugees stranded in its territory, so both sides will find more grounds to work together in the post COVID-19 world than before."
Because of the heavy impact of COVID-19 as well as the rise of populist parties that oppose taking in more refugees, the EU is likely to tighten its policies of taking in refugees over the next two to three years, Zhao said.
The EU would need to change its mechanisms for dealing with refugees, including how many each member country should take and how to help them better integrate into society and support themselves, he said.