Greece buys arms amid row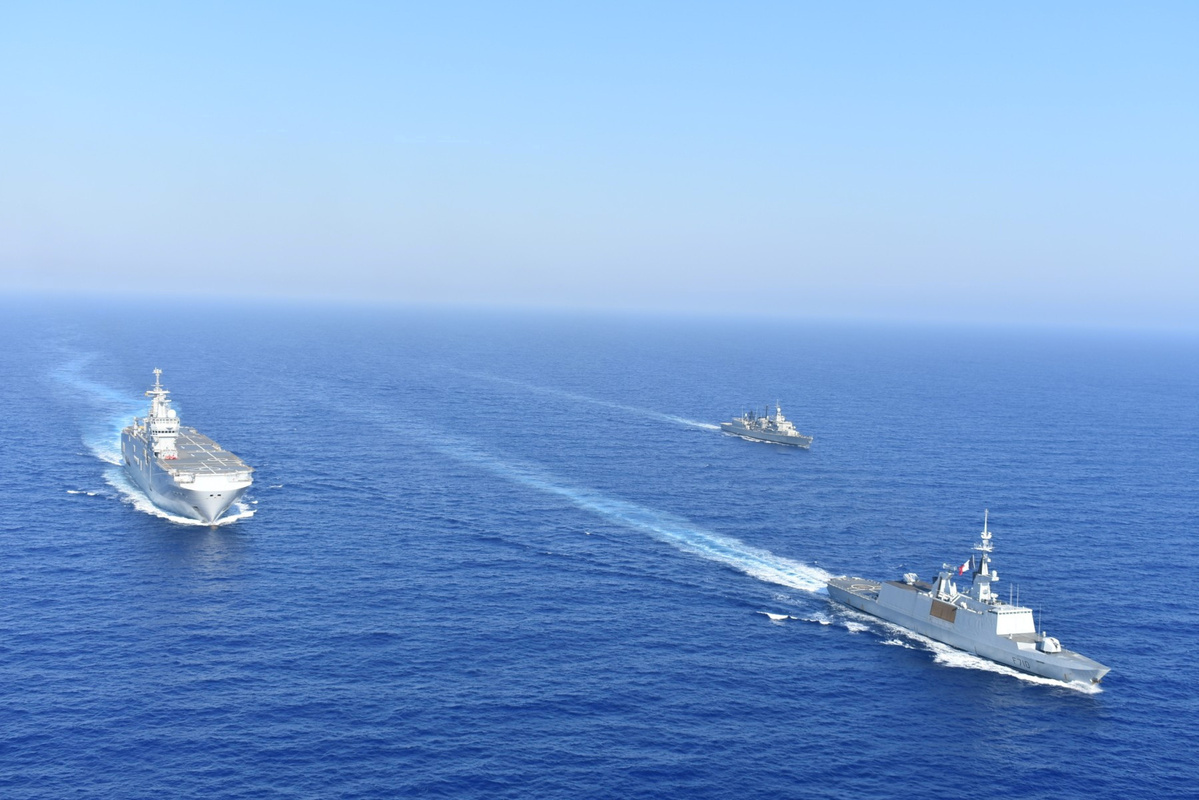 Greek and French vessels sail in formation during a joint military exercise in Mediterranean sea, Aug 13, 2020. [Photo/Agencies]
Military spending ramped up in response to standoff with Turkey over gas rights
Greece has announced a major weapons purchase and general increase in military capability as tensions with Turkey rise over natural gas exploration in the Mediterranean Sea's disputed waters.
The growing standoff between the two NATO members over hydrocarbon resources and naval influence has sparked fears of conflict.
"The time has come to reinforce the armed forces… these initiatives constitute a robust program that will become a national shield," Greece's Prime Minister Kyriakos Mitsotakis said in the northern city of Thessaloniki.
Mitsotakis confirmed that Greece would buy 18 French-made Rafale warplanes, four multipurpose frigates and four navy helicopters, while also recruiting 15,000 new soldiers and increasing resources to the national arms industry and cyberattack defenses.
It would also secure new antitank weapons, navy torpedoes and air force missiles, the prime minister said. The new spending is the largest in two decades, according to the Agence France-Presse news agency.
France has strongly backed Greece, with French President Emmanuel Macron leading those inside the European Union opposing Turkey's "increasingly militaristic" foreign policy.
Turkey says it has equal rights to the resources in the waters. In a televised speech from Istanbul on Saturday, Turkish President Recep Tayyip Erdogan claimed that Macron was targeting him, according to the broadcaster France24.
"Don't mess with the Turkish people. Don't mess with Turkey," Erdogan warned his French counterpart. France24 reported that Erdogan also said France has no right to criticize Turkey because it also had a colonial past.
The bitter row escalated last month when Turkey sent an exploration vessel and a small navy flotilla to prospect for gas in waters where Greece and the neighboring island of Cyprus claim exclusive economic rights.
Show of force
In response, Greece then responded by shadowing the Turkish ships and staging naval exercises with several EU allies and the United Arab Emirates in its own show of force.
Last month EU foreign ministers were reportedly drawing up a list of potential sanctions against Turkey, in an effort to get Ankara to limit its gas exploration in the eastern Mediterranean to its own territorial waters, according to DW News.
Leaders of seven European countries on the Mediterranean last week met at a summit in Corsica where they said they were ready to back EU sanctions on Turkey over the dispute.
Mitsotakis is believed to have made the arms deal with France after talks with Macron during the summit.
France's Ministry of Armed Forces said on Saturday that a contract will be signed "in the coming months".
Mitsotakis said he was ready to start a dialogue with Turkey, provided Ankara stops acting "like a provocateur".
"We do need dialogue, but not when held at gunpoint," Mitsotakis wrote in an article published in The Times, Frankfurter Allgemeine Zeitung and Le Monde last week.
"If we cannot agree then we must seek resolution at the (International Court of Justice at The) Hague," he said.