Japan's trade surplus with US shrinks further in October
Japan's politically sensitive trade surplus with the United States shrank further in October, the fourth consecutive monthly decline, official data showed Monday.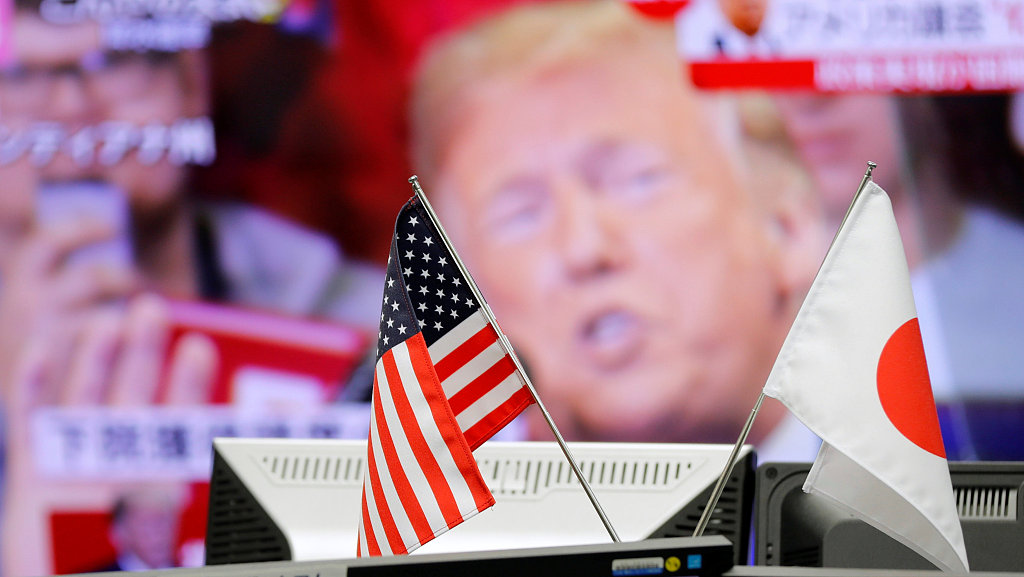 A TV monitor showing US President Donald Trump is seen behind national flags of the US and Japan at a foreign exchange trading company in Tokyo, Japan November 7, 2018. (File photo: VCG)
The figure also showed an overall global trade deficit, as increases in imports of crude oil and liquefied natural gas overwhelmed a rise in exports of cars and engines.
The surplus with the US came in at 573.4 billion yen ($5 billion) in October, a year-on-year decline of 11.0 percent.
Exports of automobiles, engines and machines used for aircraft rose while imports of grains, liquefied petroleum gas and crude also grew.
President Donald Trump has reportedly described Japan as his next target after China as he seeks to reduce the US trade deficit.
And Vice President Mike Pence reiterated last week Washington's position that US businesses have faced unfair obstacles in Japan.
"The United States has had a trade imbalance with Japan for too long. American products and services too often face barriers to compete fairly in Japanese markets," he said, after talks with Japanese Prime Minister Shinzo Abe in Tokyo.
Japan has watched nervously as Trump's government has imposed tariffs on Chinese goods and criticised Beijing for its currency policy.
US and Japanese officials are expected to begin trade talks in January.
Japan logged an overall global trade deficit of 449.3 billion yen ($4 billion), the first deficit in the past two months, as imports rose 19.9 percent while exports grew just 8.2 percent.
The deficit with its biggest trading partner China jumped 52.1 percent, logging the seventh consecutive monthly deficit.