Tear gas fired in Paris as yellow vests mark anniversary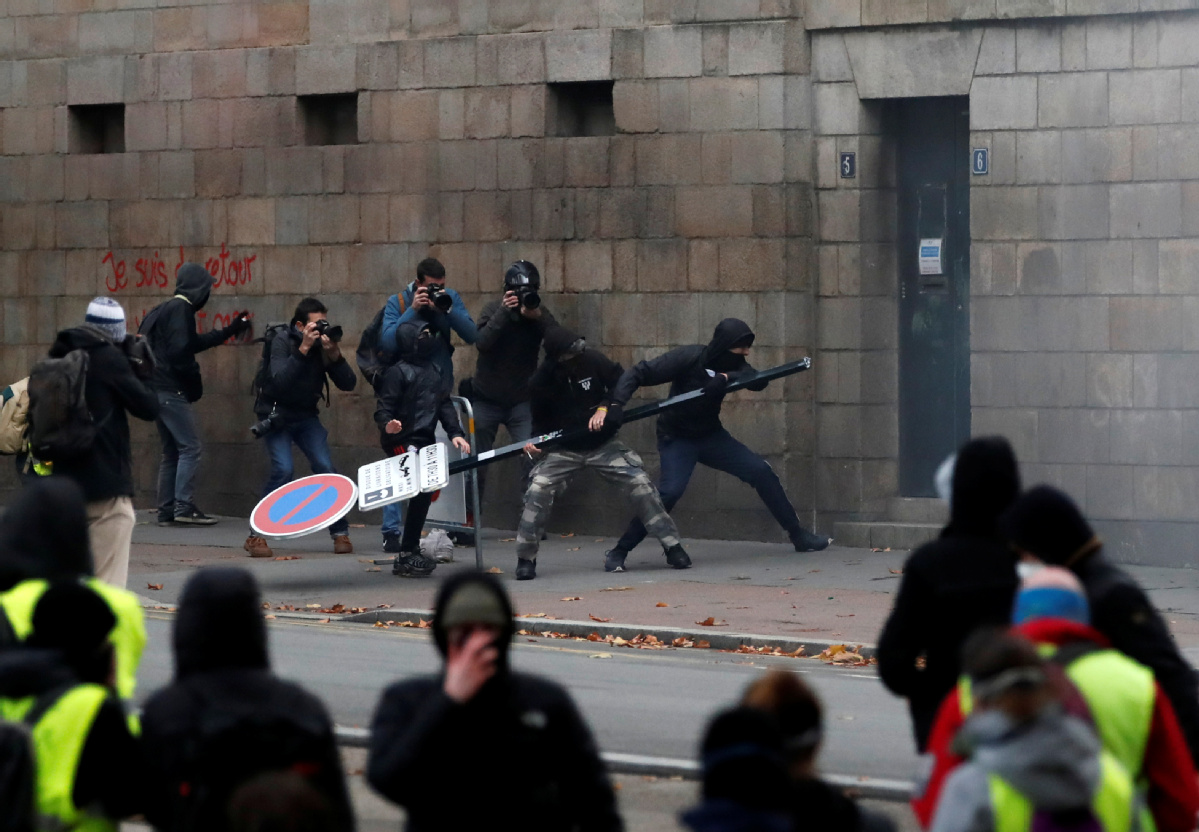 (Masked protesters vandalize the prefecture building during a demonstration to mark the first anniversary of the "yellow vests" movement in Nantes, France, on Saturday. STEPHANE MAHE/REUTERS)
Paris police fired tear gas and water cannons on Saturday as yellow vest protesters turned violent when they marked the one-year anniversary of their movement.
Over 100 protesters were arrested on Saturday. The French Interior Ministry estimated the number of protesters on Saturday at 28,000, including 4,700 in Paris, a sharp drop from the estimated 280,000 when the movement erupted on Nov 17, 2018, over a proposed fuel tax aimed at curbing carbon emissions.
In Place d'Italie in southern Paris, protesters, many clad in black and masking their faces, built barricades, set trash bins on fires and threw rocks at riot police. Cars were overturned and set on fire and the front doors of an HSBC bank branch was smashed.
In other parts of the French capital, protesters clashed with the police near the Porte de Chamerret, close to the Arc de Triomphe.
Clashes were also seen in other cities, including Bordeaux, Nantes and Lyon, according to Euronews, which spent much of Saturday covering the protest live from Paris.
The protesters are known as yellow vests, or "gilets jaunes", because they often wear the yellow high-visibility jackets French motorists carry in their cars in case of emergency.
The protest started a year ago, then snowballed into a broader movement covering many grievances such as high living costs, growing inequality and President Emmanuel Macron's economic policies, such as the scrapping of a wealth tax.
After months of protests, Macron dropped the proposed fuel tax. He also launched a "Great National Debate" in January traveling across France to talk with citizens. A number of measures, such as tax exemptions for retirement pensions, have been adopted in response.
Tomasz Michalski, an associate professor in the Economics and Decision Sciences Department at the HEC Paris business school, said the Saturday protest was bigger than usual, largely due to the anniversary. Turnouts were low in the past few months because many of demands were already met by the French authorities, he said.
He noted that the movement failed to constitute a political party, noting that in the European elections, candidates aligned with the yellow vests obtained less than 3 percent of the votes.
He said that democracy in France does not work well. "The country has been in a stasis since the 1980s, paralyzed and unable to make any bold changes of its institutions and the economy. And problems just keep on accumulating," Michalski told China Daily.
But he said most French agree that violence is pointless and will not solve any societal problems.
Michalski said the measures taken by the government were by no means systemic, and did not solve the deep problems that led to a destruction of many middle-class jobs.
"The yellow vest movement can thus resurface any moment," he said.
French railway workers are planning a mass strike in December over pension reforms, while on Thursday, thousands of hospital workers took to the street to protest over low pay and a heavier workload.
Earlier this week, students demonstrated across France over their poor economic situation in a show of solidarity with a student in a Lyon university who set himself on fire over economic destitution.
The yearlong yellow vest movement has been hazardous and occasionally lethal. A total of 24 protesters lost an eye after being hit by shots fired from riot guns, AFP news agency reported. About 2,500 demonstrators and 1,800 security forces were injured, while 11 people died on the sidelines of the demonstrations, according to authorities.