US leads world in COVID-19 cases, deaths
China Daily Global
1586748290000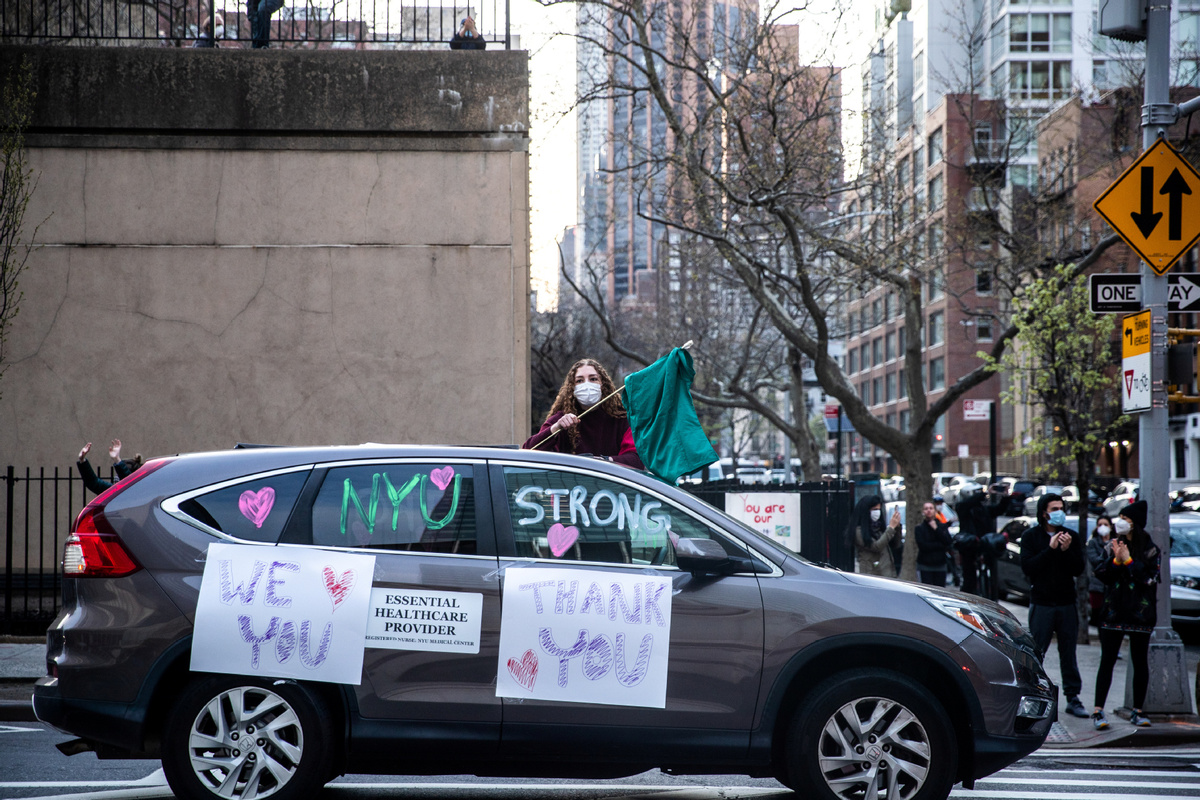 A woman holds a flag to thank medical workers outside NYU Langone Hospital during the outbreak of the COVID-19 in the Manhattan borough of New York City, New York, April 12, 2020. (Photo: Agencies)
The United States surpassed Italy in the total number of deaths from COVID-19 on Saturday, becoming the country with the most confirmed cases and deaths.
According to a tally by the Center for Systems Science and Engineering at Johns Hopkins University, the US has reported 530,006 cases and 20,608 deaths as of Sunday.
US President Donald Trump approved a disaster declaration for the state of Wyoming on Saturday. All 50 states, Washington, DC, the US Virgin Islands, Guam, the Northern Mariana Islands and Puerto Rico have now received the declaration for the same reason, the first time in US history.
The designation allows state and local governments to gain federal funds and resources such as help from the Army Corps of Engineers to help combat the pandemic.
California and New York, the two hardest-hit states, have seen their curve of COVID-19 infections flattening during the past few days due to stay-at-home orders and social distancing protocols, and the governors of both states urged residents to keep doing so.
"Staying at home is literally saving lives. This isn't over yet. We have to keep it up," California Governor Gavin Newsom said on social media on Saturday.
Meanwhile, New York Governor Andrew Cuomo said at his daily briefing that he wants to "make sure any decision we make to open the economy is based on what we've learned from our own experience and from other places around the globe".
"I understand the need to bring back the economy as quickly as possible and that people need to work, but more importantly we need to save lives," he added.
Hundreds of US employers have temporarily laid off workers amid the outbreak because many employees realize they are eligible for weekly state and federal benefits that equal their wages.
Businesses in the US, including Macy's, JC Penney, Kohl's, Gap, Equinox gyms and furniture maker Steelcase are facing economic fallout. State-mandated shutdowns have forced millions of US workers to stay home since mid-March, decimating parts of the economy.
Macy's, which said furloughs would affect the majority of its 125,000 workers, lost most of its sales after the pandemic forced it to close all of its 750 stores. Gap, which also owns Old Navy and Banana Republic, said it would furlough nearly 80,000 of its approximately 129,000 store employees in the US and Canada. The announcements followed similar actions by other chains with products considered nonessential.
Macy's Chief Executive Jeff Gennette said the department store chain furloughed a majority of its 125,000 employees in April, in part because they would be able to get benefits from their states along with money from the federal stimulus program. "We expect to bring colleagues back on a staggered basis as business resumes," the company said.
Last week, 6.6 million US workers filed new unemployment benefits claims, bringing the total number who have lost their jobs to 16.8 million. Many more workers have yet to file a claim due to the system being overwhelmed, which could mean the US jobless numbers are even higher than reported.
To rescue the economy, Trump has repeatedly said he wants to reopen it as soon as possible. But the World Health Organization warned on Friday against a rush to lift measures, while saying it is working with some countries on strategies to gradually and safely ease restrictions.
"I know that some countries are already planning the transition out of stay-at-home restrictions. The WHO wants to see restrictions lifted as much as anyone," WHO Director-General Tedros Adhanom Ghebreyesus said in Geneva.
Tedros said that lifting restrictions too quickly could lead to a deadly resurgence.
The WHO has highlighted several important factors that should be considered when governments are making the move, including that transmission is controlled, sufficient public health and medical services are available, outbreak risks in special settings such as long-term care facilities are minimized, preventive measures are in place in workplaces, schools and other places where it is essential for people to go, and the risk of importation can be managed.