Myanmar hosts strategy summit on Asia Pacific meth precursor crisis
People's Daily app
1541615468000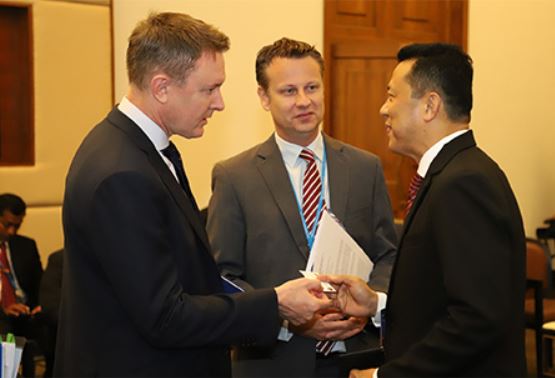 UNODC Regional Representative Jeremy Douglas and Myanmar Country Manager Troels Vester meet with Myanmar's Drug Enforcement Commander General Win Naing in Nay Pyi Tiaw on November 7, 2018. (Photo: Agencies)

Bangkok (People's Daily) – Senior-ranking delegations from the Southeast Asian region convened Nay Pyi Taw, the Myanmar capital, to address the ongoing synthetic drug crisis and negotiate new strategies targeted at trafficking and precursor chemical production.
"We are very pleased these discussions are underway," said Myanmar Vice Minister of Home Affairs Major General Aung Thu.
"We put ourselves forward to co-host at the last Mekong MOU negotiations, and we reminded the region that precursors are required for synthetic drug production to continue to go up. While we are a significant source of illicit drugs, we are not a source of the required chemicals," Thu explained.
Methamphetamine production and trafficking in the region has reached alarming levels, with seizures in 2018 already exceeding records set last year.
Supply from the Golden Triangle outweighs market demand in the surrounding Mekong region and Southeast Asia, a major supply source for Australia, Japan, South Korea and New Zealand.
The overabundance of methamphetamine has forced street prices to plummet. Yaba tablets that once sold for $15 in 2014 are now available for less than $5. Crystal methamphetamine prices have also dropped due to market saturation.
Synthetic opioids like fentanyl are being produced, diverted and trafficked in and from the region to North America and Australia, where they are mixed into the opiate and heroin markets to maximize profits.
Ketamine production has also jumped in the Golden Triangle region. Exported to China and Thailand, it is often found in methamphetamine shipments.
UNODC Regional Representative Jeremy Douglas explained that the surge in synthetic drug use, specifically meth traced to Myanmar, has created significant demand for precursor chemicals.
"The trade is worth billions to larger transnational crime groups as they have consolidated production into safe havens and traffic to increasingly distant markets," said Douglas.
The volume of today's meth market would not be possible without precursor chemicals. However, governments are rarely reporting seizures on these specific chemicals and other pharmaceuticals necessary for synthetic drug manufacturing, an indication traffickers can source and move them easily across borders.
Douglas stressed the importance of regional participation through coordinated strategy efforts and programs, especially among countries home to large industries.