China, ASEAN countries discuss social development, poverty reduction
People's Daily app
1530100202000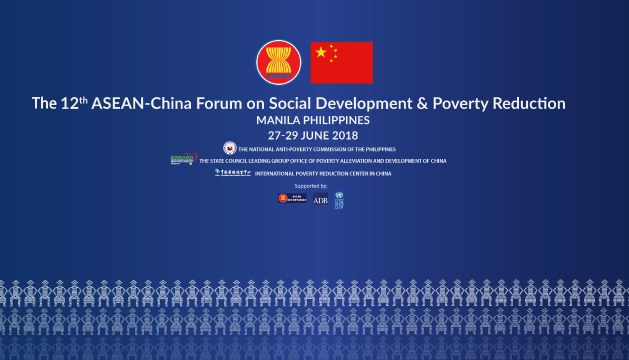 Manila (People's Daily) – The 12th China-ASEAN Forum on Social Development and Poverty Reduction kicked off on Wednesday, with more than 120 experts, entrepreneurs and senior officials from China, ASEAN countries and international organizations in attendance.

The forum is co-hosted by the National Anti-Poverty Commission of the Philippines and the State Council Leading Group Office of Poverty Alleviation and Development of China and co-organized by the Secretariat of NAPC of the Philippines and the International Poverty Reduction Center in China, supported by the ASEAN Secretariat, Asian Development Bank (ADB) and the United Nations Development Program (UNDP).
Chen Zhigang, Vice Minister of the State Council Leading Group Office on Poverty Alleviation and Development of China, said that with the in-depth implementation of Xi Jinping's thought on poverty alleviation, China has achieved remarkable progress in poverty alleviation, but the challenges we are currently facing are still arduous.
He said that its aim is to plan poverty reduction practices in the direction of rural revitalization, explore poverty reduction innovation within the framework of urban-rural poverty linkages, and study rural development in the context of global trade liberalization, to deepen cooperation with the vision of jointly building a community of shared future for China and ASEAN this year.
"The biggest impact on poverty will be through job creation, especially in rural areas. Helping agribusinesses find markets is one great potential area for ASEAN-China cooperation: together this is a market of close to 2 billion people with a steadily growing purchasing power". Stephen P. Groff, Vice President of the Asian Development Bank believes greater regional cooperation and integration is a vital process, and one which ADB is committed to support.
This year marks the 15th anniversary of the China-ASEAN strategic partnership, and both sides adopted 2018 as the Year of Innovation.
Ernesto Abella, Philippine Undersecretary of Foreign Affairs, said ASEAN-China cooperation in social development and poverty reduction is firmly focused on capacity-building initiatives, policy exchanges, dialogue, knowledge-sharing and information exchanges, and technical cooperation that place our peoples at the center of the strategic partnership.
"As both sides mark the ASEAN-China Year of Innovation this year, the Philippines looks forward to working with ASEAN and China to advance cooperation in technological innovation and the digital economy especially where these could deliver inclusive and innovation-led growth."
Sun Yi, Charge d'affaires of the Chinese Embassy in the Philippines, announced that China is now extending a helping hand to the Philippines for its agriculture and fishery modernization, small-scale rural infrastructure and transportation schemes, climate change and disaster prevention, and rural livelihood programs covering drinking water, elementary education and nutrition.
"We are ready to join hands with the Philippine central and local governments to make sure that more Filipinos will be able to benefit from those efforts in the future."
Following the opening ceremony, a plenary panel discussion on "What's Next on Working for Poverty Reduction in China-ASEAN Cooperation" was held.
Intra-regional anti-poverty experts and international organizations' representatives joined the panel and shared their latest theories and experiences on poverty reduction within the region and around the world.
With the theme, "Enhancing Poverty Reduction Partnerships for an ASEAN-China Community with a Shared Future", the 12th ASEAN-China Forum on Social Development and Poverty Reduction contains four plenary sessions and a closing ceremony from June 27-28, aiming to cover anti-poverty issues that concern China and ASEAN member states and deepen regional cooperation for inclusive development and poverty reduction to contribute to the 2030 Agenda for Sustainable Development.