Kenya's electoral amendments becomes law
People's Daily app
1509723071000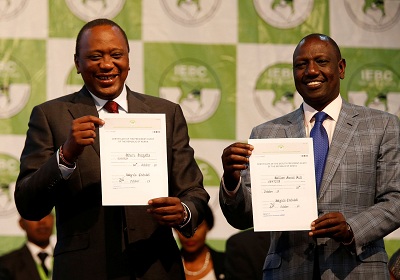 President Uhuru Kenyatta (left) reacts after he was announced winner of the repeat presidential election at the IEBC National Tallying Center at the Bomas of Kenya, in Nairobi, Kenya on October 30. Photo: VCG
Johannesburg - A set of amendments to Kenya's electoral act passed into law on Thursday, which makes it difficult for the Supreme Court to annul the elections.
The amendments were gazetted automatically after President-elect Uhuru Kenyatta did not sign the bill within 14 days or send it back to the parliament.
Lawmakers of Kenyatta's ruling Jubilee Party introduced the amendments after the Supreme Court annulled the August 8 election result due to "irregularities and illegalities" and mismanagement by the Independent Electoral and Boundaries Commission (IEBC).
The amended law stipulates that failure to transmit results electronically "shall not invalidate the result", which is also one of the reasons the Supreme Court invalidate the first election.
The amendments limit the power of chairperson of the IEBC and also decrease the amount of IEBC.
According to the Kenyan law, the bill will become automatically a law if it is not sent back to parliament or signed by the president within 14 days.
Kenyatta said Monday that he didn't agree with the new election law, though he did not send it back to parliament.
After the new law came into effects, the Supreme Court's power is curbed. It makes the Court impossible to invalidate the election results for non-compliance with any laws if this "did not substantially affect the result of the election".
Kenyatta was announced the winner of the re-run presidential election with 98.4% of the vote on October 30.