1 person dies in wildfire near California-Oregon border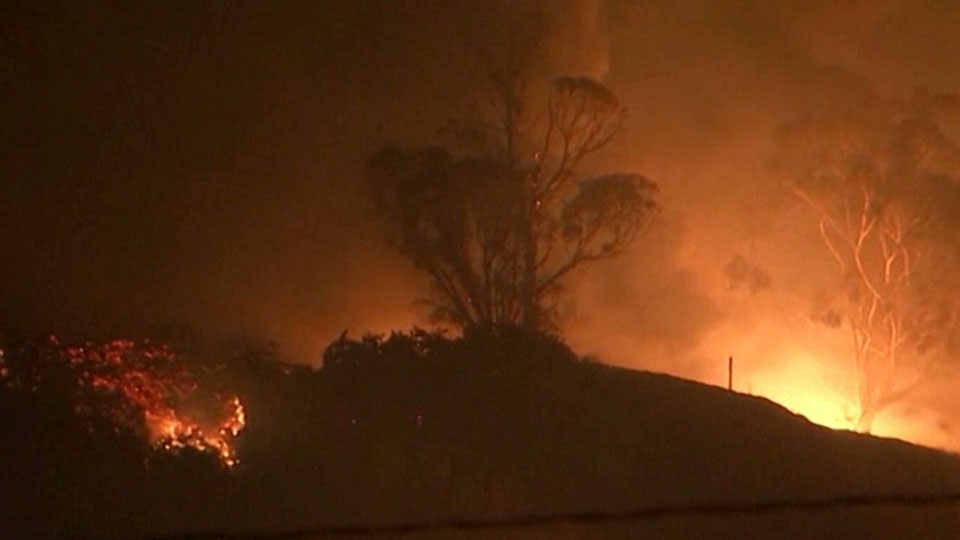 (Photo: CGTN)
A wildfire burning through drought-stricken timber and brush near California's border with Oregon has killed one person and destroyed multiple structures as it grows largely out of control, authorities said Friday.
The person died in the blaze that started Thursday in Siskiyou County. But no other details were released because next of kin have not been notified, said Suzi Brady, a spokeswoman with the California Department of Forestry and Fire Protection.
The blaze is threatening 300 homes near Hornbook, California, a town of 250 people about 14 miles (22 kilometers) south of the Oregon border.
It has burned more than 12 square miles (30 square kilometers) and is 5 percent contained.
The fire is being fueled by hot weather and extreme winds, conditions that are expected throughout the weekend, Brady said. "The fire jumped a major highway yesterday, and it's burning on both sides and is being fueled by extremely erratic winds," she said.
Multiple structures are threatened, damaged or destroyed, Brady said.
California Gov. Jerry Brown has declared a state of emergency, citing "extreme peril" to people and property.
Farther north in Oregon, authorities urged hikers and other outdoors enthusiasts to avoid forested areas near the Oregon-California border, where a blaze has killed one person.
The Jackson County Sheriff's Office said Friday that although the blaze has not crossed into Oregon, officials are concerned people in remote areas could be unreachable in case they need to quickly evacuate.
The areas of concern include the Pacific Crest Trail, Mount Ashland and the Cascade-Siskiyou National Monument.
Search and rescue crews may be prohibited from engaging in search missions because of fire danger, the office said.