Dogs and portable morgues: Search intensifies in fire zone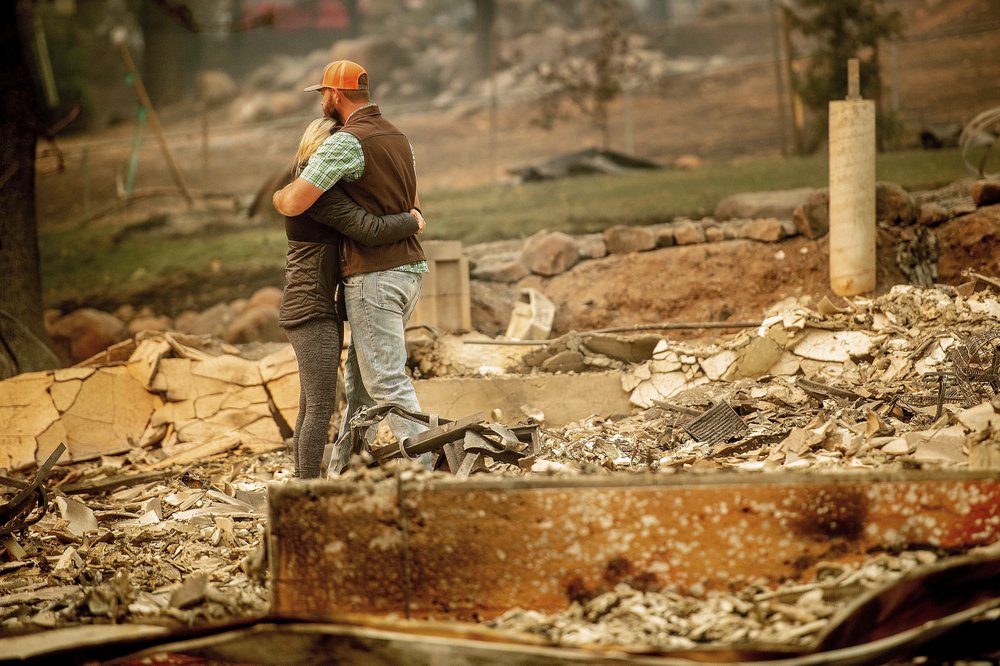 Chris and Nancy Brown embrace while searching through the remains of their home, leveled by the Camp Fire, in Paradise, Calif., on Monday, Nov. 12, 2018. As the fire approached, Nancy Brown escaped from the home with her 2-year-old and three dogs. (Photo: AP)
Authorities moved to set up a rapid DNA-analysis system and bring in cadaver dogs, mobile morgues and more search teams in an intensified effort to find and identify victims of the deadliest wildfire in California history, an inferno that killed at least 42 people.
Five days after flames all but obliterated the Northern California town of Paradise, population 27,000, officials were unsure of the exact number of missing. But the death toll was all but certain to rise.
"I want to recover as many remains as we possibly can, as soon as we can. Because I know the toll it takes on loved ones," Butte County Sheriff Kory Honea said Monday night as he announced the discovery of 13 more dead.
More than a dozen coroner search-and-recovery teams looked for bodies across the apocalyptic landscape that was once Paradise, while anxious relatives visited shelters and called police and hospitals in hopes of finding loved ones.
Lisa Jordan drove 600 miles (1,000 kilometers) from Yakima, Washington, to search for her uncle, Nick Clark, and his wife, Anne, who lived in Paradise. Anne Clark has multiple sclerosis and cannot walk. Jordan said no one seemed to know whether they were able to get out or whether their house was still standing.
"I'm staying hopeful," she said. "Until the final word comes, you keep fighting against it."
Authorities said they were bringing in two mobile morgue units from the military, requesting an additional 150 search-and-rescue personnel, and seeking the setup of a rapid DNA system to speed the analysis of remains.
The flames were so fierce that they melted metal. In some cases, search crews found only bones or bone fragments, which were duly put in body bags. Investigators are consulting forensic anthropologists for help in identifying the remains.
Chaplains accompanied some coroner search teams that visited dozens of addresses belonging to people reported missing. No cars in the driveway was a considered a good sign, one car a little more ominous and multiple burned-out vehicles more reason for worry.
Meanwhile, state investigators trying to establish the cause of the inferno appeared to be zeroing in on Pacific Gas & Electric Co. power lines.
A landowner near where the blaze began, Betsy Ann Cowley, said PG&E notified her the day before the blaze that crews needed to come onto her property because the utility's wires were sparking. Investigators have since declared the area a crime scene.
PG&E had no comment on the landowner's account but acknowledged last week that it was having problems with its transmission lines in the area just before the fire erupted.
More than 5,000 firefighters battling the blaze made gains overnight, slowing the flames' advance toward Oroville, a town of about 19,000 people. The fire, which has charred 195 square miles (505 square kilometers) and destroyed more than 6,400 homes since it started Thursday, was reported 30 percent contained.
At the other end of the state, in Southern California, firefighters continued making progress against a blaze that killed two people in star-studded Malibu and destroyed over 400 structures.
Crews lit backfires and extended containment lines overnight. Officials said they expected to have the more than 146-square-mile (378-square-kilometer) fire fully contained by Thursday.
The fire burned through part of a former research site that once housed a nuclear reactor and has been undergoing a years-long waste cleanup. But measurements taken over the weekend found no elevated levels of radiation, the state Department of Toxic Substances control said in a statement.
The 42 dead in Northern California surpassed the deadliest single fire on record, a 1933 blaze in Griffith Park in Los Angeles. A series of wildfires in Northern California's wine country last fall killed 44 people and destroyed more than 5,000 homes.