Teen's police killing tests long-frustrated black Pittsburgh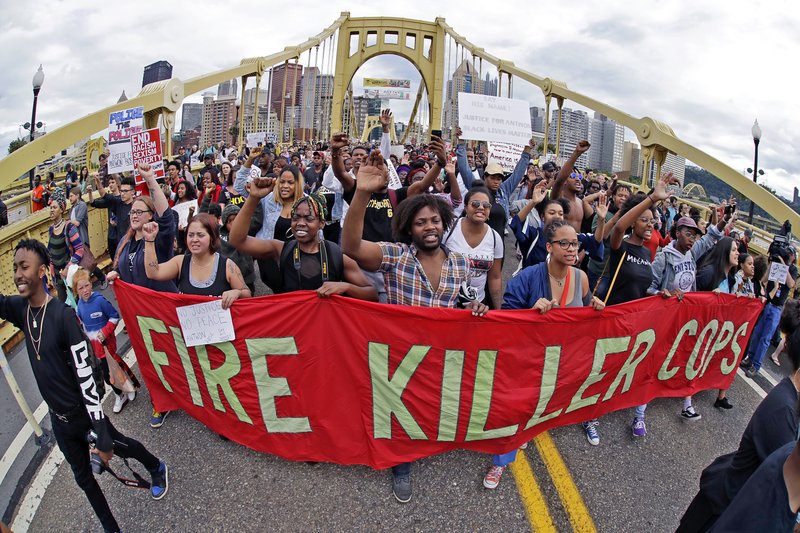 (Photo: AP)
The day after Antwon Rose Jr. was shot through the cheek and elbow and in the back, killing the 17-year-old honors student, young black people swarmed the East Pittsburgh police station.
Over the next several days, outraged protesters took over thoroughfares, disrupted rush hour and shouted from the steps of the county courthouse, demanding that the white officer who killed the black teenager be charged.
Rose's killing is the first in the Pittsburgh area in the Black Lives Matter era, and residents are galvanized. From the sustained marches to the swift announcement that Officer Michael Rosfeld will face charges of criminal homicide, what has unfolded in the hills of western Pennsylvania's steel country is a rare response to the killing of an unarmed black male, despite longstanding tensions in the area between police and the scattered black community.
Residents are guardedly optimistic the case could result in an even rarer conviction.
"It's a different political climate, a different energy with the people who are coming out," said Brandi Fisher, an activist who started the Alliance for Police Accountability in 2010. "This was a cold-blooded murder, and it's the first for this generation in our city to have witnessed."
For nearly two weeks, and despite a heavy media focus on immigration at the Mexican border, protesters have turned national attention to Pittsburgh without big names like the Rev. Al Sharpton or lawyer Ben Crump, and demonstrators have been largely local and diverse.
Unlike Ferguson, Missouri; Baltimore; Cleveland and other places where similar cases have caused outcry, Allegheny County is 81 percent white and 13 percent black. The black unemployment and poverty rates are triple that of whites. And the mountain-and-valley terrain that separates communities that are actually quite close as the crow flies can also prevent coalescence.
It all creates a climate that has failed and exhausted the area's black community, organizer Tresa Murphy said.
"We live in a city that has systematically oppressed us since our grandparents got here," said Murphy, 24.
In talking about Rose's killing in East Pittsburgh, several miles outside Pittsburgh, residents frequently reference the region's systemic inequities, particularly in segregation and policing.
The small borough of about 1,800 residents is 60 percent black, but its eight-member police force is predominantly white. Pittsburgh's police department was the first subjected to a federal consent decree in 1997 after a Department of Justice investigation found a pattern of excessive force and other shortcomings.
Residents recalled that the era angered many in the black community but action was less common. They point to more muted protests after the 1995 death of Jonny Gammage, a 31-year-old unarmed black man who was stopped in suburban Brentwood for erratic driving. He died of suffocation after officers pinned him to the pavement.
The case drew headlines because Gammage was the cousin of Pittsburgh Steelers player Ray Seals. Two of the five officers involved were tried twice for involuntary manslaughter, but both cases ended in mistrials.
The 2012 Pittsburgh shooting of Leon Ford — who was shot in the chest five times after being pulled over for running a stop sign and survived, though he was left a paraplegic — produced outrage but not on the scale of the Rose demonstrations.
Ford, who also was unarmed, was awarded $5.5 million in a federal lawsuit, but a jury in a criminal trial cleared one officer of assault and battery allegations and was deadlocked on whether the other used excessive force.
The Rev. Shanea Leonard, of Judah Fellowship Christian Church in Pittsburgh, who protested in a downtown march on Wednesday, sees more unity around the Rose case.
"It was enough years ago, but the community has been galvanized," Leonard said. "We're not seeing justice. It's more of us that are tired than ever before."
Protests have continued since the announcement of charges for Rosfeld, as the community raises concerns about the legal process. While happy about the charges, many are outraged that he was released on bond less than an hour after turning himself in.
"That says they plan to show this officer favor," Fisher said. "He's at home with his family, and he didn't have to pay a dime to get out of prison."
Rose was killed June 19 after fleeing during a traffic stop. He was a passenger in a car suspected in a drive-by shooting that occurred earlier that evening in neighboring North Braddock.
Police arrested another 17-year-old, who also ran from police, on Wednesday. Prosecutors say that teenager is the suspected shooter in the drive-by and that Rose was not involved.
Rosfeld gave inconsistent statements about whether he saw Rose with a weapon, officials say. Rosfeld's attorney has said that he believes the shooting was justified and that the officer should face an involuntary manslaughter charge at most.
Christian Carter, 18, said he has never felt distanced from gun violence or the killings of black men by police. He has been a fixture in the recent Pittsburgh-area protests and said people are fueling the unrest, which he does not expect to subside soon.
"We're growing up in America, where it's a daily thing to see these deaths," Carter said. "I think a lot of the older people are scared to see what's going to happen to us, being on the front lines, but I'm doing it because this is something that's important to me, that I want to stop. We're not backing down."