British Queen leads nation in remembrance of dead on 100th anniversary of WWI ending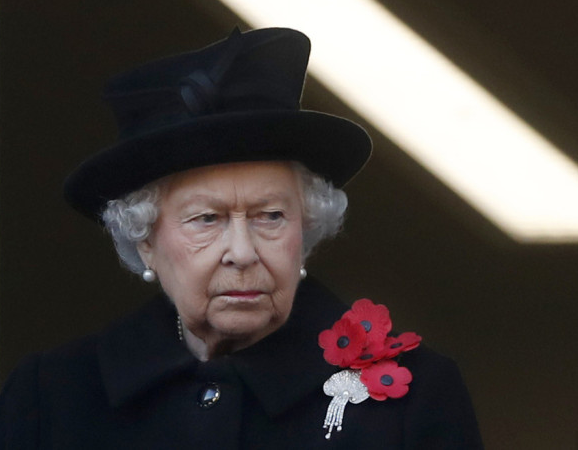 Britain's Queen Elizabeth II attends the Remembrance Sunday ceremony at the Cenotaph in London, Sunday, Nov. 11, 2018. (Photo: IC)
LONDON, Nov. 11 (Xinhua) -- Queen Elizabeth II was joined on Sunday morning by thousands of former and current soldiers, leading politicians and diplomats in marking the 100th anniversary of the end of the First World War at the annual Remembrance Day parade in central London.
As 11 a.m. was tolled out by neighboring Big Ben, the Queen watched as her memorial wreath of dead poppies was placed on the Cenotaph by her son Prince Charles.
The annual remembrance service and parade has been held at the site of the Cenotaph in Whitehall since 1919. Until the end of the Second World War it was always held on November 11, at 11 a.m., the exact time of the armistice which marked the end of the First World War but since 1945 the remembrance service has been held on the second Sunday in November.
For the first time, German President Frank-Walter Steinmeier was present at the ceremony and laid a wreath at the Cenotaph at the invitation of the British government, a gesture of reconciliation between Germany and Britain which were on opposite sides during both World Wars.
The Queen joined thousands of other people in two minutes of silence as a mark of respect to those who died in conflicts since 1914.
The two minutes silence was observed across Britain, and at its conclusion, church bells rang out.
The Queen will attend a church service on Sunday evening at Westminster Abbey dedicated to remembering those who died in conflicts.
Throughout the day, thousands of members of the public drew portraits of dead soldiers in the sands along the British coastline in an event entitled Pages of the Sea.
The portraits etched in sand would all be washed away by the tide, symbolizing the passage of time and the act of remembrance.