Canada, US seek closer military ties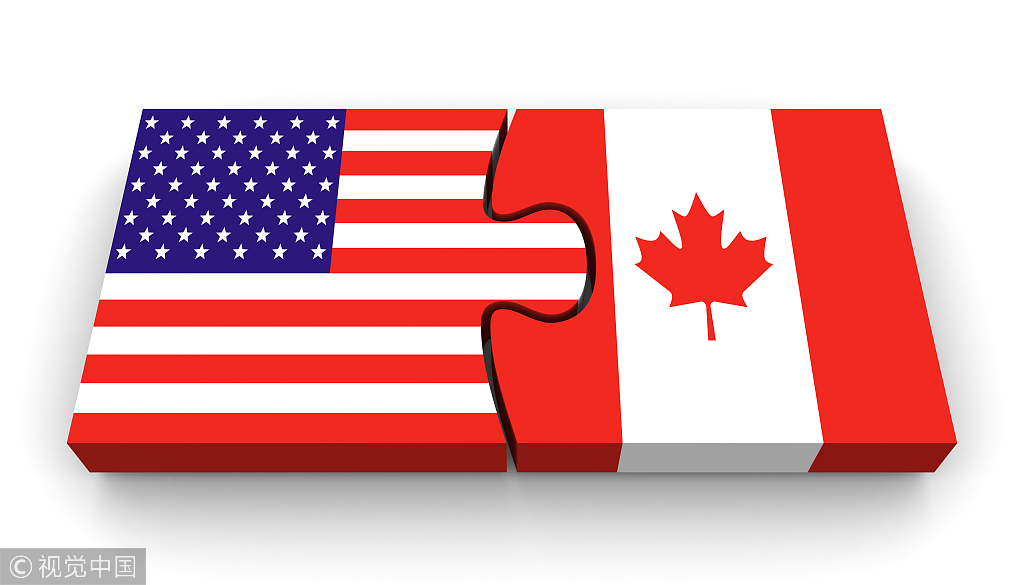 US Canada Puzzle (VCG photo)
Canadian Defence Minister Harjit Singh Sajjan on Tuesday reiterated Canada's firm support to working with allies and partners on a diplomatic solution for denuclearization on the Korean peninsula that ensures security and prosperity.
Sajjan met with US Secretary of Defense James Mattis to discuss a broad range of mutual defence and security priorities, according to the news release by the Canadian National Defense on Tuesday.
During this meeting, Sajjan and Mattis reaffirmed their long-standing support for the Ukrainian people as well as the sovereignty and territorial integrity of Ukraine, read the news release.
The two defence leaders also exchanged views on peace support operations in the future. Sajjan emphasized Canada's commitment to helping ensure that the UN peacekeepers remain an effective tool to resolving conflicts.
They also discussed countering extremist organizations and their ongoing collaboration as part of the Global Coalition against Daesh.
Canada and the United States are fully committed to continental defence and the recognition of the North American Air Defense Command as the cornerstone of their defence and security, stressed the Canadian Defence Ministry.
Both Sajjan and Mattis attended the Foreign Mininsters Meeting on Security and Stability on the Korean Peninsula, which was held at the Vancouver Convention Center on Tuesday.
Listed in the meeting-agenda, a series of bilateral meetings were held behind closed doors. Issues discussed in this one-day meeting included the pressuring and sanctions against the Democratic People's Republic of Korea.
Chinese Foreign Ministry spokesman Lu Kang told reporters on Tuesday that the meeting "has no legality and representativeness at all, and China has been opposing it all along."
During a press conference on Monday, Russian Foreign Minister Sergei Lavrov labelled the Vancouver meeting as counterproductive, because it sought to work out new mechanisms to pressure Pyongyang. "I think that, with all due respect to those who came up with this initiative, I do not expect anything productive," Lavrov stressed.