EU sets Nov. 25 as summit day to endorse Brexit
BRUSSELS (AP) - European Union chief Donald Tusk has called for a summit of leaders to take place on Nov. 25 so they can endorse a draft Brexit deal that has been reached with the British government.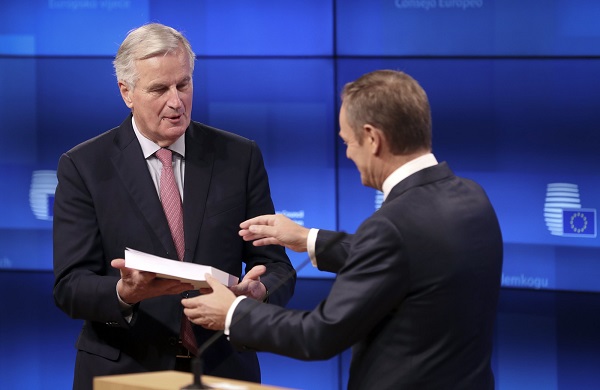 EU chief Brexit negotiator Michel Barnier, left, delivers the draft withdrawal agreement to European Council President Donald Tusk during a media conference at the Europa building in Brussels on Thursday, Nov. 15, 2018. (Photo: VCG)
Following an early Thursday meeting, Tusk heaped praise on the EU's Brexit negotiator, Michel Barnier, who had "achieved the two most important objectives" — limiting the damage caused by Britain's impending departure and maintaining the interests of the other 27 countries that will remain in the bloc after Brexit.
While British Prime Minister Theresa May is trying to win support within her fractured party as well as Parliament, the EU has held the line behind Barnier during the negotiations.