Thailand tightens security for recovered Phoenix shipwreck amid probe into boat tragedy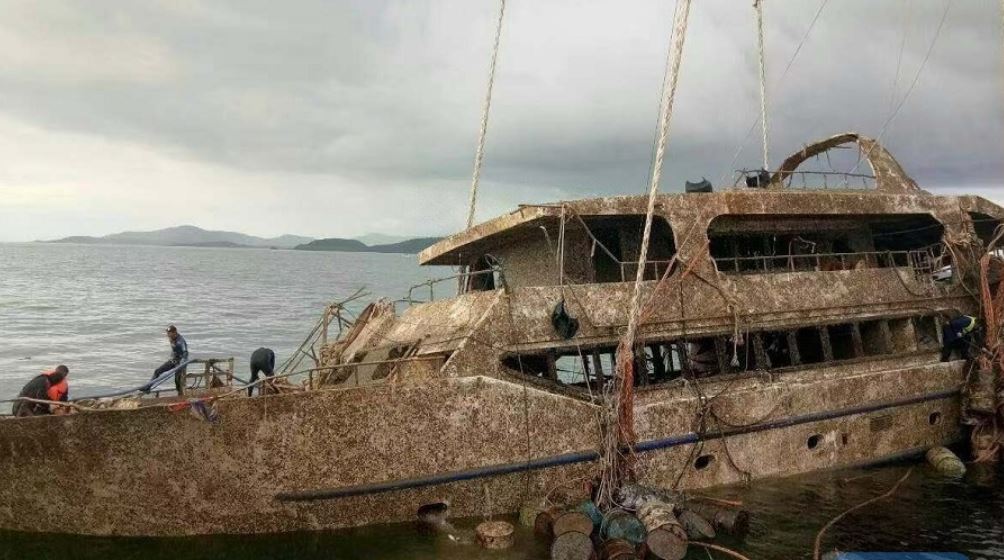 Photo taken on Nov. 17, 2018 shows the retrieving site of capsized tour boat, named Phoenix, near Thailand's southern tourist island Phuket. (Xinhua)
THAILAND, PHUKET, Nov. 18 (Xinhua) -- Phuket's resurfaced shipwreck that killed 47 Chinese tourists in July will be scrutinized and measures to prevent anyone from meddling with investigations into the cause of the boat capsizing will be tightened, official said on Sunday.
The Phoenix sunk on July 5 off the coast of Phuket. The diving boat was brought back to the surface from the seabed on Saturday.
"The shipwreck is expected to be towed to a dry dock. The area for the yacht will be cordoned off, with CCTV installed to record what happens around it. Also, we will have security guards on duty in the area around the clock," Tourism and Sports Minister Weerasak Kowsurat said on Sunday as he boarded a boat to observe the operation in southern Thailand's Phuket.
The Phoenix is an important piece of evidence to determine the cause of the accident. Involved parties of the case must not have access to the evidence, according to the minister.
"We can't tell exactly how long it would take to investigate. But we will find out the cause of the tragedy as soon as possible. No dramas will happen anymore," said Weerasuk during the observation of the boat salvaging operation four months after the tragedy happened.
The minister said tourists are returning to the famed resort island Phuket as the monsoon season ends, without giving any specific figures.
He said the government will not release the investigation progress before the case is concluded. He believed confidence among Chinese travelers will be restored as authorities have been taking steps to improve the image of the country among Chinese tourists, including a waiver of visa-on-arrival fees and improved safety measures for land, air and water transport.
After the accident, many Chinese began to question whether they would be safe in Thailand. Chinese arrivals fell 12 percent month-on-month in August, and were down a further 15 percent in September.
Tourists from China make up the biggest portion of Thailand's visitors, and last year accounted for nearly one-third of a record 35.38 million arrivals.
Tourism accounts for about 12 percent of Southeast Asia's second-largest economy, making it a key driver of its growth.