'China Grass' prospers in PNG's promising land, helps alleviating poverty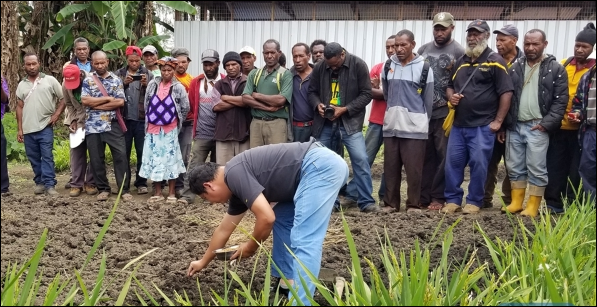 Workers make Juncao tubes at the Goroka Juncao & Dry-land Rice Technology Demonstration Base in Papua New Guinea's Eastern Highlands Province. (Photo: Xinhua)
At the Goroka Juncao & Dry-land Rice Technology Demonstration Base in Papua New Guinea's Eastern Highlands Province (EHP), a unique type of grass called "Juncao" stands as giants in the vast fields.
With the help of agricultural specialists from southeast China's Fujian province, locals are trying to grow rice and mushrooms out of the special wild grass, similar to some fungi grown from tree matter. The grass Juncao, also called "China Grass" by natives, can also be used to feed livestock.
When Xinhua reporters arrived at the base in the morning, villagers had already been awaiting. Lin Yingxing, director of the base and a Chinese expert in Juncao & dry-land rice technologies, who came to the airport of Goroka to fetch the reporters, got off the jeep promptly.
"Welcome, everyone!" said Lin with a big smile in English to the villagers. "Today, I'm going to show you around and help you guys to get an idea on how to grow Juncao and rice on your own land."
After a quick greeting with the crowd, Lin soon started his lecture with the help of local young men who can speak English.
Standing in the strong sunlight and bathed in sweat, he attentively explained to the curious crowd on how to plant Juncao, how to smash the giant-sugarcane-like tall grass with a machine, and how to cultivate mushrooms using tubes filled with Juncao powder.
While listening to Lin's introduction, some villagers took notes carefully, some raised questions, and Lin was ready to explain. Occasionally, the crowd burst into laughter and applauded when amused by Lin's humorous answers.
Chares Motuno, a 54-year-old farmer living in Henganofi district, told Xinhua that he took a truck with some fellows early in the morning and spent one hour on the bumpy road before arriving at the base.
"I grow coffee, cassava and sweet potato to make a living, and my wife does some sewing. Though we work hard, our income is still low. Farm products such as cassava are hard to sell as the market is small. I hope I can learn how to cultivate mushrooms with Juncao technologies. People here like mushrooms, and the price is good," Chares said.
Among the group of visitors were some indigenous women. Priscilla Tonny from Kosionte village of Henganofi district was one of them.
The 34-year-old housewife has two sons and one daughter. "I understand that Juncao can be cut into pieces to feed chicken and goats, and I'm sure that I can master the technology using Juncao tubes to cultivate mushrooms," she said.
Lin told Xinhua that villagers were always welcome to exchange Juncao tubes from the base with fresh Juncao that they grow.
Timothy Ukii, 48, works as a project official at the Eco-enterprise Division of Natural Resources under EHP Administration (EHPA).
"By this way, the Juncao technology can be spread and the program would be sustainable. And the Chinese are helping us to build more technology bases," said UKii.
Amazingly, Juncao, which is also called by local villagers in EHP as "Lin Grass", can easily grow to about five meters high in EHP, much higher than those in other places. Lin said the gifted fertile soil and good weather condition here might be the key.
Juncao technology was first introduced into PNG from China in 1997. In 1998, the inventor of Juncao & dry-land rice Technology, Professor Lin Zhanxi from Fujian Agriculture and Forestry University, led a team to visit EHP and afterwards established the first pilot base in Lufa District of EHP.
Kopi Manove received Lin in 1998. It was at his backyard that Lin planted dry-land rice for the first time to see if it was suitable to grow in PNG. The results were cheerful. "Later, the dry-land rice of Gold Mountain No. 1 even had a record production of as high as 8.5 tons per hectare," 65-year-old Manove recalled excitedly.
Kopi's daughter Prisilla planned to grow more rice on her father's farmland and build a shed to grow mushrooms. "People in EHP do need rice as a stable food. But so far our country depends highly on imports. If we grow rice by ourselves, what a fortune we can save? " she said.
According to Lin Yingxing, the Chinese government listed the Juncao technology program in EHP as an aid program in 1998. EHP became the sister province of Fujian in 2000. Since then, the Chinese side kept sending experts to PNG to passing on the technologies.
Peter Gare, manager for Policy Planning and Monitoring of EHPA, said they would invest more in promoting the application of Juncao & dry-land rice technologies with more financial support hopefully.
"Poverty is a common enemy and the biggest enemy to mankind. Lots of people in EHP are plagued by it. So please, transfer all successful technologies and experiences you have in fighting against poverty!" he told Xinhua.
Closely surrounded by the villagers, Lin Yingxing is busy to showing them how to dig holes and sow seeds, explaining details and answering questions.
"We've been knowing each other for many years and treating each other as brothers," said Frank Wangapi, an adviser of the Division of Natural Resources under EHPA.
"Juncao & dry-land technologies are applicable in EHP. Definitely we need Chinese experts like Lin to come and help us."