Virus curbs put Africa's women, children at risk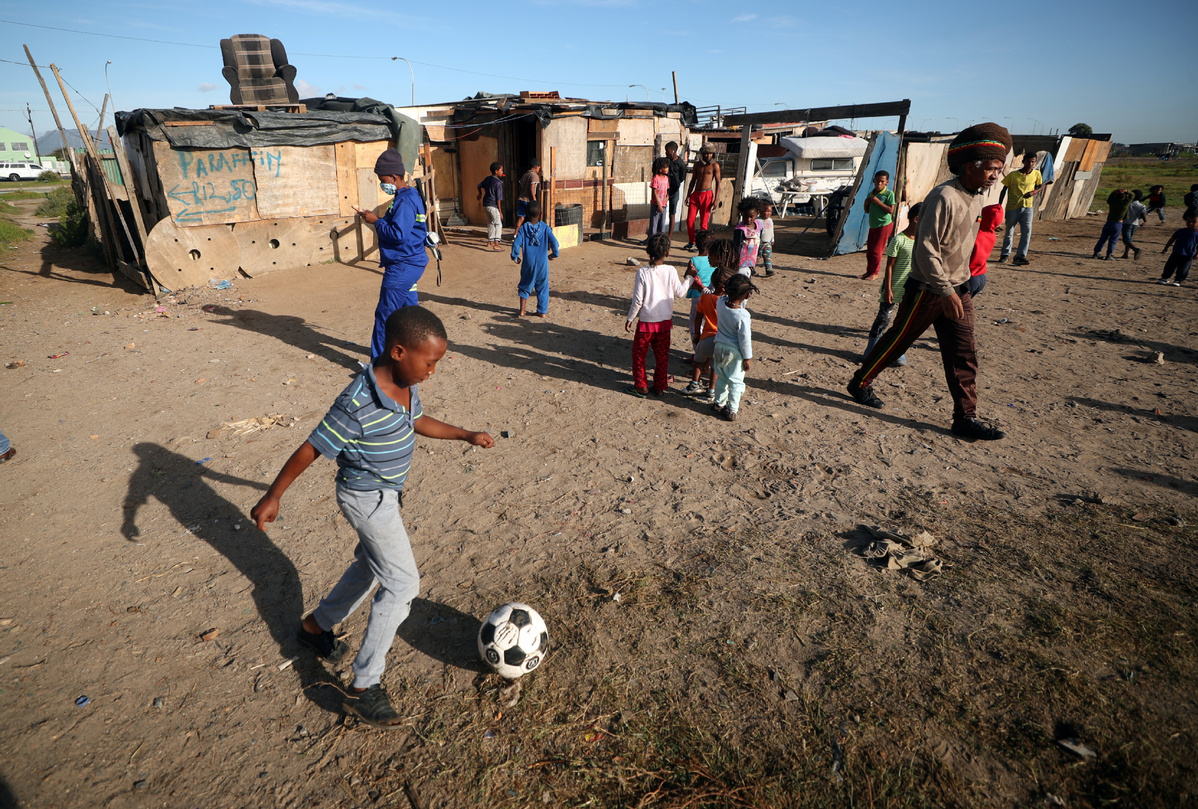 A township child plays soccer as residents wait to receive food packages handed out by a non-governmental organization during a 21-day nationwide lockdown aimed at limiting the spread of coronavirus disease (COVID-19) in Cape Town, South Africa, April 17, 2020. (Photo: Agencies)
United Nations Secretary-General Antonio Guterres called on April 5 for measures to address the increase in incidents of domestic violence against women and girls across the globe following steps taken by governments to prevent the spread of the COVID-19 pandemic.
The uncertainty surrounding COVID-19 has provided an enabling environment that has exacerbated the plight of women and children in the region.
As a result, women and children are increasingly becoming vulnerable to domestic violence in Africa.
Globally, an estimated 89 percent of students have been locked out of schools in an attempt to curb the spread of COVID-19. According to UNESCO, this represents 1.54 billion children and youths, 743 million of whom are girls, with over 111 million coming from the least-developed countries.
South Sudan, Mali and Niger, which have some of the lowest enrollment rates for girls in Africa, have seen 4 million girls locked out of school.
This means that children, especially girls, are at a high risk of experiencing school dropout, with limited or no access to online education, since many of them double as caregivers at home.
They may encounter sexual exploitation, both online and from the people they are living with during the lockdown. Perpetrators could include relatives, guardians and/or those delivering goods or services to their homes.
There may be a rise in teenage pregnancies as witnessed during the 2014-16 Ebola outbreak in Sierra Leone. Approximately 18,000 teenagers became pregnant during the outbreak, according to the United Nations Population Fund.
Africa accounts for 16 percent of the global population, but spends only 1 percent on healthcare. The continent's doctor-patient ratio is two per 10,000.
The World Health Organization, in its "State of Health in the WHO African Region 2018"report, said the region spent 14 percent on the health workforce and 7 percent on infrastructure, which is low compared with many countries that invest up to 40 percent on their health workforce and 33 percent on infrastructure.
Governments in Africa have reallocated their health resources and personnel toward tackling the pandemic, affecting routine health services, including access to sexual and reproductive healthcare for women.
If this is not addressed urgently, it will put women and newborns at increased risk of morbidity and mortality, and will limit access to basic contraception, which could lead to unplanned pregnancies.
Many women are silent victims of sexual violence in the region. In South Africa, since the lockdown on March 27, there has been a rise in the number of complaints of gender-based violence, with more than 2,300 cases having been registered. Only 148 suspects were charged.
In Kenya, the National Council on the Administration of Justice said on April 1 that sexual offenses accounted for 35.8 percent of cases reported since March 14, when the country reported its first case of COVID-19.
As key drivers of the agricultural sector and informal economy, women are likely to be affected by restrictions on their movement. They are also affected by the fact that they are the ones earning less, saving less and holding insecure jobs.
Still, it's not too late for African governments to change the status quo.
First, this could be achieved by recognizing shelters or centers for survivors as essential service providers and bolstering their resource capacity. Emergency lines open 24 hours should be made available to them.
Second, women and children should be integrated into the preparedness and response programs for the regional, national and global responses to COVID-19.
Third, humanitarian organizations need to include services for women subjected to violence, as well as their children, in their COVID-19 response plans, and gather data on reported cases of violence against women.
Finally, governments should designate centers for providing access to sexual and reproductive health, and also ensure the availability of a qualified workforce.
The author is a research and policy adviser at the Africa Policy Institute. The views do not necessarily reflect those of China Daily.