Britain vows to improve lives of LGBT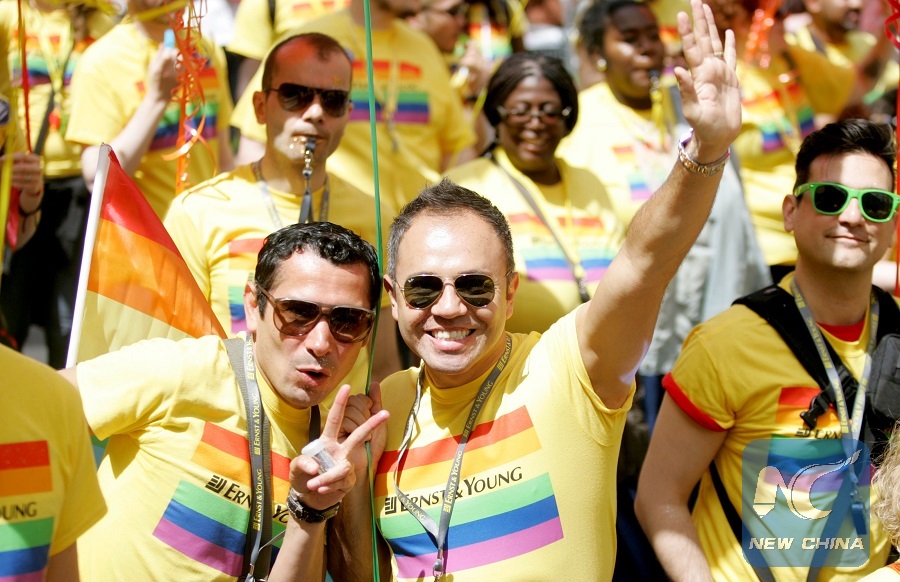 Participants take part in the annual Pride Parade in London, Britain, on June 29, 2013. (Photo: Xinhua)
LONDON - The so-called "cure" for gay people known as conversion therapy is to be banned in Britain, the government announced Tuesday as part of an ambitious action plan to improve the lives of lesbian, gay, bisexual and transgendered people (LGBT).
The action plan, backed by Prime Minister Theresa May, is a response to the largest national survey of LGBT people in the world. The survey, which had over 108,000 respondents, shows LGBT people are experiencing prejudice on a daily basis.
The plan includes over 70 commitments, including appointing a national adviser to reduce inequality for LGBT people and a government pledge of $6 million of funding to deliver the plan.
The government said that, under the new plan, it would eradicate the "abhorrent practice" of conversion therapy in the UK.
More than two in three of those who participated in the survey said they avoided holding hands with a same-sex partner in public for fear of a negative reaction, while 23 percent said people at work had reacted negatively to them being LGBT and over half of those who accessed or tried to access mental health services said they had to wait too long.
May said: "We can be proud that the UK is a world leader in advancing LGBT rights, but the overwhelming response to our survey has shone a light on the many areas where we can improve the lives of LGBT people."
May said she was struck by how many respondents said they cannot be open about their sexual orientation, or avoid holding hands with their partner in public for fear of a negative reaction.
"No one should ever have to hide who they are or who they love," said May.
She said the LGBT action plan will set out concrete steps to deliver real and lasting change across society, from health and education to tackling discrimination and addressing the burning injustices that LGBT people face.
The government will bring forward proposals to eradicate conversion therapy after 2 percent of respondents said they had undergone the treatment, and 5 percent said they had been offered conversion therapy. The government is to consider all legislative and non-legislative options to prohibit promoting, offering or conducting conversion therapy.
The ground-breaking new plan will tackle some of the biggest issues facing LGBT people of different ages in the UK today, including: LGBT abuse online; improving mental health care for LGBT people with a focus on suicide prevention; combating homophobic, biphobic and transphobic bullying in schools, and increasing awareness of the services available for LGBT victims of sexual assault and domestic abuse.