UK to push for no tariffs in EU deal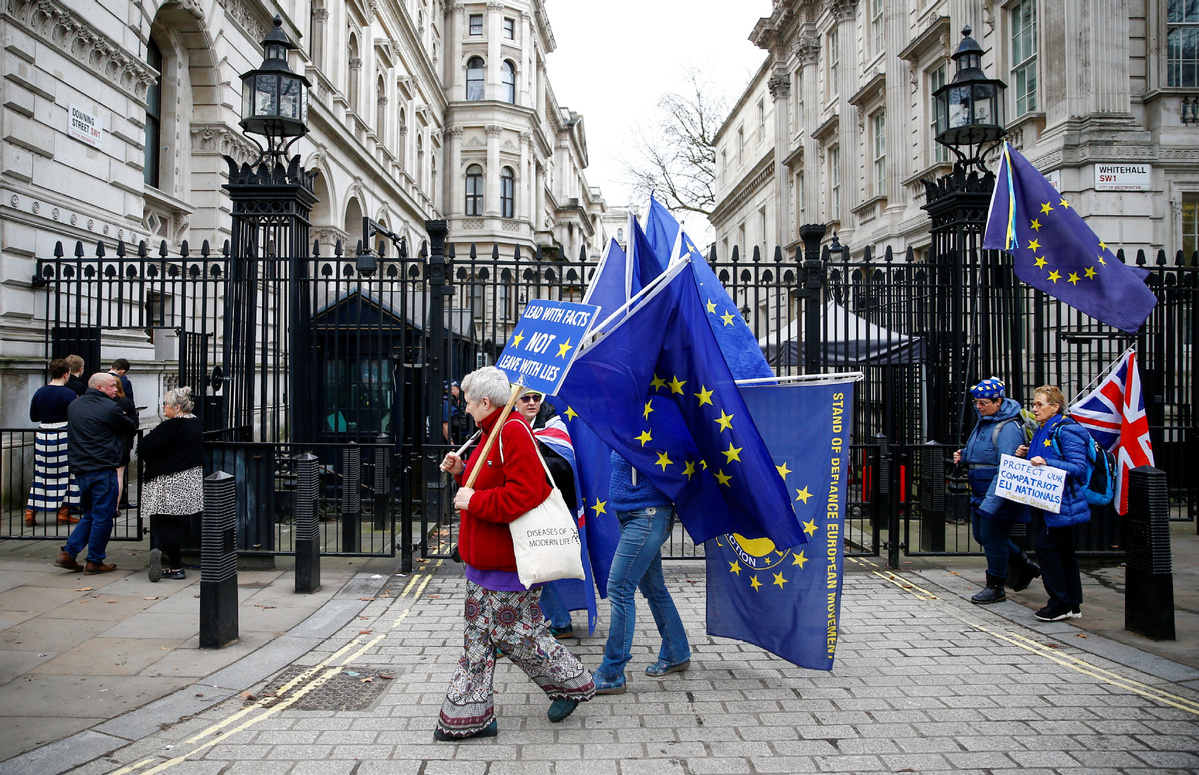 Anti-Brexit protesters are seen in front of Downing Street in London, Britain, January 8, 2020. (Photo: Agencies)
Guarantee sought ahead of trade talks, but Brussels warns of 'cliff edge' risks
Britain's government says it wants a strong free-trade agreement that will guarantee it zero tariffs and quotas with the European Union in upcoming trade talks, which will start next month.
The United Kingdom is due to leave the EU on Friday, the first nation in the bloc to do so. It then enters an 11-month transition period in which Britain will continue to follow the bloc's rules while the two sides work out new deals on trade, security and other areas.
After Brexit happens late on Friday, the UK will be free to negotiate and sign trade deals with countries with no existing EU deals-such as the United States.
Brexit Secretary Stephen Barclay on Sunday said the government's aim is to secure a "zero tariff, zero quota" free-trade deal with the EU.
He said British Prime Minister Boris Johnson would make a speech, expected early next week, setting out more details regarding the government's objectives for the talks.
Johnson is adamant he won't agree to extend the Brexit transition beyond the end of 2020, even if a deal has not been struck.
European Commission President Ursula von der Leyen has previously shared concerns about the timeframe, saying it would be impossible to reach a comprehensive trade deal by the end of this year.
According to Ireland's prime minister, the European Union will have the upper hand in the trade talks. Leo Varadkar said on Monday the bloc would have the "stronger team" because of its sheer size and influence globally.
He also warned that the EU would not accept a "piecemeal" trade deal where the UK had rights without obligations.
"The European Union is a union of 27 member states. The UK is only one country. And we have a population and a market of 450 million people," Varadkar told the BBC.
"The UK, it's about 60 million. So if these were two teams up against each other playing football, who do you think has the stronger team?"
Ireland is the only EU country to share a land border with the UK, and Britain is one of Ireland's top trading partners.
After Varadkar held talks with EU chief negotiator Michel Barnier on Monday, Barnier told reporters the two sides faced "the risk of a cliff edge" if trade terms were not agreed by the end of the year.
But the UK is worried that being too closely tied to EU rules will make it harder to negotiate a deal with the United States, which demands its own regulations are followed.
Appearing on the BBC's Andrew Marr program, Barclay said: "We are going to publish our objectives for the negotiation and we will set that out in due course after Jan 31."
He said "both sides are committed" to securing a trade deal by the end of December, adding that "it's in both sides' interests" to keep the flow of goods going.
"The key issue is that we will have control of our rules, we will not be a rule-taker, we will not diverge for the sake of diverging, we start from a position of alignment," Barclay said. "But the key opportunity is that we will be able to set our standards, high standards, on workers' rights, on the environment, on state aid as part of that trade policy.
"We're coming out of the single market, we're coming out of the customs union. We're not just going to diverge just for the sake of it-we need to look at where the opportunities are.
"But it is true that we are going to have control of our approach to regulation and that's the very essence of Brexit: that we can do things differently, particularly where, for example, there is innovation, there is new technologies, there's things where we want to move quickly. Brexit at its very core is that we will have control of our laws, our regulation and that is why we can't be a rule-taker. We need to have that opportunity."
On the UK's post-Brexit relationship with EU rules, Home Secretary Priti Patel appeared to adopt a harder approach than Barclay, saying: "In terms of divergence, we are not having alignment. We will be diverging. We want to take control of our laws, money and our borders."
Chancellor of the Exchequer Sajid Javid last week alarmed businesses by saying in an interview with the Financial Times newspaper that there would not be alignment with the EU after Brexit.
The chancellor insisted companies must adjust to new regulations. However, he toned down his comments later in the week to say there would only be divergence where it made sense to do so.
After meeting with Javid in London last week, US Treasury Secretary Steve Mnuchin said he believed the UK could negotiate trade deals with the US and the EU at the same time.
Mnuchin said the US was "prepared to dedicate a lot of resources" to securing a trade deal with the UK this year.