2018 midterms: Dems gain in quest for House control but GOP retains Senate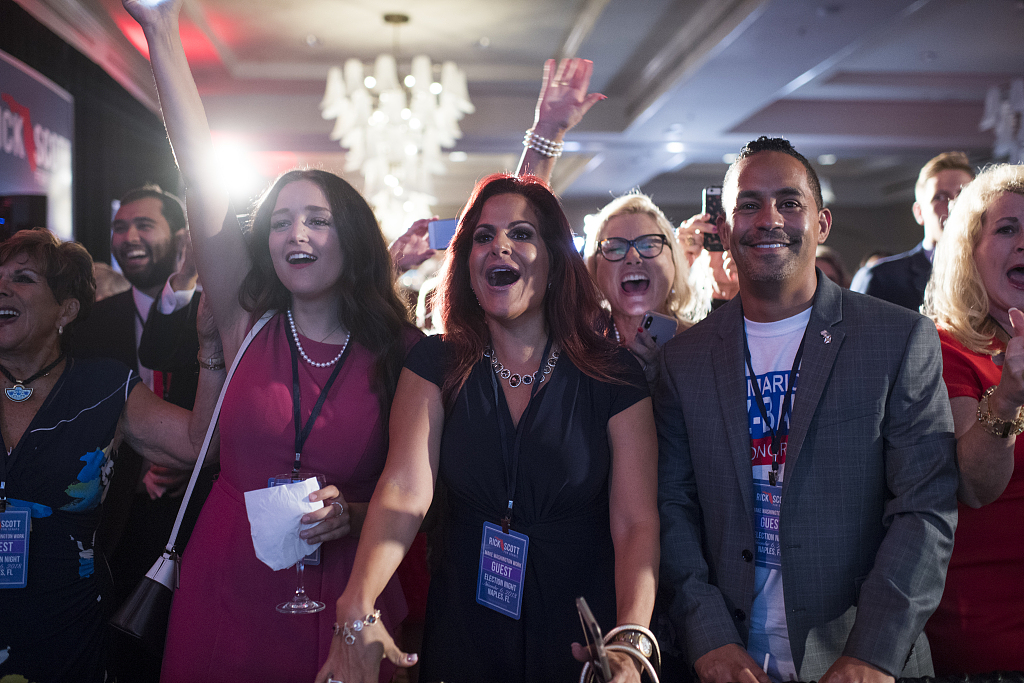 Yvette Benarroch, center, and guests of an election night party for Florida senate candidate Gov. Rick Scott (R) cheer as they watch returns at LaPlaya resort in Naples, Fla., on November 6, 2018. (Photo: VCG)
Democrats were gaining significant ground in the battle for House control Tuesday night, while Republicans held onto their majority in the Senate as voters weighed in on the first nationwide election in Donald Trump's turbulent presidency.

With control of Congress, statehouses and the president's agenda at stake, some of the nation's top elections were too close to call.

Democrats won half the seats they needed to claim House control with dozens additional competitive contests remaining. Victories in contested races across Florida, New York, Virginia, Pennsylvania and Minnesota gave them cause for optimism.
The Democrats' narrow path to the Senate was slammed shut after setbacks in Indiana, Tennessee, North Dakota and Texas.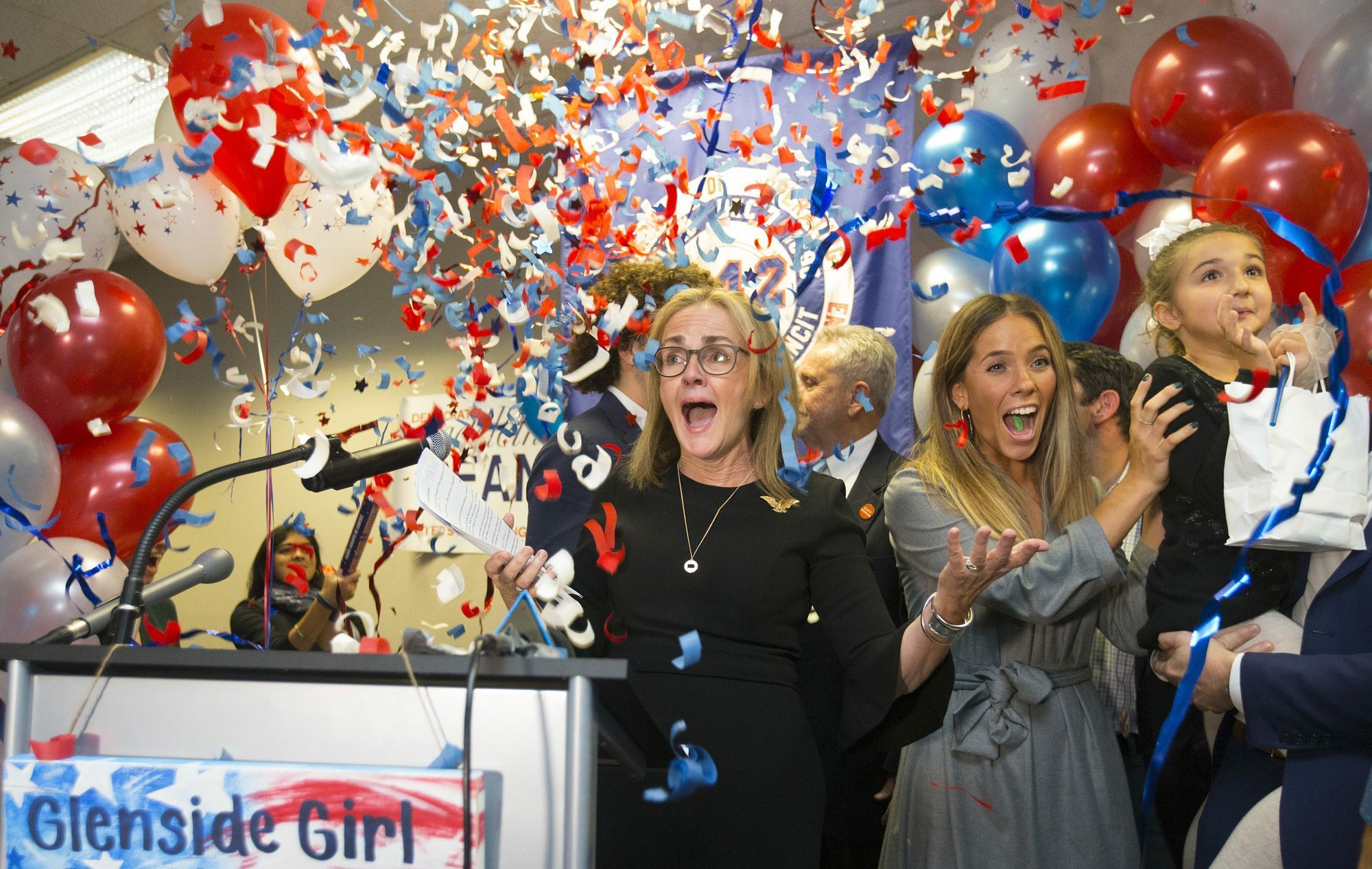 Democrat Madeleine Dean celebrates after winning Pennsylvania's 4th Congressional District race, in Fort Washington, Pa., Tuesday, Nov. 6 2018. (Photo: AP)
Trump's team immediately sought to give him credit for retaining their narrow Senate majority, even as their foothold in the more competitive House battlefield appeared to be slipping.

"It's a huge moment and victory for the president," Press Secretary Sarah Huckabee Sanders told reporters at the White House Tuesday night.

Two issues more than any others were on voters' minds. 25 percent described health care and immigration as the most important issues in the election, according to AP VoteCast, a national survey of the electorate. Nearly two-thirds said Trump was a reason for their vote.

Democrats, whose very relevance in the Trump era depended on winning at least one chamber of Congress, were laser-focused on health care as they predicted victories that would break up the GOP's monopoly in Washington and state governments.

The political and practical stakes were sky-high.

Democrats could derail Trump's legislative agenda for the next two years should they win control of the House. And they would claim subpoena power to investigate Trump's personal and professional shortcomings.

Some Democrats have already vowed to force the release of his tax returns. Others have pledged to pursue impeachment, although removal from office is unlikely so long as the GOP controls the Senate or even maintains a healthy minority.

Yet Trump's party will maintain Senate control for the next two years, at least.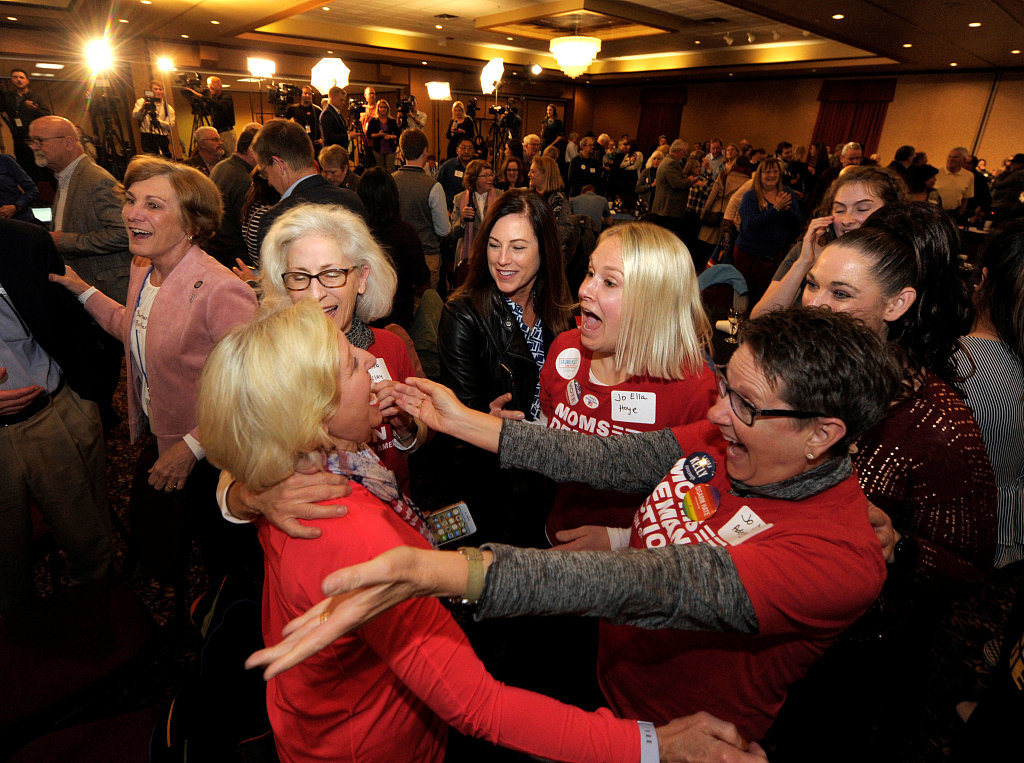 Democrats celebrate after gubernatorial candidate Laura Kelly wins against Kris Kobach at her election night party in Topeka, Kansas, U.S. November 6, 2018. (Photo: VCG)
Updated at 12:50 BJT (23:50 EST)
There will be no change at the top in Vermont or Oregon.
Republican Gov. Phil Scott won re-election Tuesday in the traditionally Democratic state of Vermont by defeating Democratic challenger Christine Hallquist.
In Oregon, Democratic Gov. Kate Brown won re-election over Republican challenger Knute Buehler.
Republicans had believed that Oregon provided one of their best chances to flip a Democratic governor's seat in a year when Democrats generally have been making greater gains.
Democrats on Tuesday flipped governor's offices in at least four states — Illinois, Kansas, Michigan and New Mexico.
Republicans entered Election Day holding 33 governor's offices and two-thirds of the state legislative chambers.
Updated at 11:45 BJT (22:45 EST)

-Control of Congress will be divided next year, as Democrats won back the House of Representatives but President Donald Trump's Republicans maintained their Senate majority in crucial midterms, networks projected Tuesday.
-Republican Rep. Kevin Cramer wins North Dakota Senate race, ousts Democratic incumbent Heidi Heitkamp.
Voters wait in line in the gymnasium at Brunswick Junior High School to receive their ballots for the mid-term election, Tuesday, Nov. 6, 2018 in Maine. (Photo: AP)
Updated at 11:30 BJT (22:30 EST)
-Democrats took back the governor's office in Illinois, Republican Gov. Bruce Rauner conceded to his Democratic opponent, J.B. Pritzker, less than an hour after polls closed. Pritzker, a billionaire, appears to have capitalized not only on Rauner's lack of popularity but broader dissatisfaction with President Donald Trump.
-Kansas Democrat Sharice Davids on Tuesday became the first native American woman elected to Congress, defeating Republican incumbent Kevin Yoder, US networks projected.
Updated at 09:50 BJT (20:50 EST)

-The Democrats have flipped a second House seat in Florida, and there's intrigue in Texas where Democrat Beto O'Rourke – the party's new star – is leading incumbent Republican Ted Cruz in a race for Senate in the deep red state.
-White House spokeswoman Sarah Huckabee Sanders says a Democratic wave may look more like a "ripple."
Sanders spoke to reporters at the White House Tuesday night, as election returns were still coming in. She says, "Maybe you get a ripple but I certainly don't think that there's a blue wave."
She says there is still a "long way to go," but the White House feels "good about where we are right now."
Should Republicans lose the House, Sanders says the president's agenda is not going to change.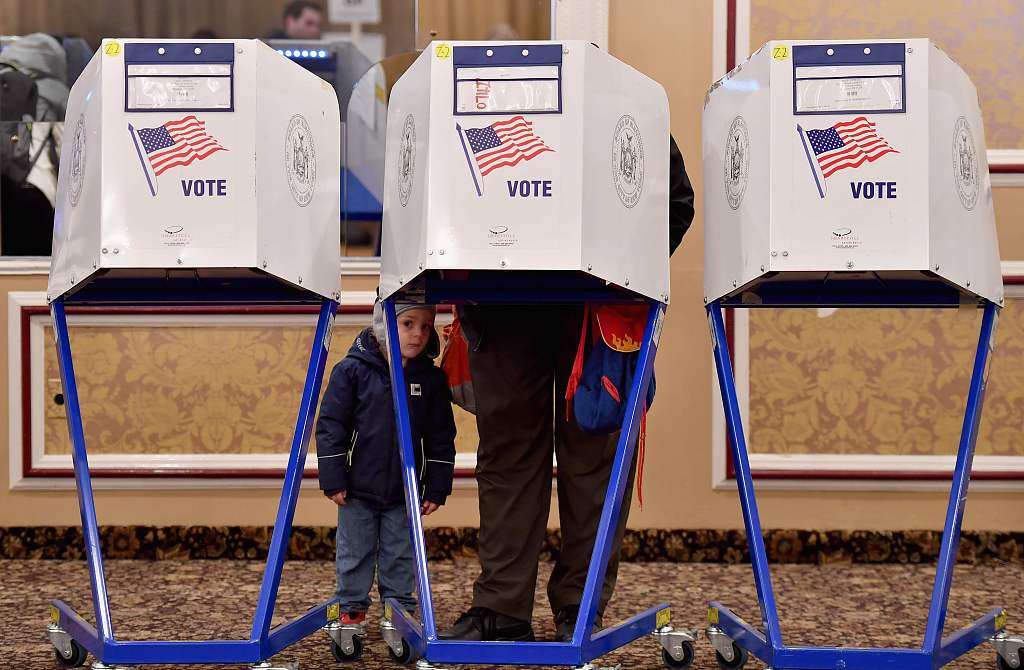 A voter casts his ballot in the midterm election at the East Midwood Jewish Center polling station in the Brooklyn borough of New York City on November 6, 2018. (Photo: VCG)
Updated at 08:20 BJT (19:20 EST)
-Polls have closed across the East Coast, but the results in some of the most closely watched races remain too close to call.
-Polls across six states closed at 7 p.m. EST, including battlegrounds Georgia, Indiana and Kentucky. Polls in other key states including Florida, Pennsylvania and New Jersey closed at 8 p.m. EST.
-At least two lower-profile elections with presidential implications were decided after the first major wave of polls closed in the East.
-Vermont Sen. Bernie Sanders easily won his third term as he considers another bid for the Democratic presidential nomination. And Massachusetts Sen. Elizabeth Warren, another potential 2020 contender, also won her race.
-Health care and immigration were high on voters' minds as they cast ballots in the midterm elections, per a wide-ranging survey by The Associated Press.