US city of Alhambra holds send-off for retiring China-born mayor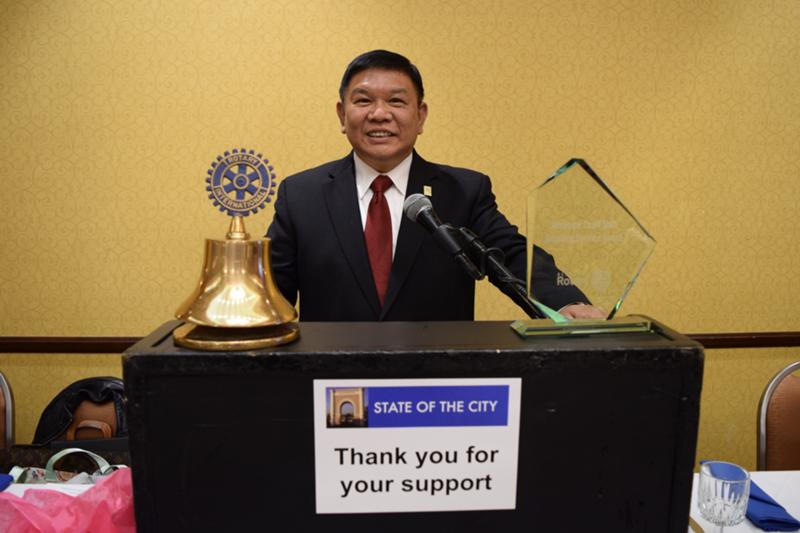 Steven K. Sham stepped down from his city counciil seat after 12 years of service with the city of Alhambra, located in Southern California. (Photo: File)
LOS ANGELES, Nov. 27 (Xinhua) -- In what looked like the photo-mobbing of Hollywood celebrities, from youthful teens to silver-haired octogenarians, Alhambra residents and officials turned out in force Monday evening to give three of their outgoing city council members a warm send-off.
Among the three being honored for their dedication to the city, Stephen K. Sham, a Beijing-born Chinese immigrant, made history in 2006, becoming the Southern California city's first Asian American mayor since it was founded in 1903.
At the retirement ceremony held on the Monday following Thanksgiving in the walnut paneled Chambers of Alhambra's city council, well wishers watched the city's gold-ribboned honor guard march through the chamber toting ceremonial rifles and flags, then rushed to offer Sham and the other two outgoing council members, Barbara A. Messina and Vice Mayor Luis Ayala, colorful bouquets of flowers, illuminated certificates of appreciation, and framed gavels to signify their years of public service.
Elected by Alhambra citizens to guide the policy affairs of the community, council members could serve for four-year terms but must tap out after three consecutive terms, and the council members take turns to serve as mayor for nine-month period under a rotational governing system.
"We may not always have agreed on everything," said council member Sham. "But we always worked for the good of the city."
After serving as mayor and city council member for twelve years combined, Sham was praised for his ability to serve as a bridge between the U.S. and Chinese cultures.
"Our city does a lot of cultural exchanges and hosts official trade delegations from China and Stephen has been instrumental in opening those doors," fellow retiring Council member Messina told Xinhua.
During his tenure with the city, Sham reached out to China to arrange meaningful exchanges, forming a sister city relationship with a city in southern China, inviting trade delegations from cities all over China, and fostering a receptive and welcoming environment for Chinese immigrants and businesses to make Alhambra their home.
He noted that Chinese immigrants to the United States have little understanding of a culture and political structure so different from their own.
"That's where Stephen's in-depth experience in both cultures has been so amazingly helpful," explained Jeff Maloney, current mayor of Alhambra. "It allowed him to reach out to the Chinese community and help us develop closer ties with China."
"He even helped us set up Weibo and Wechat accounts for the city of Alhambra, so we can reach out and serve our diverse communities better," said Timothy Vu, chief of the Alhambra police department, from a Vietnamese immigrant family.
Whether it be the revitalization of downtown Alhambra, what Sham has done as Mayor, serving the needs of the city's diverse ethnic communities, creating jobs for the public by getting national retail chains to set up shops in Alhambra, or fighting for improvement of the city's transportation, makes Sham's peers feel that he'd really left his mark on his adopted city.
Earlier this year, Sham was recognized as Business Person of the Year at the 9th Annual Congressional Leadership Awards ceremony for his public service and supports he provided to many local organizations such as Alhambra High School, Alhambra Police Foundation, Chinese American Museum and the Center for Asian Americans United for Self-Empowerment.
US Congresswoman Judy Chu, who came to honor those she called the "Three Giants of Alhambra" said of Stephen Sham's contribution in particular. "Stephen was Alhambra's first Asian American Mayor and earned his reputation for hard work and public service. That is why I named him my Congressional Business Person of the Year."
"As the owner of a successful printing business, he understands the needs of the business community and helped made Alhambra one of the most business friendly cities in the country," she said.
While expressing appreciation for his family's support, Sham said he is honored to serve Alhambra for the past twelve years and encouraged Americans to see the development of China, noting that it's an opportunity not only for Alhambra, but also for the United States.
"I wish to do more in future to promote people-to-people exchanges between China and the United States on a grass root and community level," he added.