US sanctions on Iran "destroy balance" in world: Erdogan
ANKARA, Nov. 6 (Xinhua) -- Turkish President Recep Tayyip Erdogan on Tuesday slammed the US sanctions against Iran, calling it "a move to destroy balance in the world."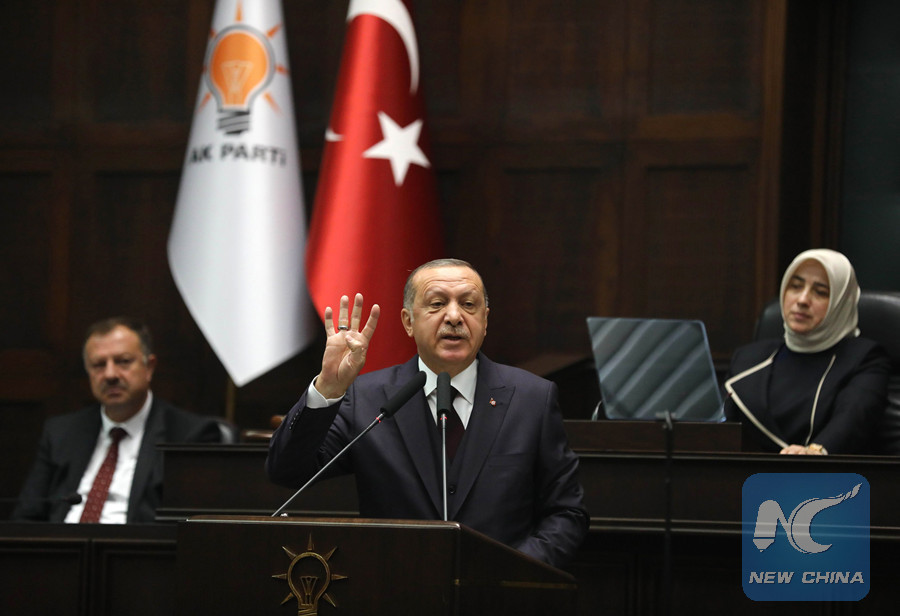 Turkish President Recep Tayyip Erdogan makes a speech as he attends the parliamentary group meeting of ruling Justice and Development (AK) Party at the Grand National Assembly of Turkey on November 6, 2018 in Ankara, Turkey. (Photo: Xinhua)
"US sanctions on Iran are wrong. These steps aim at destroying balance in the world," Erdogan told reporters following a parliamentary group meeting.
"We don't want to live in an imperialist world," he was quoted by Daily Sabah as saying.
Erdogan highlighted that the US sanctions on Iran contradict with the international law and diplomacy.
"Our stance on sanctions has always been clear, we won't abide by such a sanction," said the president.
Turkish Foreign Minister Mevlut Cavusoglu said Monday that isolating Iran is risky and punishing the Iranian people is unfair.
"Dialogue and engagement are much more useful than sanctions," he said at a press conference during a trip to Japan.
Washington announced a second set of sanctions targeting Iran's energy and financial sectors along with its shipping industry.
Eight countries including Turkey have received a US waiver to continue importing Iranian oil.
Cover image: Turkish President and leader of Turkey's ruling Justice and Development (AK) Party Recep Tayyip Erdogan speaks during his party's parliamentary group meeting at the Grand National Assembly of Turkey in Ankara, Turkey on October 23, 2018. (File photo: VCG)