Malibu burning: Kardashians, Lady Gaga, Cher fear for homes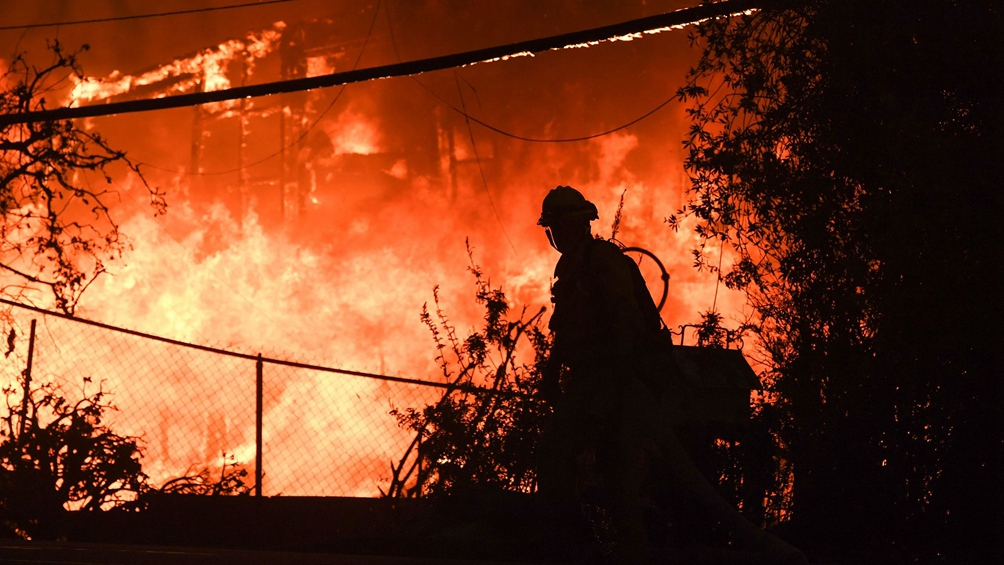 A firefighter is silhouetted by a burning home along Pacific Coast Highway during the Woolsey Fire in Malibu, California on November 9, 2018. (Photo: VCG )
Kim Kardashian and Lady Gaga were among thousands fleeing their homes on Friday as a fast-moving wildfire engulfed Malibu and nearby celebrity neighborhoods.
Kardashian, who on Thursday evacuated the home she shares in nearby Calabasas with Kanye West, tweeted on Friday that she "heard the flames have hit our property... but now are more contained and have stopped."
The entire 12,000-strong population of Malibu, which stretches 27 miles (43.5 km) along the Pacific Ocean in Southern California and up into the Santa Monica mountains, was placed under mandatory evacuation on Friday as the Woolsey fire exploded overnight.
The City of Malibu's Twitter account said the fire was burning out of control.
Malibu and Calabasas are home to hundreds of celebrities and entertainment executives attracted by its ocean views, rolling hills and large, isolated estates. Current and former residents include Barbra Streisand, Tom Hanks, Judd Apatow and Britney Spears.
Celebrity website TMZ reported that the Malibu home of Caitlyn Jenner, America's best-known transgender activist, was destroyed by the flames on Friday. Her publicist could not confirm the status of her house, but told Reuters that Jenner was safe.
Residents posted pleas on social media for help evacuating horses and other large animals, while long lines of traffic clogged the only coastal highway in and out of Malibu.
Cher, who said she had lived in Malibu since 1972, tweeted that the wildfire was coming close to her home, although she said she was not on the property.
"Friends' houses have burned. I can't bear the thought of there being no Malibu," the singer posted.
Lady Gaga posted a video on her Instagram account saying she had evacuated her Malibu home on Friday, and showing images of dark billowing smoke overhead.
Movie director Guillermo del Toro tweeted that he had abandoned his vast "Bleak House" museum collection of fantasy and horror memorabilia.
"Bleak House and the collection may be endangered but the gift of life remains," tweeted del Toro, director of Oscar best picture winner "The Shape of Water."
The Malibu area is also home to dozens of filming locations. One of them, the Western Town at Paramount Ranch where television series "Westworld" is filmed, was destroyed, according to the Santa Monica Mountains Twitter account.
The mansion used to shoot "The Bachelor" TV series was "in grave danger," ABC television executive Robert Mills posted on Twitter.
Alyssa Milano, a leading force in the #MeToo social movement against sexual harassment, asked for help getting five horses out of the area and said she had taken her "kids, dogs, computer and my Doc Marten boots."
Rainn Wilson, former star of "The Office," singer Melissa Etheridge, and Roma Downey, the wife of "The Apprentice" producer Mark Burnett, all said they had scrambled to evacuate at short notice.