US northeast battens down hatches as storm moves its way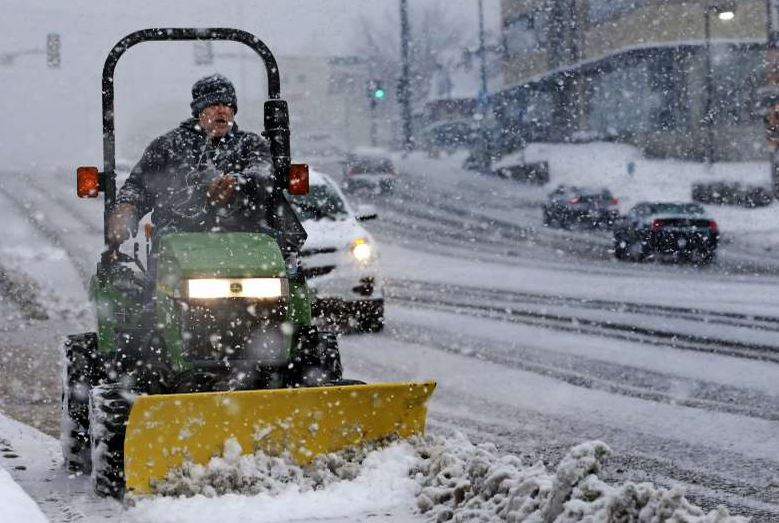 Jamey Torregrossa clears the sidewalk of snow in front of the Carpenters District Council building in St. Louis, on Thursday, Nov. 15, 2018. (Photo: AP)
One of the first big storms of the season moved across the eastern half of the US Thursday, causing deadly traffic crashes and closing schools as it dropped snow as far south as central Alabama.
As much as 8 inches of snow blanketed the St. Louis area, and forecasters predicted up to 6 inches in parts of southern New England as the storm made its way east. Roads were already clogged by midday Thursday in Ohio, where officials reported at least one traffic death that was likely weather-related.
As the storm hit with Thanksgiving still a week away, school districts closed or sent students home early across the lower Great Lakes and the Northeast. The University of Connecticut canceled classes starting at 3:30 p.m. or later at its main campus, satellite campuses and law school.
The South, where weather officials said the overnight trace in Alabama missed setting a record for earliest snow by about two weeks, began to clean up.
In Mississippi, a tour bus bound for a casino overturned, leaving two people dead and 44 others injured. And in the Little Rock, Arkansas, area, three people were killed in separate crashes on icy roads Wednesday night, while Interstate 40 was shut down overnight in the eastern part of the state because of several crashes. The interstate reopened shortly before daybreak Thursday, but officials said traffic was slow-going because some drivers had fallen asleep.
Witnesses told Mississippi investigators the tour bus driver lost control after crossing an icy overpass and the bus rolled over on its driver's side, coming to rest in median of Interstate 269 in Byhalia around 12:35 p.m., said Mississippi Highway Patrol spokesman Capt. Johnny Poulos.
"All of a sudden the bus started swerving then it spun around two times, hit the rail and then flipped over," bus passenger Veronica Love told news outlets as she left a hospital after the wreck. "The second spin, it started picking up speed. It was, I mean, what could you do?"
The crash happened about 35 miles (55 kilometers) southeast of downtown Memphis, Tennessee.
Killed were Betty Russell, 70, and Cynthia Hardin, 61, both of Huntsville, Alabama, said DeSoto County Coroner Joshua Pounders. The injured were taken to Memphis-area hospitals, with at least three listed in serious condition Wednesday evening.
Officials said the group was traveling from Huntsville, Alabama, to gamble at a casino in Mississippi's Tunica County, about 40 miles (65 kilometers) to the west.
In Virginia, the planned launch early Thursday of an unmanned cargo rocket to the International Space Station had to be rescheduled by one day because of the weather, NASA said. The unmanned Cygnus cargo craft is now scheduled to lift off early Friday from Wallops Island on the Eastern Shore carrying supplies and research materials for the astronauts at the space station.