Putin urges nation to back effort for upgraded forces
China Daily Global
1582596300000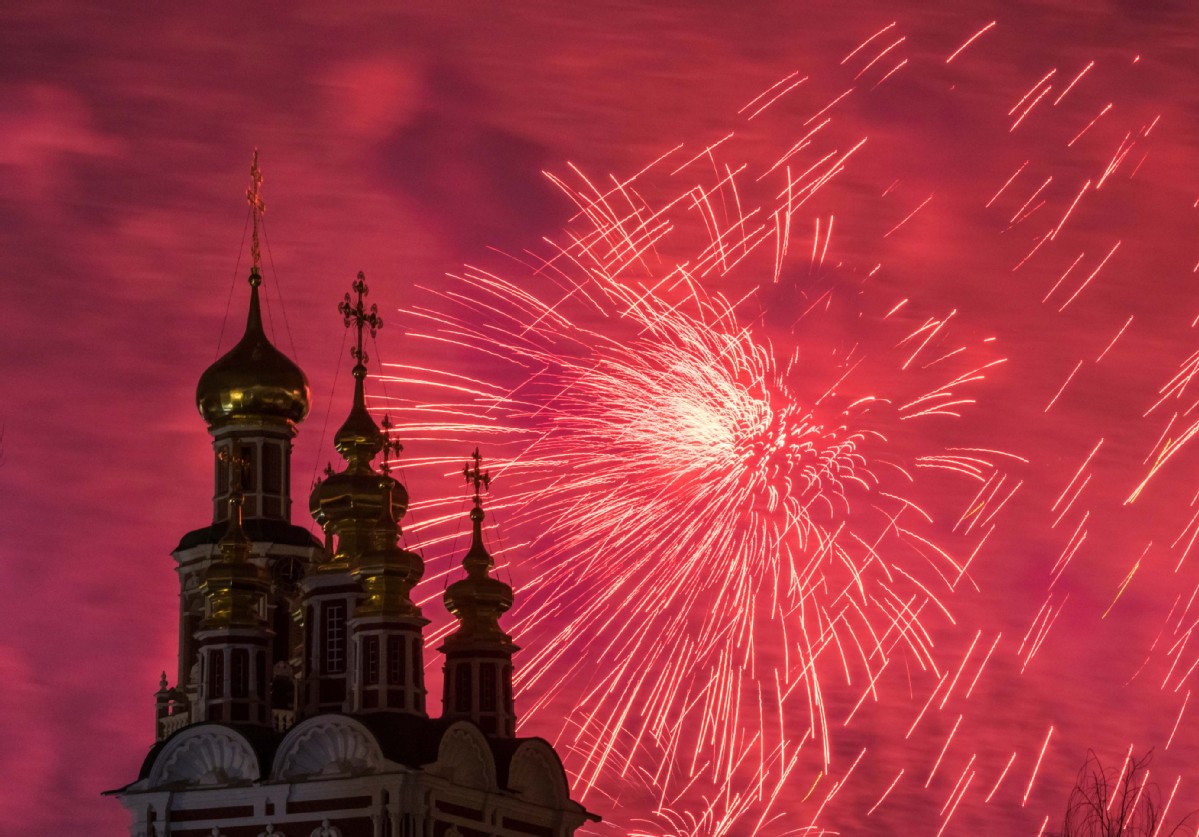 Fireworks mark Defender of Fatherland Day in Moscow on Sunday. (Photo: Agencies)
Russia is striving to upgrade its military capabilities with advanced hardware, Russian President Vladimir Putin said on Sunday.
"Russia should strengthen the capabilities of the strategic forces and apply cutting-edge hardware to all types of forces, including laser, hypersonic systems and high-precision systems," Putin said.
He made the remarks at the State Kremlin Palace at a gala concert celebrating the Defender of the Fatherland Day. The event was introduced in 1922 to honor the establishment of the Red Army. Until 1993, it was known as the Day of the Soviet Army and Navy.
Putin said the country should do its utmost to achieve the aim of making the Russian army and navy more advanced.
He also pledged to lift the armed services more broadly, improving the livelihoods of military servicemen and women.
Although the officers and soldiers remained the key strength of the Russian Armed Forces, said Putin, the caliber of the country's weapons and equipment had fallen behind that of rivals.
Putin revealed that the military is testing what he called "the weapons of the future", with some of them already moving beyond the trial stage to readiness for combat.
Russian newspaper Izvestia reported that the country is developing a new defense against hypersonic missiles, involving fighter jets armed with long-range, multiple-warhead missiles.
Russia's Defense Ministry made a decision to develop the technology around the MiG-31 fighter and the promising MiG-41 model. It would see them equipped with a multifunctional, long-range interceptor missile system capable of hitting hypersonic munitions, the newspaper said.
Theoretical studies have been undertaken on an ultra-long-range air-to-air missile with multiple warheads, Izvestia reported.
Russian military expert Dmitry Kornev said the military hoped to be able to launch enough radar-guided warheads at a hypersonic target in a single hit.
"An ordinary anti-aircraft missile has one warhead, and the probability of a miss on a hypersonic maneuvering target is very high," he said.
"But if one ammunition carries several homing shells, then the chances of hitting a high-speed object increase significantly."
Russia is also working to upgrade its Tu-160 bombers, the country's most important and heaviest warplanes.