China won't accept any split approach toward Taiwan: analyst
People's Daily app
1530018074000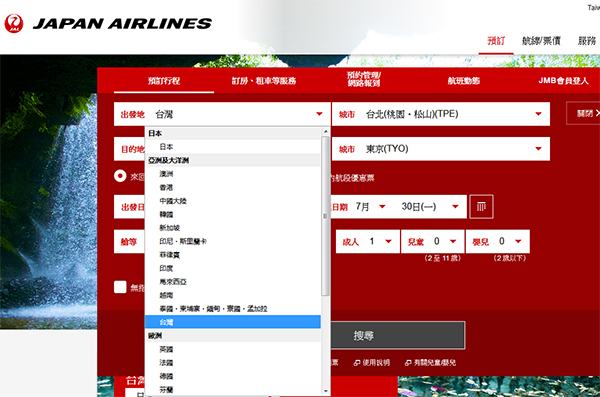 A screenshot of the Japan Airlines website in traditional Chinese. Taiwan and Hong Kong are still listed as independent countries. (File photo)
A report published by US Business Insider website said Monday that Japan's two major airlines have recently "bowed to political pressure from China to change how they describe Taiwan."
Japan Airlines and ANA announced on June 12 that they would join airlines including Air Canada, British Airways and Air France in describing Taiwan as a Chinese province.
However, the two Japanese airlines only changed the descriptions on their simplified Chinese-language sites, not their sites in traditional Chinese, Japanese, English, or other languages.
China's Civil Aviation Administration (CAAC) sent a letter to 44 foreign airlines on April 25, pointing out that their references to Hong Kong, Macao and Taiwan as independent countries have violated Chinese laws and gone against the one-China policy.
The letter requested these companies revise their websites, apps and promotional materials within 30 days.
As of May 25, 18 of the 44 airlines made rectifications. Due to technical reasons, the remaining 26 have requested an extension until July 25. CAAC approved their request.
Business Insider said that Japanese airlines' "split approach could provide a roadmap for other foreign companies struggling to deal with the threat of being blocked from the Chinese market for references to Taiwan."
Will China accept this trick? The answer is NO.
Zhang Baoxin, a Chinese civil aviation expert, told the Global Times newspaper that it is impossible for China to accept such an approach.
The letter made it clear that foreign airlines should not only revise their simplified Chinese-language websites, but also materials in all other languages.
Airlines operating in China must abide by the rules of the Chinese government. The issue is about sovereignty and there is no room for negotiation.
What are the penalties for foreign air companies that do not comply with China's request to change their references on Taiwan?
The Australian Financial Review reported on June 24 that Australian and other foreign companies that "offend" China by referring to Taiwan as independent country risk not being invited to participate in China International Import Expo being held in Shanghai in November.
According to the official website of the expo, enterprises participating in the expo should be of a high standard and world-class.
Zhang said that as the deadline approaches, China can take further steps to urge airlines to comply.
For instance, China can adjust the foreign airlines' flights to or passing through China, and put forward rectifications in terms of their websites and apps ability to operate in China.
China can also make rectifications in terms of sales and on the organizational level based on the principles of traffic rights equality.