Floods, mudslides as storm wallops Southern California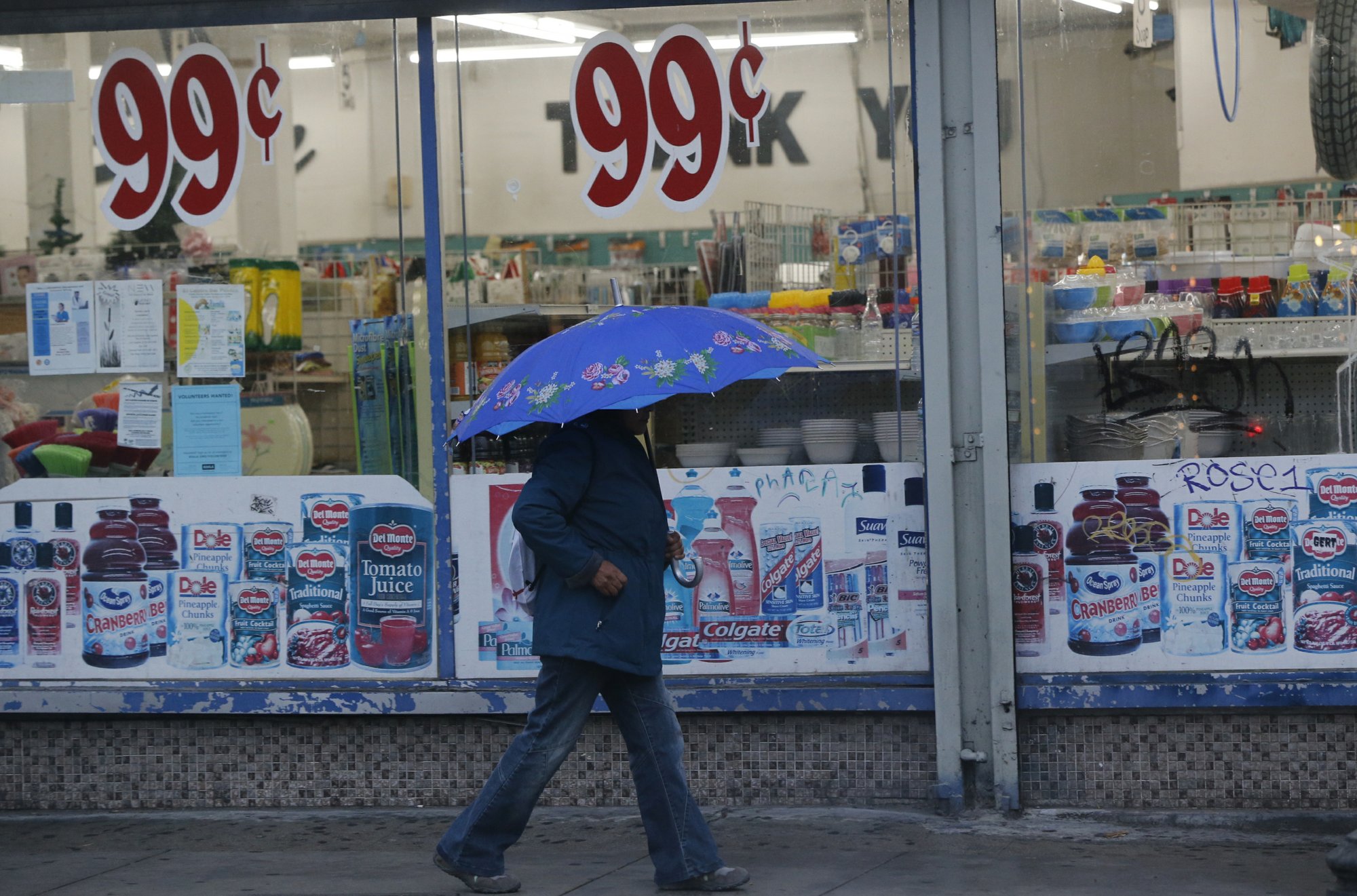 A pedestrian walks past a 99-Cents store under light rain in Los Angeles Wednesday, Dec. 5, 2018. (Photo: AP)
The second round of a fall storm dumped snow and rain that jammed traffic on Southern California highways and loosened hillsides in wildfire burn areas on Thursday.

At least one vehicle got stuck in a mudslide that shut down Pacific Coast Highway and surrounding roads in and around Malibu neighborhoods charred by last month's destructive fire.
Nobody was hurt when a Southwest Airlines plane from Oakland skidded off a wet runway as it landed during downpours at Hollywood Burbank Airport north of Los Angeles. The plane came to a stop in a graded area designed to slow aircraft that overshoot the runway, the Federal Aviation Administration said.
"As we landed you could feel the brakes," passenger Grant Palmer told KABC-TV. "Then I started noticed the plane going sideways."
Palmer said he was prepared to tuck into an emergency posture, but his unflappable co-worker continued writing emails during the rough landing.
Cars and trucks slid in lanes amid heavy snow that forced the closure of Interstate 5 in the Grapevine area between Los Angeles and the San Joaquin Valley. The shutdown along the key north-south route was expected to cause backups for miles, transportation officials warned.
Motorists were urged to use caution on mountain passes, where up to 6 feet (1.8 meters) of snow was predicted at higher elevations.
Closer to sea level, the system dumped rain that flooded highways and caused nightmare traffic conditions for commuters. A portion of southbound State Route 170 in Los Angeles was shut down after mud flowed onto the roadway.
Rocks and debris flowed through a Malibu canyon community that saw homes burned in November and mudslides during thunderstorms last week. City officials reported no injuries and no major property damage. No evacuation orders were issued.
The National Weather Service extended flood warnings and advisories into late morning as the storm intensified, dropping up to 1/3 of an inch (.85 centimeters) of rain in a half-hour in some areas. Meteorologist Keily Delerme said shifting winds allowed more rain to fall.
"We're seeing some pretty strong showers coming in from offshore, especially compared to Wednesday," Delerme said.
Voluntary evacuations were in place Trabuco Canyon in the Santa Ana Mountains south of Los Angeles, where a wildfire burned earlier this year.
The system was expected to linger for much of the day before dissipating early Friday.