Samurai Boo: Japan fans sheepish over World Cup fiasco
Japanese salarymen dashing to work Friday exchanged high fives with bleary-eyed football fans celebrating after the country reached the last 16 of the World Cup -- most blissfully unaware of a backlash against their team.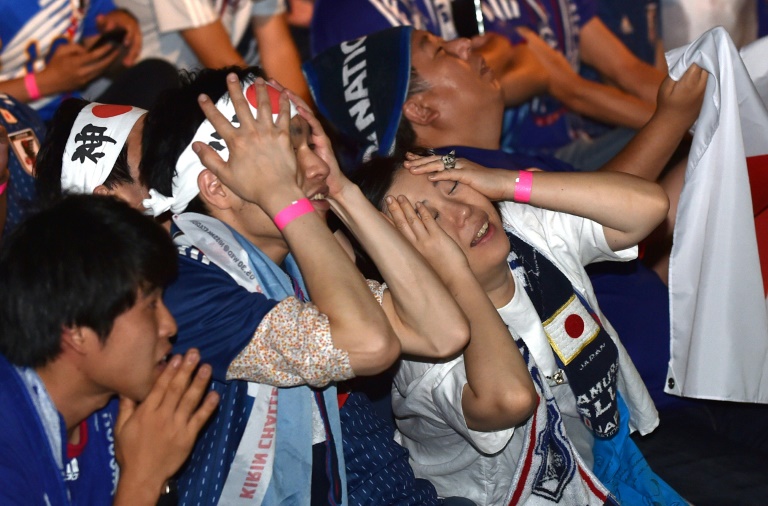 Photo: AFP
Japan lost 1-0 to Poland in Russia on Thursday in a match that ended in farce as the Samurai Blue ran down the clock knowing unless they picked up a pair of yellow cards or Senegal equalised against Colombia in the other Group H game, they would go through.
"It was definitely a little bit fishy and it's not nice to hear a crowd booing like that but, well, we reached the knockout stage -- so 'banzai!'... I guess," advertising copywriter Ken Yazawa told AFP.
"It's only the third time we've got this far," added the 44-year-old. "Hopefully we can go even further, although now we have to beat Belgium to reach the quarter-finals -- nightmare!"
Jeered off the pitch, Japan's tactics in Russia were slammed on social media, with some Japanese Twitter users also putting the boot into coach Akira Nishino for ordering his team to play keep-ball in their own half.
One disgruntled fan noted the irony of Japan becoming the first team to advance under the "fair play" rule after collecting fewer bookings than Senegal, posting: "It's funny how Japan went through playing anti-football but we live to fight another day."
Another blamed football's governing body for introducing the rule.
"I doubt FIFA expected to see their fair play rule being used so unfairly," he tweeted a little after the final whistle sounded at around 1am local time.
Under fire
Others sought to defuse the row as Japan came under fire from television commentators and pundits around the world who likened the fiasco to the infamous 1982 World Cup match between West Germany and Austria, when both teams played out a mutually beneficial 1-0 win for the Germans.
"Let's continue picking up the rubbish and collecting fair play points," joked one wag, making reference to Japanese fans who dutifully help clean the stadium after matches.
Most commuters pouring off the iconic scramble crossing and into the railway station in Tokyo's trendy Shibuya district knew or cared little about the stir Japan's negative tactics had caused.
"I don't really care how Japan got through," said 28-year-old salesman Takkyu Watari.
"I watched the game in a bar and no foreigners came up to congratulate us this time, that's true. But I don't think Japan did anything wrong."
Many salarymen, the identikit corporate samurai who formed the backbone of Japan's post-war economic miracle, were more concerned about facing a sweaty commute with a sore head after only a few hours sleep.
"I've got a thumping headache," winced Kenji Kurematsu, a 52-year-old travel agent, clutching an energy drink.
"I wish I had skipped the second half. It was boring, and I have a client meeting this morning."
One female commuter did not mince words.
"It's completely embarrassing," fumed 41-year-old account executive Kumiko Chida. "I've no doubt Japan will lose millions of fans around the world."