Britain's Royal Air Force marks centenary with national day of celebrations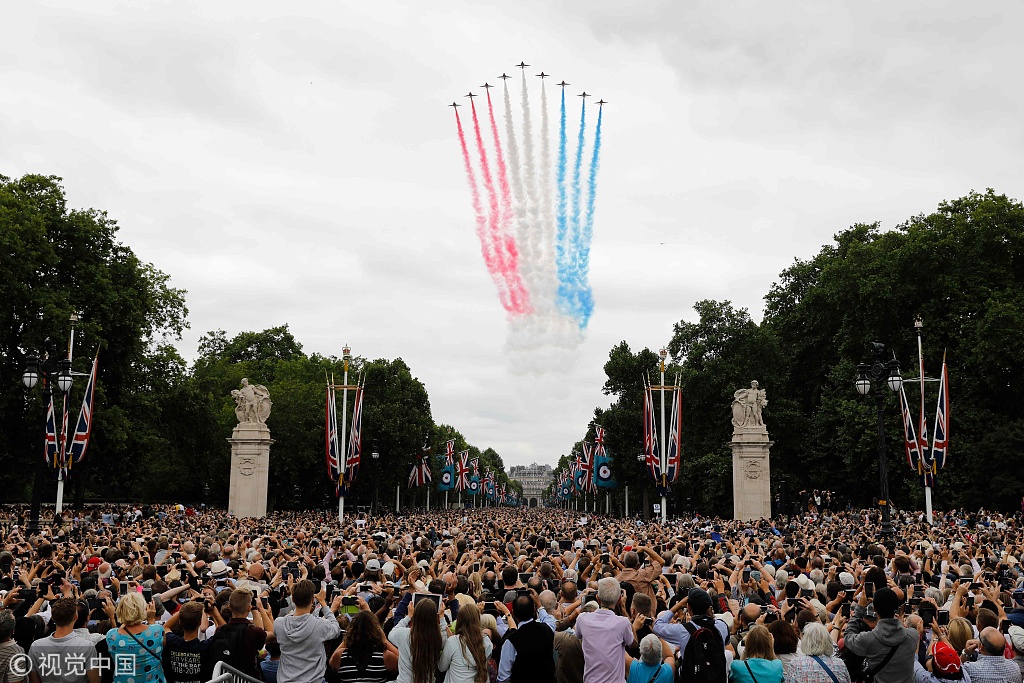 People watch as the The Red Arrows take part in a fly-past over the Mall and Buckingham Palace in London on July 10, 2018 to mark the centenary of the Royal Air Force. [Photo/VCG]
LONDON - 100 days after the Britain's Royal Air Force (RAF)'s official 100th birthday on April 1, the RAF on Tuesday marked its centenary in a day of national celebrations with the participation of hundreds of aircraft and thousands of people.
The celebrations culminated in a sensational flypast of 100 aircraft, including 22 Typhoon jets in an iconic "100" formation.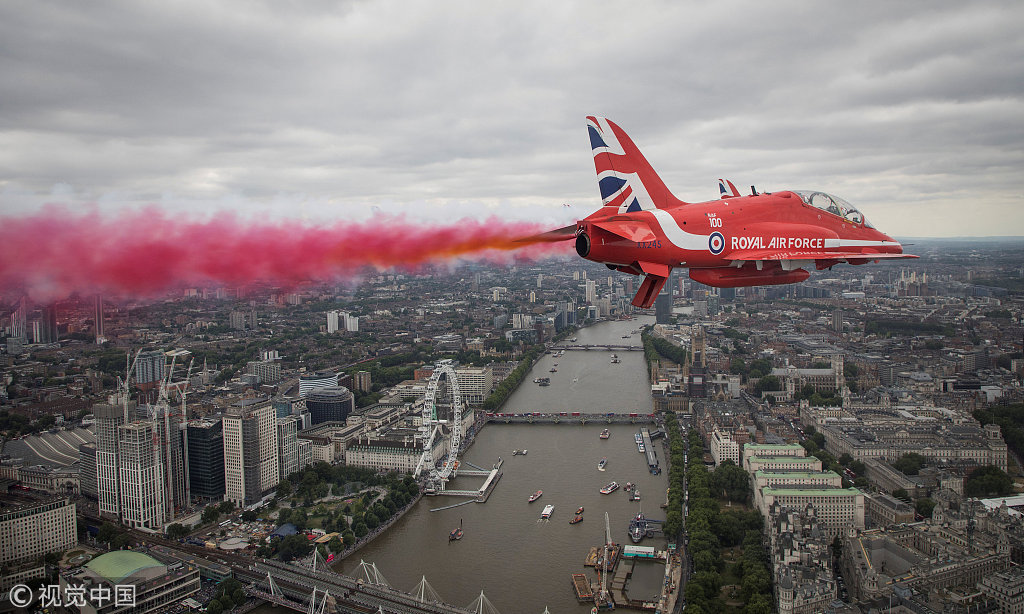 Members of the Red Arrows Royal Air Force Aerobatic Team fly over London, heading for Buckingham Palace, to mark the centenary of the Royal Air Force in central London, Britain July 10, 2018. [Photo/VCG]
Over 1,000 RAF servicemen and women performed a ceremonial parade on The Mall in central London, along with almost 300 personnel lining the route, including people from a variety of roles and RAF stations, representing the full diversity of the current Air Force.
Queen Elizabeth II honored the RAF with the presentation of a new Queen's Colour at a ceremony on the forecourt of Buckingham Palace.
At 1:00 pm members of the Royal Family invited guests and members of the public witnessed a flypast of 100 aircraft over Buckingham Palace, representing the RAF' s history, its continued operational role in securing British skies, and the future of air power.
Members of the royal family view a fly-past to mark the 100th anniversary of the Royal Air Force at Buckingham Palace, London, UK, July 10, 2018. [Photo/VCG]
The flypast featured the latest aircraft to enter service, the Lightning II, as well as 22 Typhoon jets in a "100" formation and concluded with a display by the Royal Air Force Aerobatic Team - the Red Arrows.
Earlier, a service at Westminster Abbey had paid tribute to the dedication and commitment shown by servicemen and women over the last 100 years and honored those who gave their lives. RAF service personnel, veterans, and their families were joined by members of the Royal Family.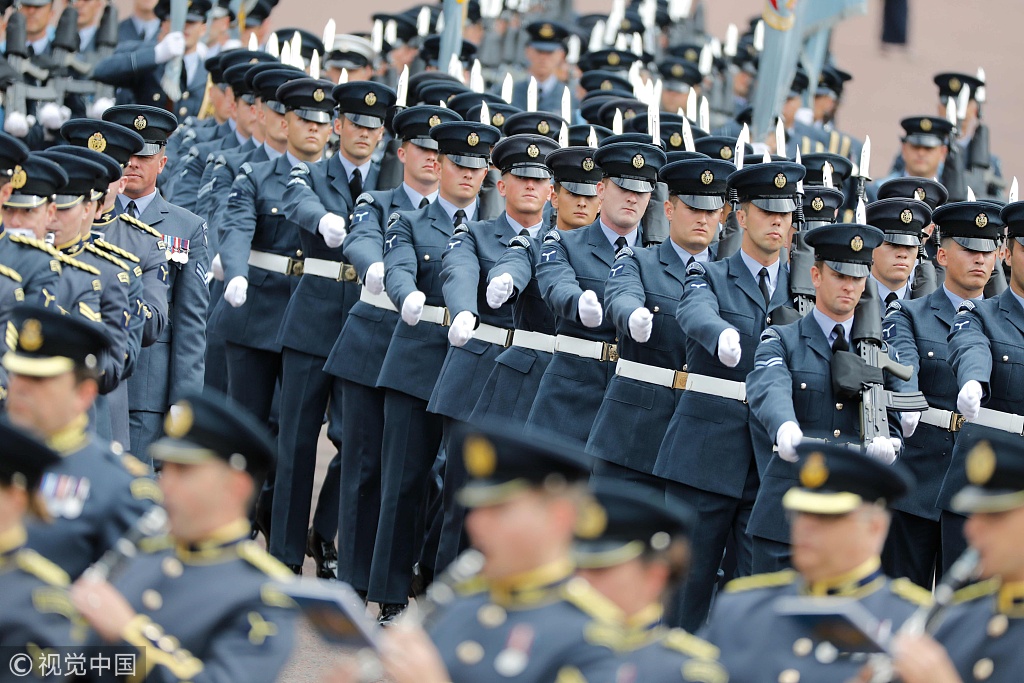 Royal Air Force personnel parade on the Mall toward Buckingham Palace in London on July 10, 2018 during celebrations to mark its centenary. [Photo/VCG]
Chief of the Air Staff, Air Chief Marshal Sir Stephen Hillier said: "Our founders one hundred years ago would be astounded by our air and space capabilities today, and what we have achieved throughout our history. But they would also be reassured that the identity, ethos and self-belief that they breathed into the Royal Air Force at our birth remains as fresh and powerful today as then."