Bio-surveillance tech up next in Africa's fight against COVID-19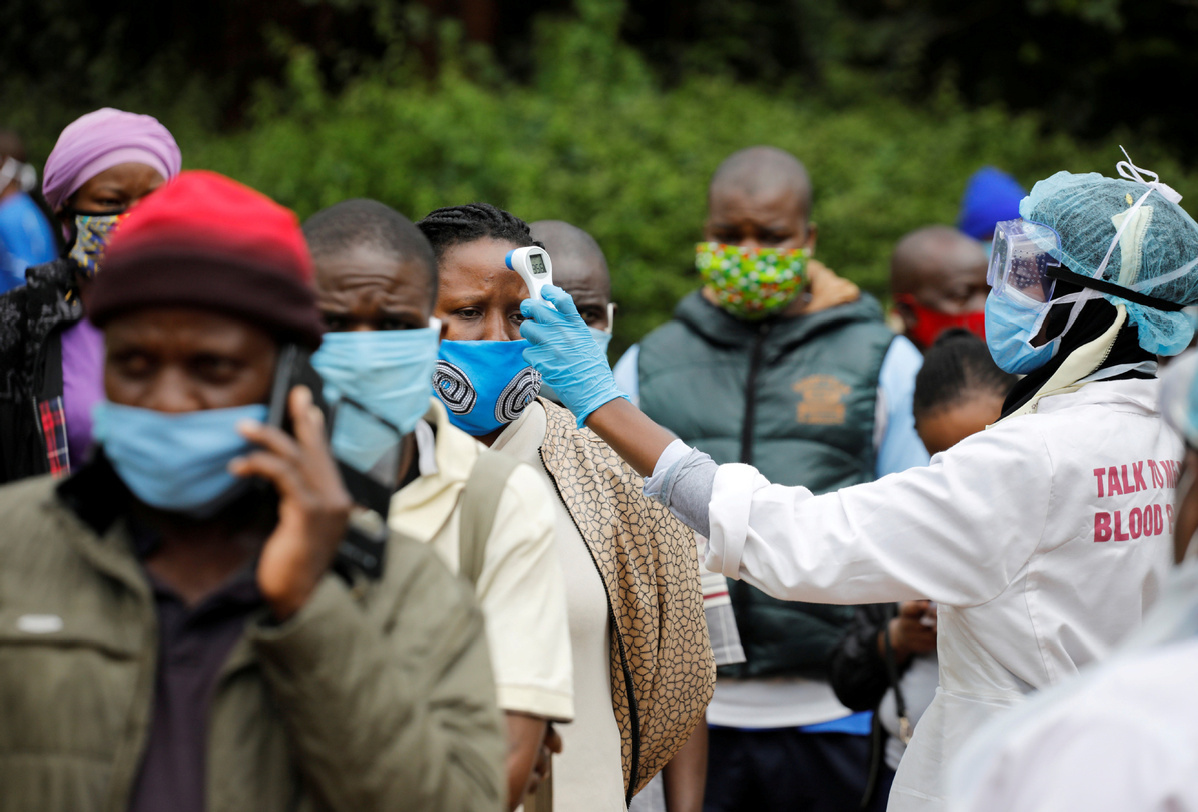 A health worker takes the temperature of a person standing in line for mass testing in an effort to stop the spread of the coronavirus disease (COVID-19) in the Kibera slum of Nairobi, Kenya, May 26, 2020. (Photo: Agencies)
A need for a unified, pan-African technology that can track the spread of COVID-19 and connect testing centers across the continent has led African countries to adopt PanaBIOS, an African Union-backed bio-surveillance technology to fight the pandemic.
The African Union and the Africa Centre for Disease Control and Prevention encouraged member states to integrate the mobile-based PanaBIOS platform, which allows results from facilities across the continent to be centralized. The app was launched in Ghana on Sept 14.
According to the African Union, the campaign is supported by a consortium of private sector organizations, including Econet Group and other pan-African institutions that are part of the PanaBIOS platform.
"We are excited to be working with African Union member states, the Africa CDC and our implementation partners by offering the PanaBIOS tool, a mobile-based, global health information platform powered by secure blockchain technology that captures a person's COVID-19 testing data and results," said Strive Masiyiwa, executive chairman of Econet and African Union special envoy for the continental fight against COVID-19.
Masiyiwa added PanaBIOS provides a mobile and web-based app that uses algorithms to track and trace persons facing potential health threats. It also tracks and keeps records of test samples from their origin to in-country labs.
"This data can be shared by individuals confidentially and at their discretion with relevant government, transport and business entities, in a manner that respects personal data privacy," Masiyiwa said.
Speaking at the launch, Ursula Owusu-Ekuful, Ghana's communication minister, said information from the app will be shared with the Africa CDC and be applied by other African countries.
Owusu-Ekuful added the new digital service shall be delivered at no cost to Ghanaian citizens or related government agencies as a result of cooperation with technology companies, telecom operators and technical institutions.
As African countries ease lockdown measures and lift travel restrictions, the African Union is banking on PanaBIOS to ensure travelers are able to use test results from one country to satisfy port clearance requirements in another country through their personal PanaBIOS app.
John Nkengasong, director of the Africa CDC, said the PanaBIOS app may eliminate the need for travelers to take repeated tests so long as they are coming from a country that's also signed up to the platform.
"The reopening of the points of entry and exit, which have been temporarily closed to mitigate the spread of Covid-19, is necessary. Africa CDC is keen to facilitate the movement of people while ensuring critical public health measures are in place," Nkengasong said.
According to Koldchain, a Kenyan startup that developed the app, the technology supplies the nuts and bolts of constructing a truly pan-African post-pandemic reopening architecture through digital monitoring of social gatherings and venues, digitized contact tracing and digitizing travel health histories.