Iraqi war victims turn to social media to find medical help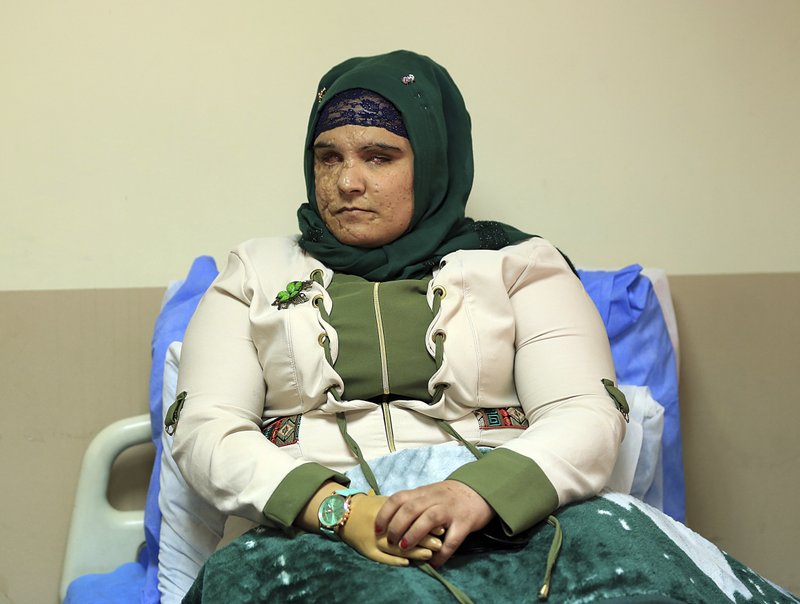 In this Monday, Nov. 5, 2018 photo, Saja Ahmed Saleem, who was injured in an explosion in 2007, talks to The Associated Press before her reconstructive surgery in Baghdad, Iraq. (Photo: AP)
It was spring 2007 in northern Iraq when 6-year-old Saja Saleem raced home from school with the good news about her excellent grades, hoping to receive the gift her father had promised her.
"All of a sudden, I found myself spinning into the air with fire trailing from my school uniform after a loud boom," Saleem, now 17, recounted to The Associated Press.
Saleem lost her eyesight, right arm and an ear in the explosion, set off by a roadside bomb. Months later, her disfiguring injuries forced her to drop out of school after other students complained about her "scary face."
Feeling helpless, Saleem recently turned to social media to find help. Eventually, her appeal grabbed the attention of a surgeon who offered free treatment.
Others have also reached out on social media.
Emotional videos and photographs of Iraqis with war wounds and disabilities have overwhelmed social media platforms, mainly Facebook, widely used in Iraq.
The widespread violence unleashed by the 2003 toppling of Saddam Hussein and the 2014-2017 battle against the Islamic State group has wounded hundreds of thousands of Iraqis. Many are maimed and scarred, their suffering lingering long after the violence subsides.
Poor medical services, scarcity of specialized staff and medical centers, and poverty have exacerbated the suffering. Those who cannot get treatment at state-run hospitals and cannot afford private clinics are looking to social media platforms to make appeals.
Appeals are posted on the personal Facebook pages of patients or on the pages of aid organizations and public figures with tens of thousands of followers. Patients describe their condition along with contact details. Messages are also distributed on platforms like WhatsApp and Viber.
Saleem and her family recall the explosion that upended her life, and the years that followed as they struggled financially to get her treatment.
"When I hit the ground, I felt severe pain all over my body ... I was bleeding, a pool of blood around me ... everything turned dark and I lost consciousness," she recalled from her bed at a Baghdad hospital where she is undergoing free reconstructive and plastic surgeries.
Saleem's mother, Khawla Omar Hussein, remembers her daughter's screams when three weeks later, she regained consciousness and realized she had lost her right arm and ear.
"She woke up screaming, crying: 'Mammy, mammy'," Hussein recalled. "Then she asked: 'Why can't I see and why is everything dark?'"
They told her it was the bandages over her eyes and that she would see after they were removed. When that day came, the doctors told her she had lost both eyes.
Nearly two years later, Saleem's family tried to send her back to school where she was accepted only as a "listener" in class, accompanying her brothers. But that arrangement ended soon as other students and teachers complained that her disfigured face was bothering them.
"I was crying day and night and became a very reclusive person," Saleem said.
After the state-run hospital couldn't go beyond the necessary treatment to save her life, Saleem's family looked for plastic and reconstructive surgery for her at a private clinic, but they couldn't afford the doctor's $7,500 fee.
Then, late last year, her mother made an appeal, posting photographs of Saleem and details about her ordeal in a public group on Viber. Days later, Baghdad-based Dr. Abbas al-Sahan, one of Iraq's best plastic surgeons, offered to do free surgeries.
Since January, Saleem has undergone four surgeries — first so her face could accommodate the two glass eyes, or ocular prostheses, then a procedure to reduce some of the scars. She also had a surgery to adjust to a prosthetic arm and is due to have plastic surgery to reconstruct her missing ear, al-Sahan said.
Al-Sahan runs the only state-run specialized hospital for reconstructive and plastic surgery in Iraq. He said that about 40 percent of the monthly surgeries his hospital preforms — between 600 to 850 — are for victims of bombings and other war-related explosions, as well as for casualties of military operations.
Saleem's family feels she is lucky. Not everyone gets the help they need through social media.
Iraqi army Capt. Salar al-Jaff was shot by a sniper in January 2017, during the height of the fight to recapture the northern city of Mosul from the Islamic State group. The bullet hit him in the head and left him paralyzed in one side of his body.
Since then, he has been treated for the head wound and for complications from lying in bed all the time, but not for the paralysis. He sold his car and all his possessions to be able to afford three injections a day, each costing $100, to overcome the pain.
He also appeared in a video, posted on social media, alongside a cleric who asks that someone help al-Jaff.
But so far, there have been no offers for free treatment.