Trump, Moon agree to keep pressure on DPRK, discuss 2nd US-DPRK summit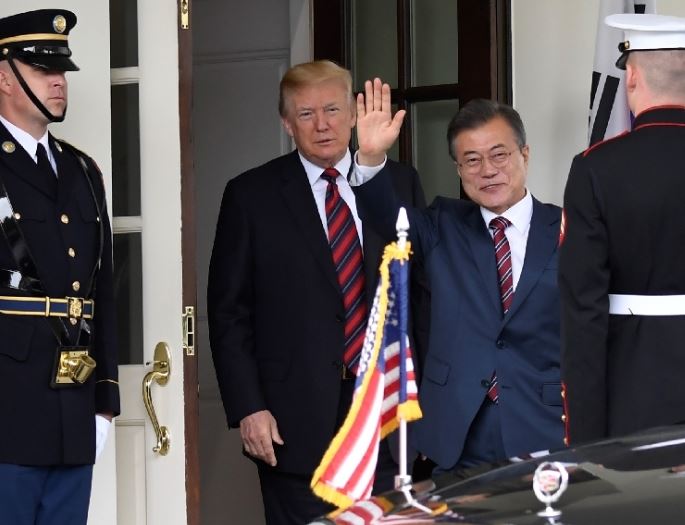 US President Donald Trump (2nd L) welcomes visiting President of the Republic of Korea (ROK) Moon Jae-in (3rd L) at the White House in Washington D.C., the United States, on May 22, 2018. (Photo: Xinhua/Yang Chenglin)
UNITED NATIONS, Sept. 24 (Xinhua) -- US President Donald Trump and his South Korean counterpart Moon Jae-in on Monday agreed to keep pressure on the Democratic People's Republic of Korea (DPRK) and discussed plans to hold a second meeting between Trump and the DPRK's top leader Kim Jong Un.
A statement issued by the White House said that during their meeting here, Moon shared with Trump the outcomes of the latest inter-Korean summit.
"Trump commended President Moon on conducting a successful third inter-Korean summit with Chairman Kim, and noted that there remained much work to be done to accomplish their mutual goal of achieving the final, fully verified denuclearization of North Korea," the White House said in the statement.
"The two leaders agreed on the importance of maintaining vigorous enforcement of existing sanctions to ensure North Korea understands that denuclearization is the only path to economic prosperity and lasting peace on the Korean Peninsula," the White House said.
"Both leaders also discussed plans for a second summit between President Trump and Chairman Kim in the not too distant future and committed to closely coordinate on next steps," it said.
Before his meeting with Moon, Trump said that his second summit with Kim will be announced "pretty soon", yet the summit is likely to take place in a different place.
"We'll be having a second summit with Chairman Kim in the not too distant future," he said. "Our Secretary of State will be dealing with that subject. Mike Pompeo has been in touch with them, and we've been in touch with them."
"I think within a fairly -- pretty short period of time, that will be announced and it will be location to be determined," he said.
"We're both very much looking forward to having it. It will be between North Korea and the United States. It will be similar to the format we had before, most likely a different location," he said.
"I think a lot of progress is being made. I see tremendous enthusiasm on behalf of Chairman Kim for making a deal," he said. "We are in no rush. There's no hurry. We got back three months ago or so. I think we've made more progress than anybody has made in -- ever, frankly, with regard to North Korea."
At his meeting with Trump, Moon said: "I had a great trip to Pyongyang. We reached a good agreement between the two Koreas, and achieved progress on denuclearization of North Korea."
"It's hugely significant that Chairman Kim personally expressed his commitment to denuclearization in front of the world media," he said.
"Now, North Korea's decision to relinquish its nuclear program has been officialized to a degree that not even those within North Korea can reverse," he added.
"Chairman Kim also repeatedly conveyed his unwavering trust and expectations for you (Trump), while expressing his hope to meet you soon to swiftly conclude the denuclearization process with you," Moon said. "I look forward to seeing the US-North Korea summit take place, and wish you a great success."
Earlier Monday, US Secretary of State Mike Pompeo said at a press conference that "to set a date certain would be foolish. But make no mistake about it: The conversations that we're having are important."
"They're -- they're putting the opportunity to complete the denuclearization in place," he said. "If we can continue to make progress and have conversations, I think there's enormous value in that."
At the conclusion of the historic Trump-Kim summit in June in Singapore, the two sides issued a joint statement, agreeing to improve bilateral relations and work together to build a lasting and stable peace regime on the peninsula.
However, US-DPRK talks have been stuck in an impasse due to their differences over the scale of denuclearization, US sanctions, and whether to issue a war-ending declaration.
In August, just one day after Pompeo announced his visit to the DPRK, Trump tweeted that he had asked Pompeo not to go due to the insufficient progress with the DPRK.
During his Sept. 18-20 trip to Pyongyang, Moon held talks with Kim, and signed the Pyongyang Declaration on further steps toward the Korean Peninsula's denuclearization and concrete measures to end hostile acts near inter-Korean border areas.
Pompeo said later in response that the United States is ready to transform its relations with the DPRK immediately.
Pompeo added that he had invited DPRK Foreign Minister Ri Yong Ho to meet in New York City where they are scheduled to attend the United Nations General Assembly meeting.
He also said on Friday that he hoped to travel to Pyongyang soon to prepare for the second summit between Trump and Kim.