Cuban slams US for stepping up trade sanctions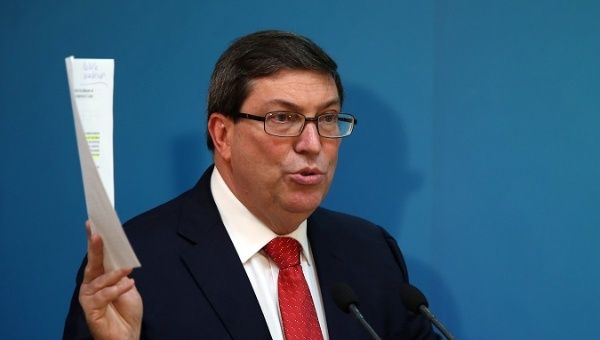 Cuban Foreign Minister Bruno Rodriguez. (File photo: teleSUR)
HAVANA, April 17 (Xinhua) -- Cuban Foreign Minister Bruno Rodriguez on Wednesday lashed out at the US government for stepping up its trade sanctions by activating Title III of the Helms-Burton Act.
Title III would allow US citizens to establish lawsuits against foreign companies operating in Cuba in properties nationalized or confiscated after 1959.
"I strongly reject" US Secretary of State Mike Pompeo's announcement of the "activation of Title III ... It is an attack against International Law and the sovereignty of Cuba and third states," Rodriguez tweeted.
Rodriguez added that aggressive escalation of the United States against Cuba would fail.
"We Cubans don't surrender nor do we accept laws over our destiny that are not in the Constitution. In Cuba, Cubans are in charge." tweeted Cuban President Miguel Diaz-Canel.
Earlier Wednesday, Pompeo confirmed that the White House would lift the ban on Title III starting May 2, potentially opening the door to thousands of lawsuits from Cuban exiles living in the United States who fled the island after the 1959 revolution, leaving businesses behind.
Most of those businesses were taken over by the state, and today many are operated by foreign enterprises, especially European companies running hotels. The threat of litigation could dampen foreign investment in Cuba.
"US citizens will be able to bring lawsuits against persons trafficking in property that was confiscated by the Cuban regime," Pompeo tweeted.
The Helms-Burton Act came into force in 1996, but most US administrations didn't apply Title III. Pompeo said US President Donald Trump decided to change that policy because Cuba has not realized a transition to democracy and "has exported its oppression to Venezuela."
The European Union (EU) warned Washington on Tuesday it might resort to the World Trade Organization (WTO) if the White House punishes European companies in Cuba.
The EU also warned the United States of repercussions, including the possibility of confiscating US companies in Europe to compensate for losses suffered by European investors in Cuba.