Over 600 injured in magnitude-6.4 earthquake in Western Iran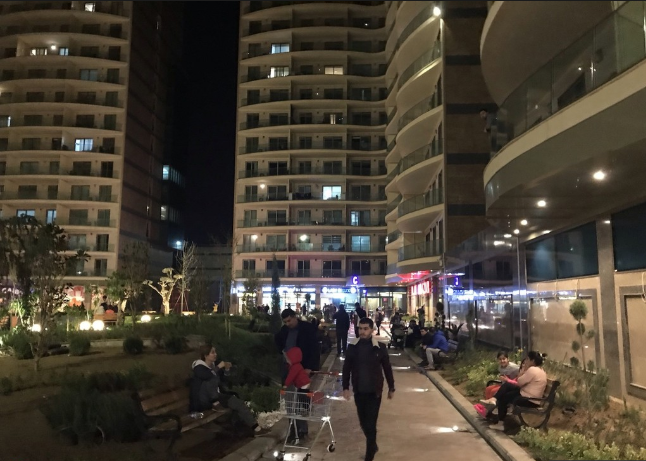 People wait outside of the buildings after 6.4 magnitude earthquake hits Western Iran in Erbil, Iraq on November 25, 2018. (Photo: IC)
TEHRAN, Nov. 26 (Xinhua) -- At least 634 people were injured in the magnitude-6.4 earthquake that hit Kermanshah province in western Iran on Sunday, Tasnim news agency reported on Monday.
There has been no death report in the quake so far, the report quoted Mahamoud Reza, president of Medical Science University of Kermanshah province, as saying.
According to Iranian Seismological Center, the epicenter of the earthquake, which took place at 1637 GMT in Sar Pol Zahab city in Kermanshah province, lied at the depth of 7 km, 34.38 degrees north latitude and 45.70 degrees east longitude.
Also, Iran's National Gas Company said in a statement that the gas pipelines have been broken in Sar Pol Zahab and Gasr-e Shirin cities.
People should not be concerned about the gas supply, the announcement said. Iran's National Gas Company has started fuel supplies to people in the quake-hit area, it added.
In the meantime, deputy governor of Kermanshah Province Mehrdad Salari told Tasnim that the quality of drinking water in 146 villages in the region has been affected by the earthquake.
All the schools and universities in Kermanshah province are closed on Monday.
The Sunday earthquake in Kermanshah province was also felt in the neighboring provinces of Lorestan and Ilam and Kordestan, as well as in the border areas of Iraq.
At least 161 aftershocks, ranging from 2.4 to 5.2 magnitude, have been registered in the region so far.
In November last year, 211 Iranians died in a magnitude-7.3 earthquake that hit the Iran-Iraq border in Sar pol Zahab area.