Iraqi fights problems to practice TCM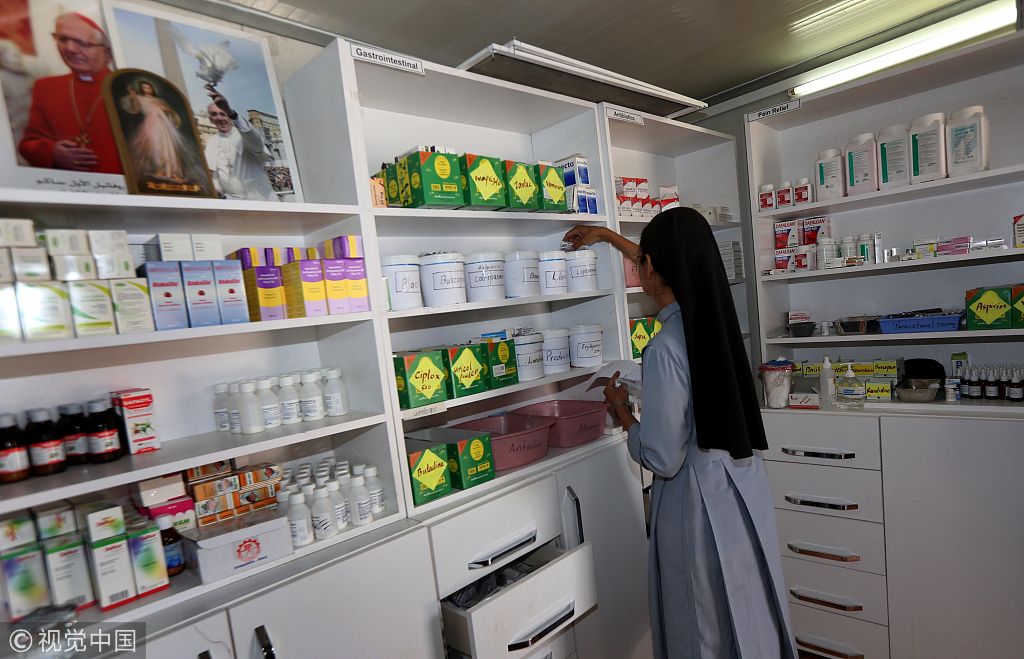 A nurse stacks medicine at the Saint Joseph Charity Clinic, for the internally displaced, in Arbil, the capital of the autonomous Kurdish region of northern Iraq, on June 4, 2016. [Photo/VCG]
BAGHDAD-In a two-story building that has a stylish facade and is located at a side street in Baghdad's Karrada neighborhood, Sabah al-Mustwfi receives patients who have resorted to traditional Chinese medicine after giving up on Western medicine due to complications and the high costs.
Mustwfi opened his clinic 20 years ago and has moved around different areas of Baghdad before recently settling in Karrada. His services range from simple TMC remedies for muscle pain, to treatment for conditions such as migraines, sciatica, chronic joint pain and obesity-even nicotine dependency.
Mustwfi graduated from Baghdad College of Medicine and practiced Western medicine until the early 1990s, when Iraq came under UN sanctions for occupying neighboring Kuwait. The severe sanctions forced Iraqi health officials to find alternative methods to overcome the medicine shortage in the country, he said.
"One of them was traditional Chinese medicine," said Mustwfi, who was among the doctors sent to China to learn TCM.
After returning from China, he began to practice what he learned. Mustwfi was nominated by the then-Iraqi Health Ministry to set up TCM training classes in Baghdad for other Iraqi doctors.
In 2003, Iraq was again engulfed in chaos, as hundreds of doctors and scholars were kidnapped, murdered or forced to leave the country in what some call a deliberate campaign.
Mustwfi kept a low profile following the US-led invasion of Iraq in 2003.
He had practiced TCM for years, trained local doctors and built awareness by writing articles and appearing on TV shows.
"I don't accept interviews with Iraqi or foreign media despite many attempts by them, because in such a fragile situation, you can't predict what will happen (in the) next hour," Mustwfi said.
According to the Red Cross, more than half of the country's doctors have fled abroad.
The mass exodus has had a negative impact on the country's healthcare system, which was considered among the best in the Middle East in the 1970s and '80s.
It is hard for Mustwfi, like many other doctors, to practice Western medicine with a devastated healthcare system in Iraq.
Also, because of the circumstances-sanctions before 2003 and chaos following the US-led invasion-TCM could not be promoted in the country, but his own patients are educated and have knowledge about acupuncture treatment and other methods of TCM, according to Mustwfi.
"Here in Baghdad, there is a fine line between medicine and imposture. I know (as a physician) that many diseases cannot be treated by Chinese medicine, sometimes we need surgical intervention or some other medical devices," Mustwfi said.
But TCM is needed in many cases, he said, when Western medicine has failed.
"A large number of patients that I receive in my clinic are those who suffer (from) intractable diseases," he added.
At his clinic, Mustwfi carefully inserts hair-thin needles into the back of one of his patients while explaining that inserting the needles is painless and would alleviate the muscle pain and maintain balance in the patient's body. Outside the consulting room, an old man and two women are seen waiting to be treated by the doctor.
Iraq needs more stability and improved security in order to help healthcare workers, including TCM practitioners, or else, the deterioration in Iraq's health situation will continue, Mustwfi said.