Argentina extends bonuses for healthcare workers amid COVID-19 pandemic
Argentina's government on Tuesday announced it was extending financial bonuses for healthcare workers on the frontlines of the novel coronavirus (COVID-19) pandemic.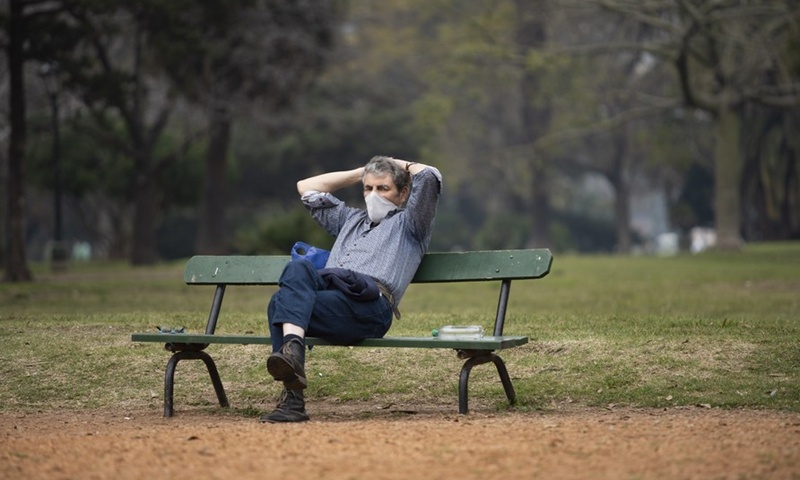 A man wearing a mask sits on a bench at a park in Buenos Aires, Argentina, Aug. 5, 2020. (Photo by Martin Zabala/Xinhua)
The announcement was made at a joint press conference by the ministers of health and labor, Gines Gonzalez Garcia and Claudio Moroni, who were accompanied by the leader of the Healthcare Workers Union, Hector Daer.
The 5,000-peso (about 63 US dollars) bonus was paid from April through July and will now be paid for the period from August through October.
"It is an absolutely necessary stimulus for the enormous effort that healthcare workers are making, although nothing compensates for the effort or the risks. They are the true heroes of this circumstance," said Gonzalez.
Moroni said the government will maintain the bonus "for as long as necessary, because we are still in a pandemic and workers in the healthcare sector are fundamental."
According to the president's office, the number of workers receiving the bonus grew from 434,253 in April to 558,626 in July.
Argentina has reported 565,446 cases of COVID-19 infection and 11,710 deaths from the disease since the beginning of the outbreak.