Huawei's Meng dealt fresh court setback on evidence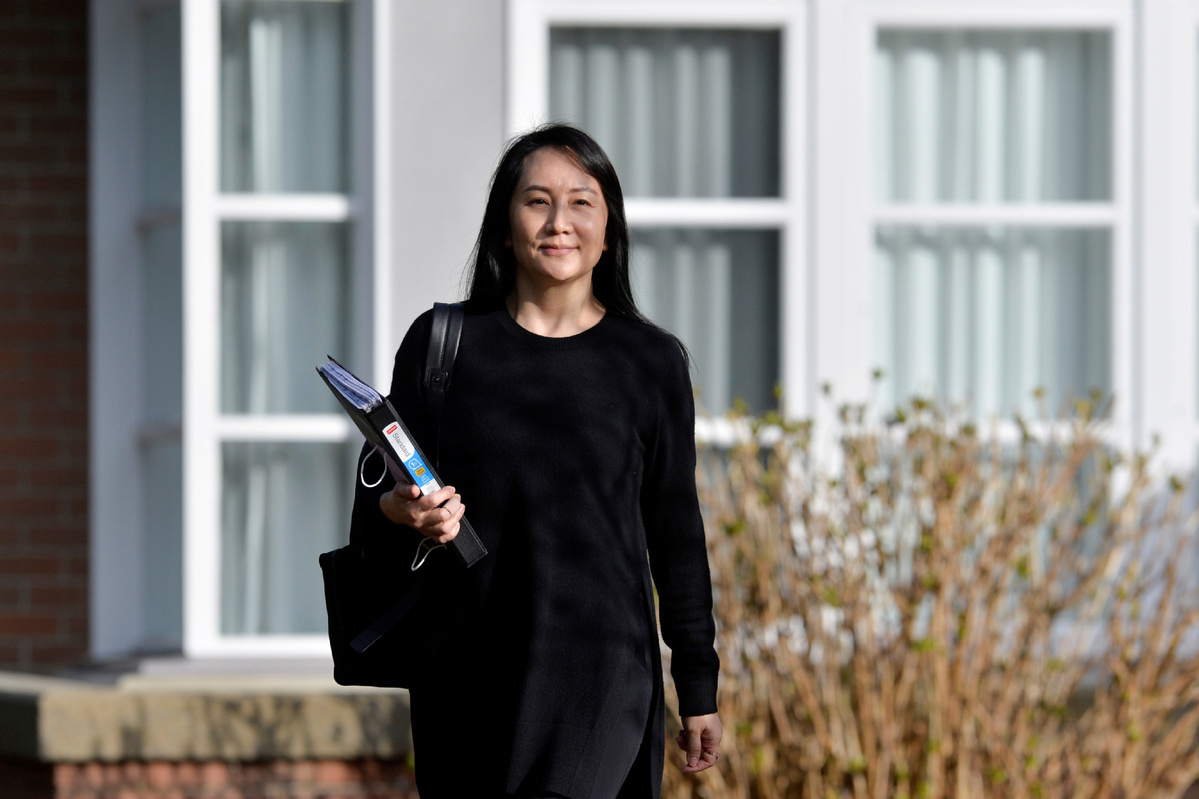 A Canadian judge on Tuesday rejected a request by lawyers for Huawei Technologies executive Meng Wanzhou to have additional evidence accepted in her extradition case.
Meng's lawyers had wanted to include an affidavit from a Huawei accountant as evidence that they said would shed light on the Chinese technology giant's financial practices and help prove Meng's innocence as she fights extradition from Canada on charges of bank fraud in the United States.
Both Meng, who is Huawei's chief financial officer, and the company deny the claims and say she is innocent.
Associate Chief Justice Heather Holmes of the British Columbia Supreme Court rejected the affidavit, the third such request made by Meng's legal team, stating the evidence "is not relevant "to the extradition hearing. Much of the team's other requests were similarly rejected.
Meng, 49, was arrested at Vancouver International Airport in December 2018 on a US warrant that alleges she misled HSBC about Huawei's business dealings in Iran, causing the London-based bank to break sanctions imposed on the Islamic republic by the US.
She is being held under house arrest in Vancouver, where she has been fighting extradition for two years.
On Tuesday, government lawyer Robert Frater told Holmes that she was hearing "two starkly different narratives", one from the defense and one from the government.
"One is an exciting narrative. It involves a covert criminal investigation, witnesses lying on an almost industrial scale, and a cross-border cover-up," said Frater, in response to the claims by Meng's defense team.
"The other narrative is more prosaic. It involves two sets of public officials going about their required tasks in circumstances where there was no playbook," he said, in reference to police and border authorities.
Misconduct by police
Meng's legal team argued last week that misconduct by police and border officials during Meng's arrest and interrogation, including an alleged delay in her detainment by police, violated her rights and that her devices were seized without proper authority and her device passcodes improperly obtained.
Frater said the arrest was carried out in a reasonable amount of time that took into consideration the responsibilities of the Canadian Border Services Agency. He said the agency had the authority to obtain her passcodes and that they were passed on to Canadian police by mistake.
The mistake did not violate Meng's rights because evidence showed police did not use them or pass them on to the FBI, he added.
The prosecution was expected to resume arguments on Wednesday. Meng's case is set to wrap up in May.
Agencies, Heng Weili in New York and Rena Li in Toronto contributed to this story.