Merkel warns against rising anti-Semitism in Germany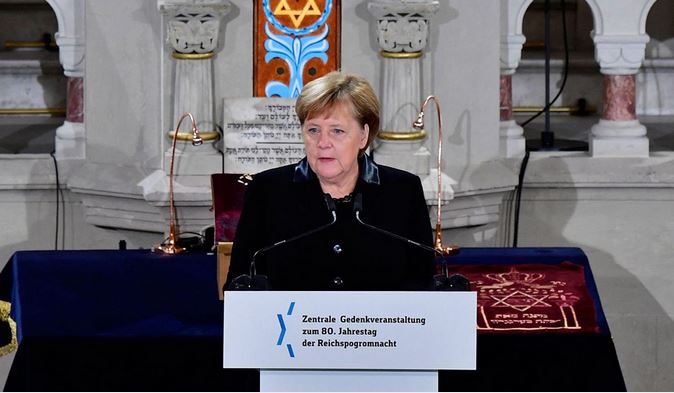 (Photo: CGTN)

Germany has a moral duty to fight rising anti-Semitism, Chancellor Angela Merkel said on Friday in an emotional speech at a Berlin synagogue to mark the 80th anniversary of a Nazi campaign of attacks on Jews.
Dressed in black, Merkel told Jewish leaders that violence against Jews, blamed on far-right militants or Muslims, was growing in Germany now, eight decades later.
"Jewish life is blossoming again in Germany – an unexpected gift to us after the Shoah," she said, using the Hebrew word for the Holocaust. "But we are also witnessing a worrying anti-Semitism that threatens Jewish life in our country."
Germany and Austria on Friday marked "Kristallnacht," a wave of killings of Jews and looting and destruction of property launched on November 9, 1938. The name refers to the broken glass which littered streets outside synagogues and Jewish shops and homes.
Eight decades ago on this day, Nazi thugs murdered at least 90 Jews, torched 1,400 synagogues across Germany and Austria, and destroyed Jewish-owned shops and businesses.
Merkel underlined that Kristallnacht happened after a creeping process in which anti-Semitism was first tolerated and later encouraged. Exclusion, racism or anti-Semitism must be stamped out from the start, said Merkel, warning against a repeat.
"Easy answers, which often go with a coarsening of the discourse on the streets and in the Internet, that's a start that we must decisively counter," she said.
Shortly before Merkel spoke, an appeal court in Berlin overturned a decision by police to ban a far-right march in the capital planned for later on Friday.
Police had barred the event on the grounds it would be unacceptable to hold a far-right march on the same day as the rest of the country was commemorating Jewish victims of Nazi violence.
But the court was of the view that the constitutional rights to freedom of expression and assembly were paramount.
A counter-demonstration by leftist groups was also planned.
Merkel called for zero tolerance of attempts by far-right groups to hold Germany's large Muslim community responsible for violence committed by Islamist militants.
The chancellor's decision in 2015 to welcome almost a million migrants, most of them Muslim, has fueled the rise of the far-right Alternative for Germany (AfD) party, which says Islam is incompatible with the German constitution.
The AfD entered parliament for the first time in an election last year. Its success drew expressions of concern from Israeli officials and Jewish groups in Europe and the United States.
Almost a third of Germans believe anti-Semitism in Germany is "high" or "very high," a poll for broadcaster ZDF showed on Friday.
Germans were shocked by images of skinheads chasing migrants in the eastern city of Chemnitz in September after the fatal stabbing of a man was blamed on two migrants. Far-rightists also clashed with police and attacked a Jewish restaurant.
"This form of anti-Semitic violence reminds us of the beginning of the pogroms," Merkel said.
German President Frank-Walter Steinmeier said the violence on November 9, 1938 marked "the incomparable break from civilization, Germany's fall into barbarism". Germany must never look away again if "some try again to speak for the 'real people' and seek to exclude" those with a different religion or skin color, he said.
French Prime Minister Edouard Philippe said on Friday anti-Semitic attacks had surged in France in the past nine months.