Study finds COVID-19 antibodies wane rapidly
China Daily Global
1603849913000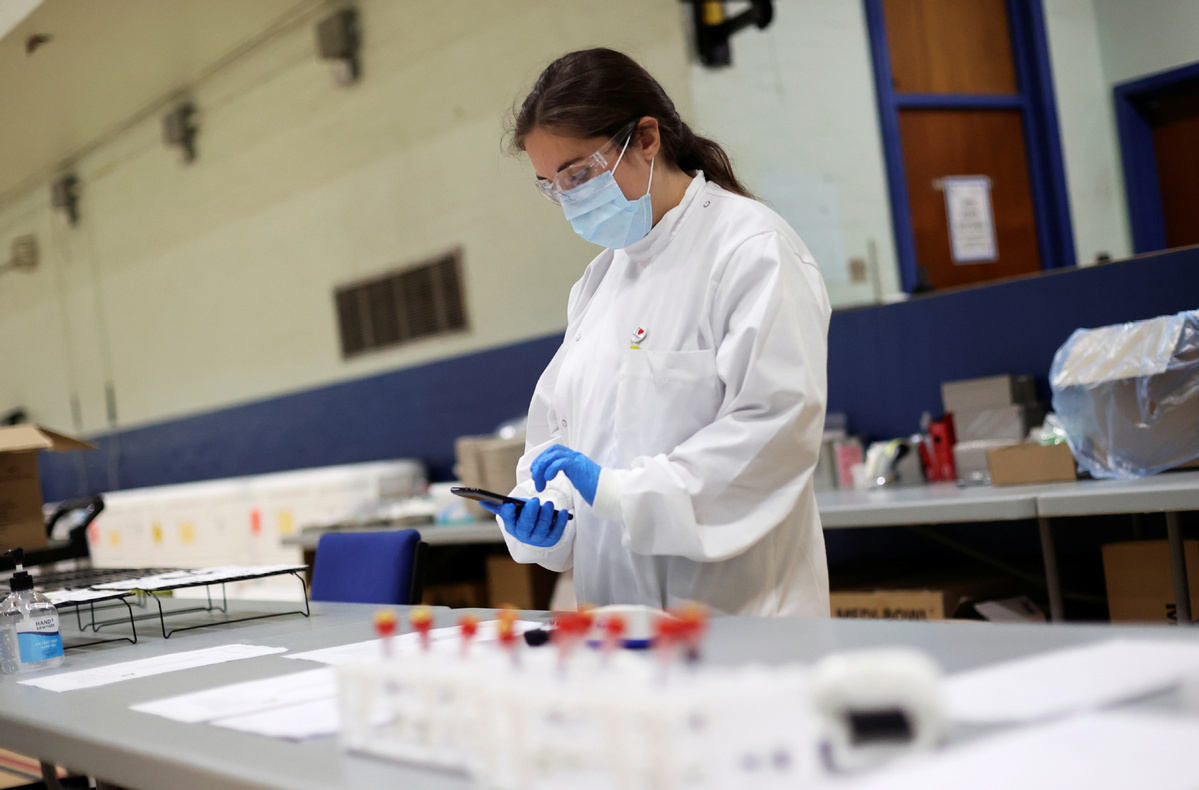 Immunity to the novel coronavirus may be short-lived as COVID-19 antibody levels decrease markedly within a few months, a major study commissioned by the United Kingdom government has found.
The study revealed that just a little more than a quarter of those who had antibodies against novel coronavirus during the summer were no longer positive, "suggesting antibodies reduce in the weeks or months after a person is infected", according to a statement from the UK Department of Health and Social Care.
Testing of 365,000 people in England revealed that the presence of COVID-19 antibodies declined by 26.5 percent between June and September.
The study was carried out by Imperial College London and market analysts Ipsos MORI as part of the Real-Time Assessment of Community Transmission, or REACT, program.
"We don't yet know whether this will leave these people at risk of reinfection with the virus that causes COVID-19, but it is essential that everyone continues to follow guidance to reduce the risk to themselves and others," said Helen Ward, who is a clinical professor of public health at Imperial College London and lead author on the study.
Antibodies are types of proteins that help prevent infection taking hold in the body. Their presence in blood samples is an important indicator of disease immunity.
It is common for antibodies to leave the immune system after an infection is cleared, though the timeline for this reduction varies depending on the disease. At the beginning of the pandemic, scientists had hoped to find that COVID-19 survivors would exhibit long-lasting protection against the virus. But the new study adds to growing evidence that immunity might be short-lived.
A smaller study by King's College London in July found that COVID-19 antibody levels fell by as much as 23-fold in the three months following infection, and in some cases were completely undetectable after that period.
Testing earlier this year of 1,470 COVID-19 patients at four Wuhan hospitals found that 10 percent did not have detectable antibodies 21 days after displaying symptoms.
If the body's immune response to COVID-19 is in fact this transient, natural herd immunity could be difficult to achieve and the virus could cause seasonal reinfections among much of the population, as is the case with viruses that cause the common cold and types of flu.
Paul Elliott, director of the REACT program, said that it "remains unclear" what level of immunity antibodies provide or for how long this immunity lasts.
UK Health Minister James Bethell called the REACT study a "critical piece of research". He urged all people-even those who test positive for antibodies-to adhere to government recommendations.
"Regardless of the result of an antibody test, everyone must continue to comply with government guidelines including social distancing, self-isolating and getting a test if you have symptoms, and always remember: hands, face, space," Bethell said.