Russian gas pipeline set to supply Europe
China Daily Global
1631153470000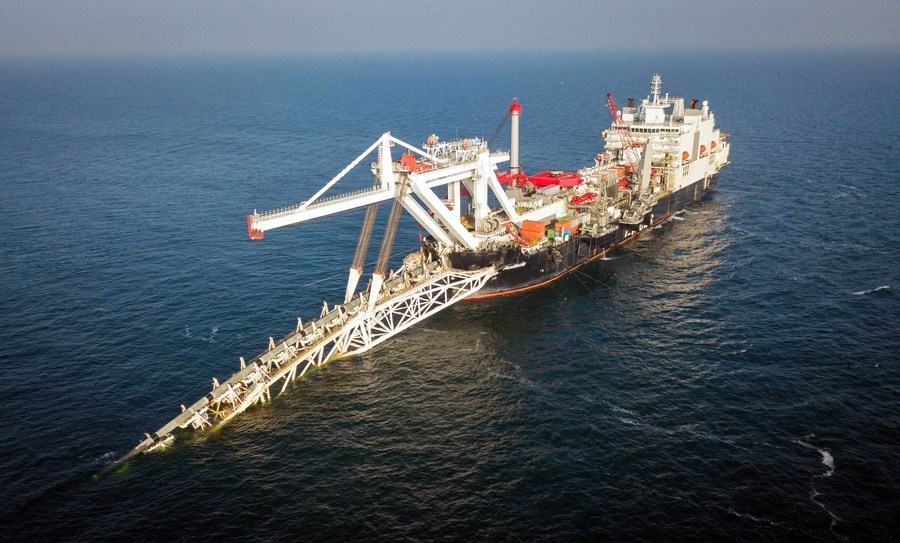 A pipeline that lets Russia pump natural gas directly into Europe by bypassing Ukraine and Poland will be complete in days, according to the Moscow-based Interfax news agency.
Quoting Russia's foreign minister, Sergei Lavrov, Interfax said the final section of the $11-billion Nord Stream 2 has been welded together.
The Reuters news agency said the pipeline will allow Russia to double the amount of gas it sells to Europe.
The German State-owned broadcaster Deutsche Welle, which described the new pipeline across the Baltic Sea as "controversial", said the final section will be lowered into German waters in the Baltic Sea where it will complete a project that ensures Russian gas can arrive in Germany without traveling through other nations.
The broadcaster said Russia's State-owned energy company Gazprom expects gas to start flowing in October, after extensive testing.
The United States and many of its allies have attempted to block construction of the pipeline repeatedly over the years and its completion date has slipped back several times from the December 2019 end date initially expected.
Washington says the pipeline will make Europe, which imported 41 percent of its gas from Russia in 2019, even more dependent on Moscow and could leave it open to blackmail.
But Germany is keen to get a bigger supply of gas, The Guardian newspaper says, both to boost its industrial sector and make it easier to hit emissions targets.
Britain's Daily Express newspaper said on Wednesday that London is hoping the United Kingdom can avoid being too dependent on Russian natural gas by buying more from Norway.
The paper said Britain currently imports Russian gas indirectly through the Netherlands but is fearful of Russian rationing. It quoted Michael Bradshaw, an expert on global energy at Warwick Business School, as saying: "We're very fortunate that we have a trading relationship with Norway where we have pipeline fields coming directly from them to the UK that we can rely on a certain amount of Norwegian supply."
He said the UK imported 11.7 million metric tons of crude oil from Norway in 2020 along with 1.4 million metric tons of natural gas and could choose to import more.
The new pipeline is also controversial in Ukraine, which has been embroiled in territorial disputes with Russia, because it means the nation will miss out on billions of dollars in transit fees.
Reuters quoted Ukraine's President Volodymyr Zelenskyy last month as saying: "We view this project exclusively through the prism of security and consider it a dangerous geopolitical weapon of the Kremlin."
The Maritime Executive magazine, which is the world's largest maritime issues publication, said the pipeline is also controversial with environmentalists, who fear it will lead to an expansion of Russia's natural gas industry, and increased methane gas leakage, which would add to global warming.
Constantin Zerger, head of energy and climate protection at Environmental Action Germany, told the magazine: "We are certain that Nord Stream 2 would not have been approved with the scientific findings now available."