US to clean up Agent Orange storage site in Vietnam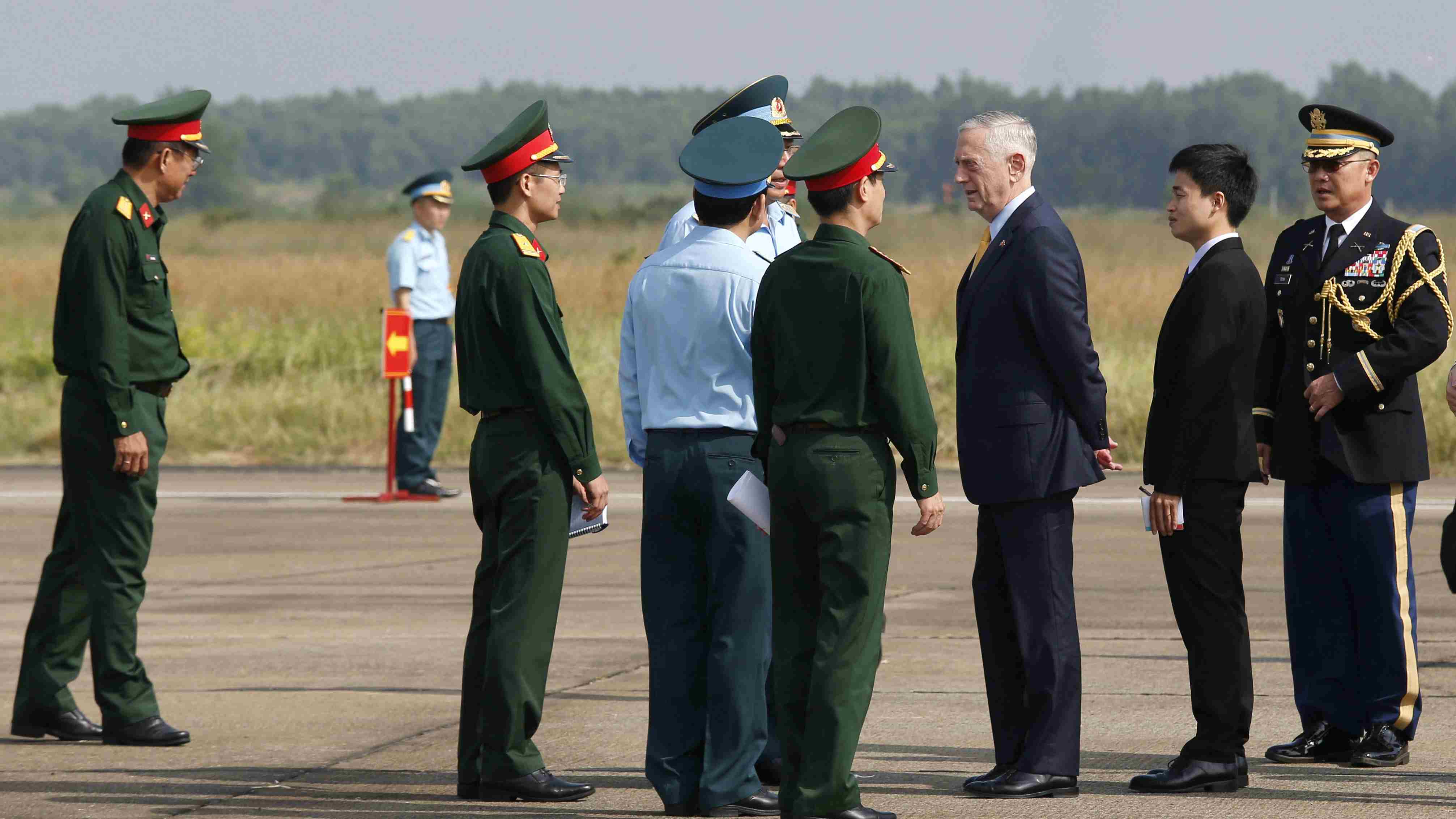 Former US Secretary of Defense Jim Mattis (3rd-R) talks to Vietnamese military officials as he visits Bien Hoa airbase, where the US army stored the defoliant Agent Orange during the Vietnam War, in Bien Hoa city, on the outskirts of Ho Chi Minh city, on October 17, 2018. (File photo: CGTN)
Nearly four decades after the end of the Vietnam war, the US announced on Saturday, another multi-million dollar project to clean up the storage site of Agent Orange—a toxic herbicide—responsible for causing cancer and a series of health complications.
From 1961 to 1971, aerial attacks code-named Operation 'Ranch Hand' carried out by the US Air Force sprayed more than 20 million gallons of Agent Orange to defoliate thick vegetation cover.
The US fighter jets and helicopters made more than 9,000 trips spraying Agent Orange over forest areas to uncover the hideouts of Vietnamese fighters and to ensure the visibility of the targets.
After the war ended, the chemical stored at various airports were not removed. The herbicide contains heavily toxic compounds called dioxins.
With a large quantity of the chemical seeping into the groundwater, the toxins entered into the food chain of the local population living near the storage sites.
One such storage site, Bien Hoa airport, outside Ho Chi Minh City, is witnessing the devastating impact as the chemical has contaminated local water sources.
United States Agency for International Development (USAID) on April 20 initiated $183 million clean-up operation of the site.
"The fact that two former foes are now partnering on such a complex task is nothing short of historic," said the US ambassador to Vietnam, Daniel Kritenbrink, at Saturday morning's launch, which was attended by Vietnamese military officials and US senators, the AFP reported.
Last year, USAID completed the clean-up of dioxin contamination at Danang Airport. It took six years and an investment of $110 million to treat 90,000 cubic meters of contaminated soil.
The dioxin contamination at Bein Hoa is nearly four times than that of Danang requiring more investment and time for clean-up.
More than four million Vietnamese people were exposed to Agent Orange. Nearly one million of them are reported severe health complication, 150,000 children were born with birth defects.
Around 2.8 million US veterans who had their "boots on the ground" from 1962 to 1975 were also exposed to dioxin-contaminated herbicides, including Agent Orange, the US Veterans Administration study said.
The US government pays compensation to the veterans exposed to the toxic chemical. But it refuses to adopt the same yardstick for the Vietnamese nationals.