Climate change 'poses risk to rail safety'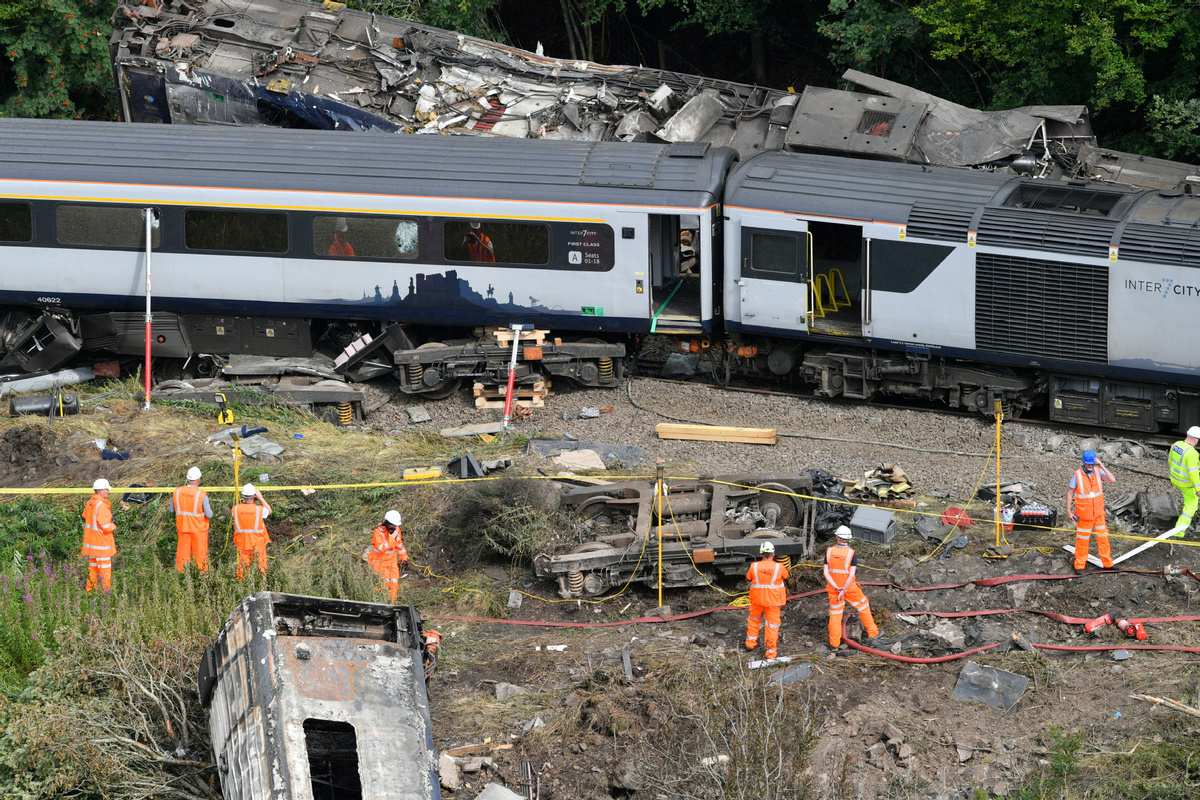 Emergency services inspect the site, following the derailment of the ScotRail train which cost the lives of three people, near Stonehaven, Aberdeenshire, Scotland, Britain August 13, 2020. [Photo/Agencies]
British railways operator Network Rail has admitted that severe weather caused by climate change is becoming an increasing challenge when maintaining the country's transport infrastructure, after extremely heavy rain was identified as a contributory cause to a fatal train derailment in Scotland last month.
Three people died when a train from Aberdeen to Glasgow was derailed near the town of Stonehaven, after hitting what an official report called a pile of "washed-out rock and gravel", and the company said future earthwork failures were expected because of a result of "challenging weather".
Around that time, the east coast of Scotland had been subject to torrential rainfall and flash flooding. Speaking in the immediate aftermath of the incident, Simon French, chief inspector of the United Kingdom's Rail Accident Investigation Branch, said: "Thankfully, fatal derailments are a rare occurrence on the UK's national network.
"However, landslips and other earthworks failures remain a risk to trains that needs to be constantly managed-and this is becoming even more challenging for the rail industry due to the increasing incidence of extreme weather events."
In July, a month before the Stonehaven derailment, the Office of Road and Rail had issued a health and safety report highlighting the challenge posed by landslips, with climate change identified as a major cause.
Network Rail's chief executive said the UK rail network is the safest in Europe, but weather-related damage is a growing concern.
"We are all aware that we are increasingly seeing more incidents of severe weather," said Andrew Haines. "As (the report)… shows, earthworks and drainage infrastructure, some of which are more than 150 years old, prove to be a real challenge as the country experiences more heavy rainfall and flooding."
Since the Stonehaven incident, inspections of 584 similar sites have been carried out, some involving helicopter surveys, and although a small number were found to have suffered accelerated deterioration that needed remedying sooner rather than later, none were judged to have problems "requiring emergency intervention".
However, Network Rail said it was not in a position to strengthen all "substandard" trackside slopes and would instead focus on those with "the highest risk of failure and consequence".
"It is simply not economically viable to strengthen all substandard infrastructure slopes," the report said. "So, despite continuing improvement, we expect there will still be earthwork failures as a result of challenging weather.
"What we can and will do is continue to evolve our application of technology and refine our operational procedures to manage their safety impact and protect our passengers, colleagues and members of the public."
The Department for Transport, which commissioned the report, said that between 2019 and 2024 Network Rail has set aside 1.3 billion pounds ($1.7 billion) to strengthen railway infrastructure resistance to extreme weather. This compares to 952 million pounds in the previous five years.