COVID-19 cases continue to surge in Canada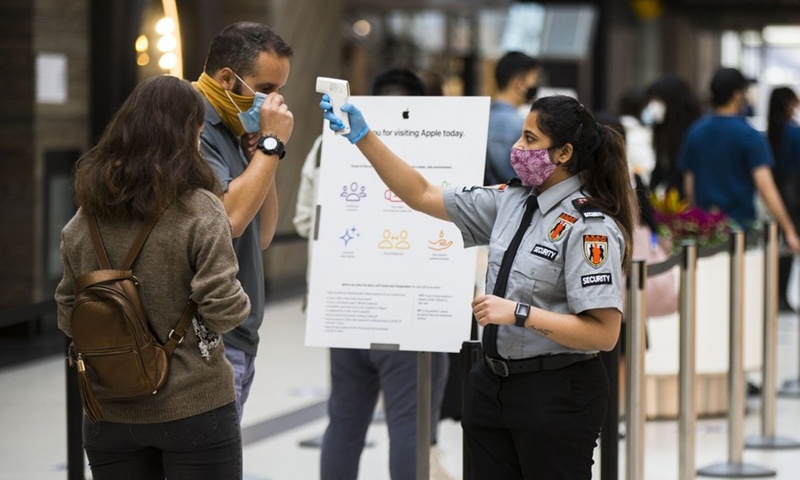 A security officer wearing a face mask checks the temperature of a customer outside an Apple store in Toronto, Canada, on Oct. 6, 2020. (Photo:Xinhua)
The second wave of COVID-19 is showing up in Canada as a series of regional epidemics, said Chief Public Health Officer Theresa Tam on Thursday.
As of Thursday afternoon, Canada has recorded 175,085 cases and 9,554 deaths, according to CTV.
The Public Health Agency of Canada reported Thursday that the country has had an average of 2,052 new cases a day for the past week. "Over the past week, there have been on average 673 individuals with COVID-19 in Canadian hospitals each day and 18 deaths reported daily."
"These national trends reflect a series of regional epidemics that will continue to unfold differently in communities across the country," said Tam in a statement. "We must rise to the challenge again and work together to flatten the curve."
Canada's two most populous provinces are reporting over 80 percent of the cases being reported nationally in recent weeks.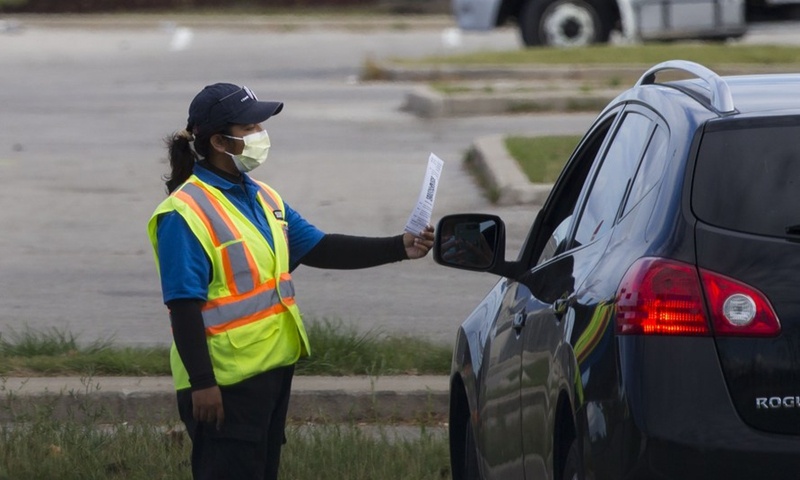 A security officer wearing a face mask helps a person scan a code to register before testing at a drive-thru COVID-19 assessment center in Brampton, Ontario, Canada, on Oct. 1, 2020. (Photo:Xinhua)
Both provinces have also observed a rise in the number of hospitalized cases over the past several weeks, raising concerns about straining health system capacity if the upward trend continues.
On Thursday morning, Ontario province reported 797 new cases, the highest number of daily new cases since the start of the COVID-19 pandemic, while Quebec province reported 1,078 new cases of COVID-19 and nine more deaths.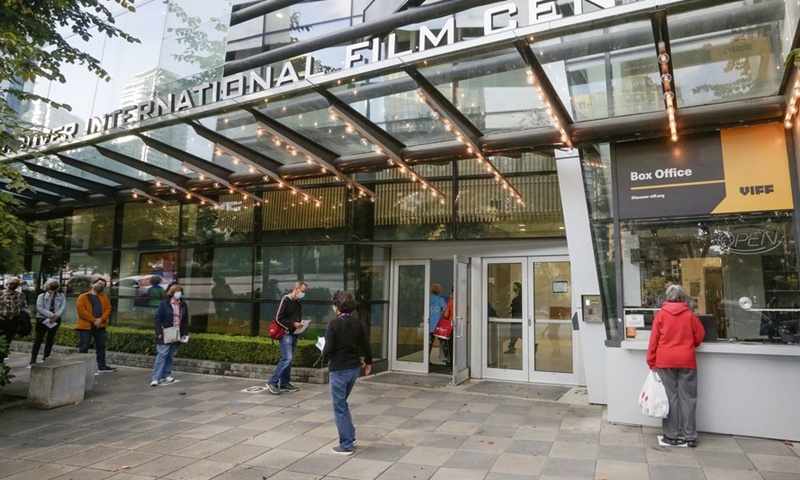 People line up in observance of social distancing outside the Vancouver International Film Centre during the 39th Vancouver International Film Festival (VIFF) in Vancouver, Canada, Sept. 25, 2020. (Photo:Xinhua)
Meanwhile, the Canadian government is lifting cross-border travel restrictions for a wider range of family members as of Thursday, which means some Canadians will soon be able to reunite with loved ones outside the country after being separated for months.
It will allow for the entry of certain extended family members of Canadian citizens and permanent residents, including couples who have been dating for at least a year and their children, as well as grandchildren, siblings and grandparents.