Italy wants EU border agency in Africa, not at sea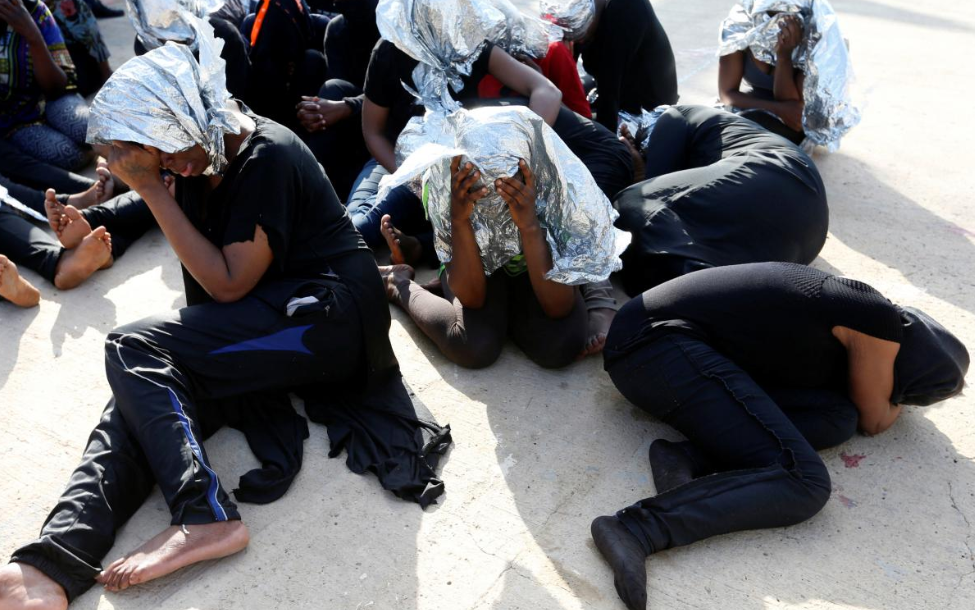 Migrants sit at a naval base after being rescued by Libyan coast guards in Tripoli, Libya June 18, 2018. Picture taken June 18, 2018 (Photo: Reuters)
Italy wants Europe's border agency to stop migrants in transit countries before they board boats rather than working in the Mediterranean, Transport Minister Danilo Toninelli said on Tuesday.
His comments come as the new populist government closed its ports to rescue ships, one of which was forced to disembark more than 600 migrants in Spain at the weekend, and as migration again moves to the top of the EU agenda.
Pressure from Italy and Germany has helped prompt the EU to agree next week to look into creating disembarkation platforms in north Africa and elsewhere to decide asylum requests before claimants get to Europe, according to a draft statement ahead of an EU summit.
The EU border agency, Frontex, runs an operation off the coast of Italy called Themis that works closely with the local coast guard to patrol with 10 ships, two planes and two helicopters.
Since the end of 2013, hundreds of thousands of migrants fleeing violence and poverty — mostly in Africa and the Middle East — have traveled to Libya to then try to reach Europe by boat. Thousands have died during the crossing.
While not exclusively a rescue mission, Frontex has picked up thousands of migrants sent out on unsafe boats by Libya-based people smugglers. This year it has helped rescue 3,200 migrants, while a similar sea operation by Frontex last year recovered 21,500.
All of the rescued migrants were brought to Italy.
"We don't want anymore sea rescues by Frontex if the European agency then finds itself with no choice but to bring those rescued to Italian ports," said Toninelli, who oversees the coast guard.
"The battle that we are waging ... is to move Frontex onto solid ground in transit countries," he said at a conference organized in Rome by the EU's anti-human trafficking operation Sophia. "The political objective is to not allow them to leave in the first place."
"We continue to work in accordance with the current operational plan agreed with Italy," a Frontex spokeswoman said.
The one-year Themis mission began in February after being agreed with the previous Italian government.
While details about the EU's possible "disembarkation platforms" are still not known, the United Nations refugee agency already operates a "transit center" in Niger where asylum seekers can request resettlement in Europe or elsewhere. Another such center is due to be opened in Tripoli soon.
"Our transit center in Tripoli is almost ready," Vincent Cochetel, the UN agency's special envoy central Mediterranean, said on Twitter. "Resettlement from Libya & Niger now needs to work much faster."