African Union refutes report that China is spying on its headquarters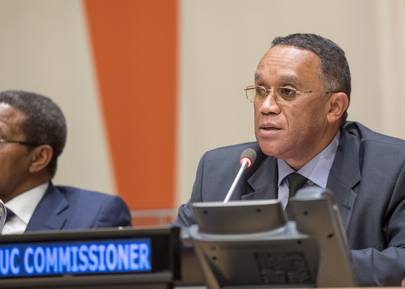 File photo of Victor Harison, the commissioner for economic affairs of African Union (AU)
ADDIS ABABA, Nov. 15 (Xinhua) -- A senior official of the African Union (AU) on Thursday rejected media reports that China has been spying on its headquarters and transferring data from servers in the building.
Victor Harison, the AU commissioner for economic affairs, said he "respects the response" of the chairperson of the AU Commission, Moussa Faki Mahamat, who last year refuted a report of French newspaper Le Monde that claimed China had bugged the AU conference center it had built and gifted to the AU in 2012.
"I think the chairperson of the African Union has responded in this issue. I respect the response of my hierarchy (chairperson)," Harison told reporters on Thursday.
Mahamat told the press in China last year that they were "totally false allegations," reiterating that ties between China and the AU are "unwavering," and such reports could not damage their relations.
According to a recent report by Reuters, U.S. Chief Technology Officer Michael Kratsios has criticized countries that "open their arms" to Chinese 5G networks and artificial intelligence technologies, citing the Le Monde report last year that Beijing had transferred data from the AU headquarters to China for five years using Huawei IT equipment.
Reuters also recalled that the AU had previously rejected claims that Huawei was involved in any cyber security breach.
Harison said that the AU and China are enjoying fruitful cooperation, with the AU office complex and conference center a tangible example in this regard.
"This building is the fruit of collaboration between AU and China," he said.
Refuting the rumor, Liu Yuxi, head of the Chinese Mission to the AU, told reporters on his part that the relationship between China and the AU is based on mutual respect and benefits.