The latest: COVID-19 outbreak worldwide (Updated September 10)
People's Daily app
1599704620000
Globally, as of 10 am BJT on Thursday, there have been 27,486,960 confirmed cases of coronavirus, including 894,983 deaths, reported the World Health Organization.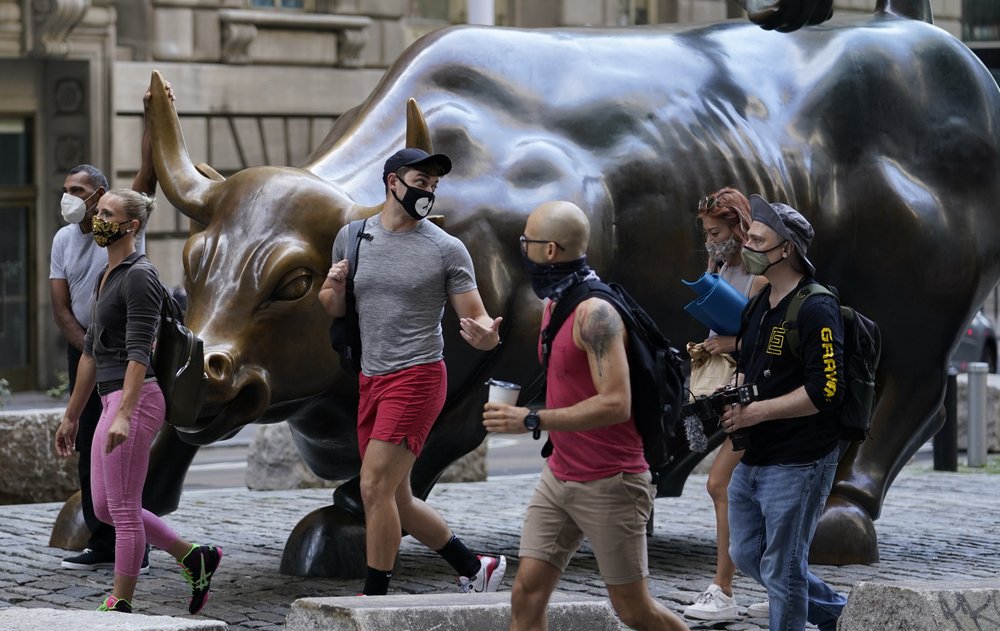 People wearing masks pass the Charging Bull statue in New York's financial district, Tuesday, Sept. 8, 2020. More sharp declines for big tech stocks are dragging Wall Street toward a third straight loss on Tuesday. (Photo: AP)
Current status (data as of 10 am BJT, September 10):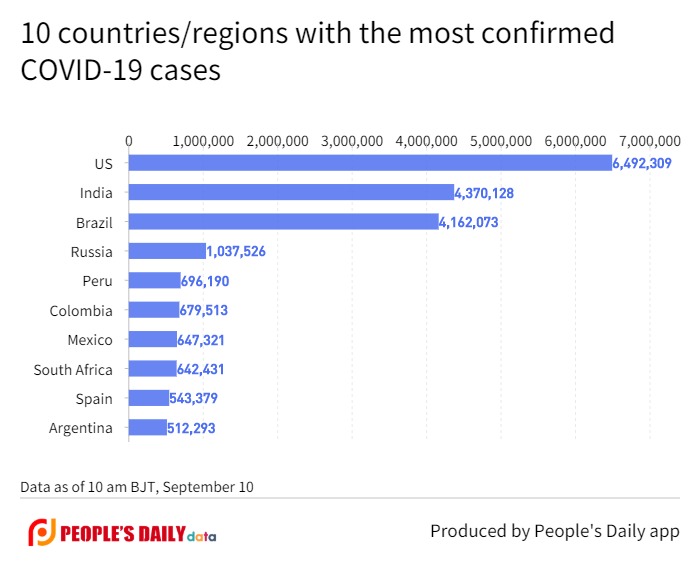 Sources: Xinhua, Johns Hopkins University, national public health agencies.
The outbreak has now claimed 194,338 lives in the US, the most of any country, with a total of 6,492,309 infections, according to a tally by the 1Point3Acres virus tracker as of 10 am BJT on Thursday.
India has confirmed a total of 4,370,128 COVID-19 cases, raising the number of deaths to 72,775.
Confirmed cases of COVID-19 in Brazil have increased to 4,162,073 with 127,464 deaths, Johns Hopkins reported.
Russia has confirmed 1,037,526 cases of COVID-19, with the number of deaths at 18,080.
Peru has reported 696,190 COVID-19 cases and 30,123 deaths from the virus so far.
Colombia's confirmed cases have increased to 679,513, with the number of deaths at 21,817, according to the JHU virus tracker.
It is followed by Mexico with 69,049 deaths from 647,321 infections.
South Africa has recorded 642,431 confirmed cases and 15,168 deaths.
The coronavirus pandemic has claimed 29,628 lives in Spain, bringing the total number of infections to 543,379.
A total of 512,293 people in Argentina have tested positive for COVID-19, with the death toll at 10,658.