Chinese Minister Chen Wen gives live interview on Sky News Tonight
People's Daily app
1578869161000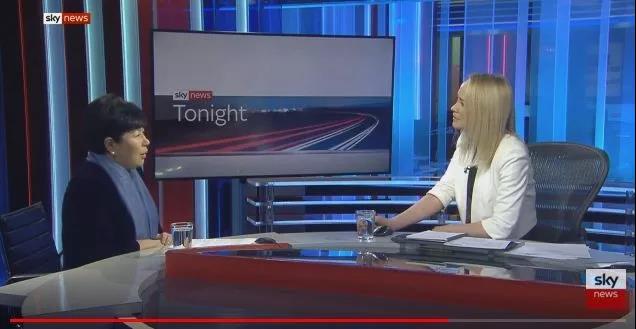 On January 10, Minister Chen Wen of the Chinese Embassy in the UK gave a live interview on Sky News Tonight, hosted by Sophy Ridge. The full transcript is as follows.
Ridge: I'm joined now by Minister Chen Wen. Thank you so much for being with us today.
Minister Chen: Thank you.
Ridge: Iran has said that it did not shoot down this plane, despite the evidence that the US, Canada and the UK suggested it did. Do you think that's credible?
Minister Chen: Well I have read the news reports from Sky News and other media. I think the investigation is still going on and it's still too early to speculate any concrete answers. I've also noticed that Iran had extended an invitation to the experts from the US and Canada to Iran to conduct investigation. So hopefully, the investigation could yield a result that is convincing to all the parties. Now I would like to offer my sincere condolence to the victims and express deep sympathy to the victims' families.
Ridge: How concerned is China by the escalating tensions that we've seen between Iran and the United States?
Minister Chen: I think, in China, we follow the situation very closely. As a permanent member of the UN Security Council, we have been actively engaged in diplomatic manoeuvre. Yang Jiechi, Member of the Political Bureau, and also Director of the Foreign Affairs Commission of the Central Committee of CPC, and also State Councillor Wang Yi, our foreign minister, have engaged in extensive phone conversations with the US, France, Russia, and Iran, of course.
Ridge: Of course China is one of Iran's most important trading partners. You have some real influence here. What are you urging Iran to do or not to do?
Minister Chen: Actually, we urged all parties to exercise maximum restraint and come back to the track of dialogue and consultations. And that is the only way of resolving the current situation. The pressing task is the reduction of the tensions. That is very important.
Ridge: Was the US right, in China's view, to order the killing of the Iranian General Qasem Soleimani?
Minister Chen: Well, China always opposes arbitrary use of force in international relations, and we believe the adventurous action of the US actually poses a grave danger to the norms governing international relations. If this kind of action continues, it would make the world a very dangerous place. It would be like a law of the jungle, killing someone just because you believe he's a bad guy, on the soil of another country. I believe this is definitely a violation of international norms.
Ridge: So, you would say that the actions of Donald Trump are making the world more dangerous?
Minister Chen: I believe so.
Ridge: And some would say that China needs to do more, as well. China is one of the few countries still accepting Iranian oil. Iran is one country that's hitched itself to Assad in Syria. The US claims that Soleimani was about to carry out attacks. Surely, China should be doing more to act responsibly as well.
Minister Chen: Well, I think what China has been doing is honoring our commitment to JCPOA, a joint plan of action. And I think we are implementing our international obligations, and the Iranian nuclear issue has already evolved into a very critical stage, and the implementation of JCPOA is the only way out. It is the only way to resolve the Iranian nuclear issue. So I think China has already done its part, and we urge all parties of JCPOA to do the same, and to strike the right balance between obligations and rights.
Presenter: There have been quite a lot of talks about military troops in Iraq. Do you think it would be better for the US and the UK to pull troops out of Iraq?
Minister Chen: We have noticed the decision of Iraqi government, and we believe that the territorial integrity and the sovereignty of Iraq should be respected. And we are also concerned about the withdrawal of the US from JCPOA. I know in a report by the UN Secretary General that the practices of the US actually impede the ability of Iran implementing certain provisions under JCPOA and we believe that the observations of the UN Secretary General should be taken seriously.
Ridge: I guess the alternative argument would be that actually the troops in Iraq are there to keep people safe, and that if they left, there could be a vacuum in which terror organizations could try and take advantage.
Minister Chen: That's why we urge all parties to engage in dialogues, consultations and negotiations. That's the only way out.
Ridge: Okay, and now while we have you, I'm keen to ask you, as well, about climate change. We've seen the devastating fires in Australia, where it really had the most horrific impact on people's homes and on wildlife there as well. Does China accept that climate change has played a role in these kinds of fires that we've seen?
Minister Chen: Well, again, I would like to offer our deepest sympathies to the victims and the loss of life and property in Australia. We have seen the demonstrations on the streets of Australia. Climate change is a challenge faced by all countries, and joint tackling of this challenge, actually, is critical to the future and destiny of mankind. So we honour our commitments to Paris Agreement, and we have reduced our emissions per unit GDP by 45.8% from the level of 2005. And also, the concept that "clear water and blue mountains are as valuable as mountains of gold and silver" has been very popular in China. The Environmental Protection Bureau has been elevated to ministry level. So I think more and more people are aware of the challenges of climate change and are calling for more cooperation in the international community in this field. I'd like to say that this year the UK is going to hold COP26 to UNFCCC and China will host COP15 to CBD, the Convention on Biological Diversity. So I think these two conventions, provide excellent framework and platform for our bilateral cooperation on tackling climate change.
Ridge: You said that you've reduced emissions, but at the same time China emits an absolute huge amount of emissions. If you look across the world, you're responsible for a decent chunk of that. I mean, do you accept that there is more to do?
Minister Chen: Well, this is a complicated situation. For that I need to say, first of all, emission is a historical thing. I don't know whether you have heard about the principle of "common but differentiated responsibilities". The developed countries have experienced hundreds of years of industrialization, so they are, historically speaking, the biggest emitters. And for China today, China is the biggest manufacturer in the world. Some people called China the factory of the world. So as a result of that, we bear the brunt of all emissions. So we are emitting for many countries in the world. So I think it's unfair to only point finger at China for emissions. But nevertheless, we are very committed to reduce emissions, as I said earlier.
Ridge: Okay, thank you so much for coming on the program today, I much appreciated.
Minister Chen: Thank you.
(Script from Chinese Embassy in UK)