Germany's population declines for first time since 2010: Destatis
BERLIN, Oct. 13 (Xinhua) -- Germany's population declined by 0.05 percent to 83.1 million people in the first half of this year, marking the first decrease since 2010, the Federal Statistical Office (Destatis) said on Tuesday.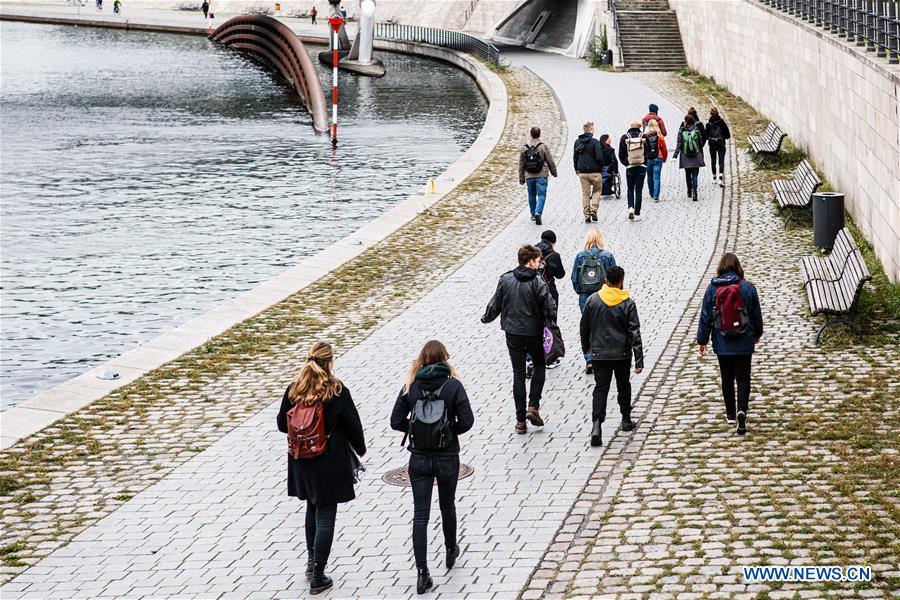 Pedestrians are seen by the Spree River in Berlin, capital of Germany, on Oct. 8, 2020. (Photo: Xinhua)
Since 2011, Germany's population has been growing steadily. The increase was the strongest in the second half of 2015 in the wake of the European refugee crisis with 717,000 people or 0.9 percent due to high immigration levels, according to Destatis.
"The current decline, however, is seen in the context of reduced immigration in the first half of 2020 due to the coronavirus pandemic," Destatis noted.
While in January and February this year the number of people moving in and out of Germany was still at the same level as in the same months of the previous year, a "sharp drop" especially in immigration was observed from March onwards, according to Destatis.
At the same time, the number of deaths in the first half of this year was 112,000 higher than the number of live births in Germany, according to provisional results published by Destatis.
The drop in net immigration was therefore unable to compensate for the birth deficit in the first half of the year, resulting in the population decline, according to Destatis.
Ten of 16 German federal states recorded a decline in population in the first six months of the year. Last year, only six German federal states had recorded a decline, according to Destatis.
In the long run, Destatis expects Germany's population to shrink by around five million people to approximately 78.2 million.
According to a World Bank release dated July 2020, Germany ranked 18th globally in 2019 in terms of population, behind China, India, the United States, Indonesia, Pakistan, Brazil, Nigeria, Bangladesh, Russia, Mexico, Japan, Ethiopia, the Philippines, Egypt, Vietnam, the Democratic Republic of Congo and Turkey.